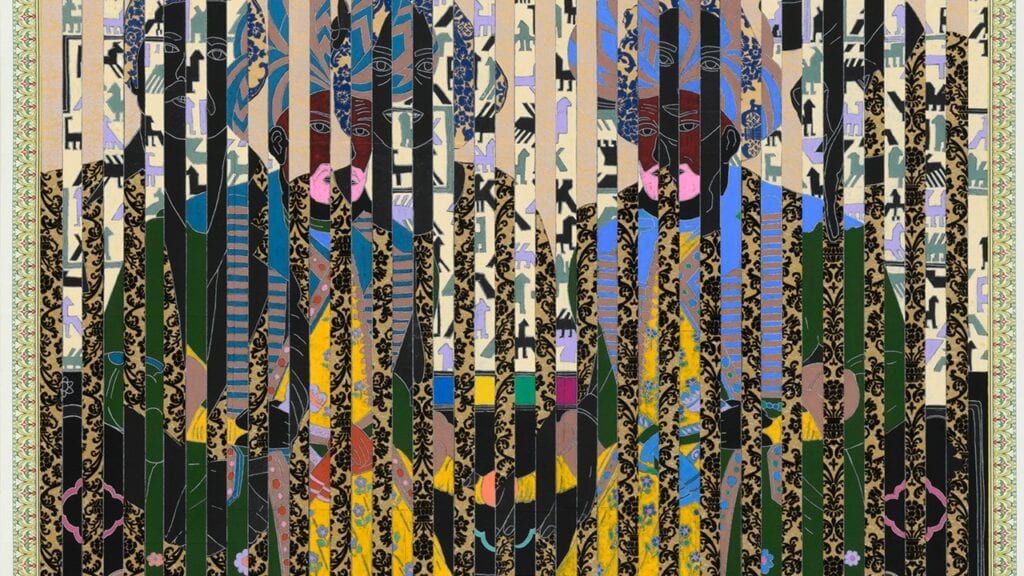 Ardeshir Tabrizi's practice is largely influenced by Iran, a country he left in his childhood. His work is colorful, textured and contains many references to rich visual and literary traditions of his native country. But those references may not be immediately apparent to the viewer.
In an effort to give more context to the artist's work, and with the recent launch of our online presentation Spotlight: Ardeshir Tabrizi, we are pointing readers to a virtual studio visit that Tabrizi did with Amy Landau, the Fowler's Director of Education and Interpretation.
In this video Tabrizi dives into various subjects including his choice of iconography which often represents the many conflicting cultural, political and religious ideologies that have existed throughout Iran's history from the ancient symbol of the Zoroastrian faith to the logo for Iran Air.
Find out how photography influences Tabrizi's work (he dropped out of photo school), the sources he draws on for one work (a family photo from the 1970s and an image of a painting from the Safavid dynasty) and some of the unlikely materials that find their way into his works (in addition to gouache and fabric, the work in discussion features pieces of the Koran).
Get a snapshot of insight's, his work, and recent acquisitions on Tabrizi's In Focus page.
To watch this artist talk and studio visit, click the link below.