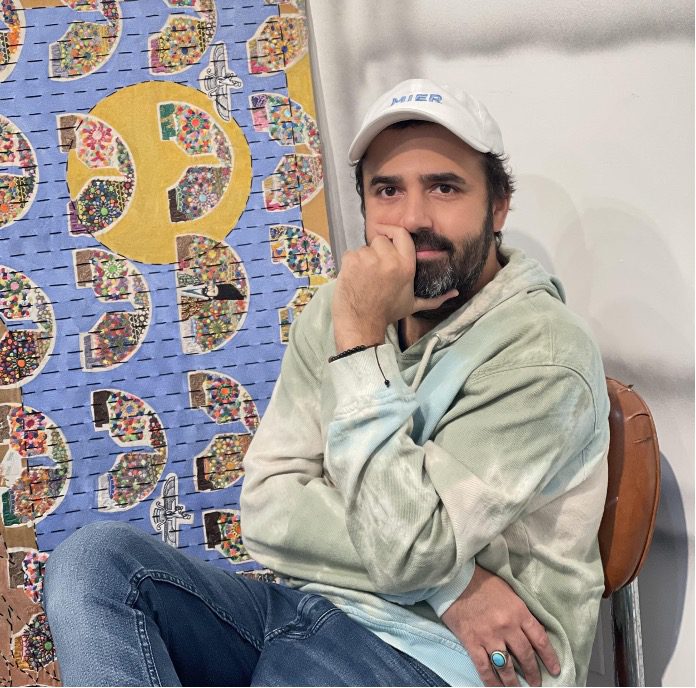 INTRO
Ardeshir Tabrizi was born in Tehran, Iran in 1981. His family left Iran during the Iran-Iraq War in 1986 when he was just four years old. After migrating across Europe, they were able to secure visas to the United States and settled in Los Angeles, California where he and his family have lived since.
Tabrizi's creative process is intuitive, largely inspired by his roots and heritage from the East, his education in the West, and the contradictions at play between the two. In this vein, his work calls into question prevailing representations of the Middle East, as well as exploring his own dislocation. Tabrizi currently lives and works in Los Angeles, California where he is represented by Roberts Projects.
ON PROCESS
Ardeshir Tabrizi's intricately embroidered works reflect his journey to reconnect with Iran, a country he left behind in his youth. His work is layered with symbols that represent the many opposing cultural, political and religious ideologies, which have existed within Iran throughout its history. By combining these symbols with his own memories of Iran as a child during the Iran-Iraq war, his works intertwine history and memory with new constructs he has formed since coming to the United States. The mixture of these unique views provides the imagery and symbolism brought to the canvas through materials and methods common to Iran, such as thread and embroidery.
"When you leave a place at an early age, you become disconnected and it's not gently broken it's kind of ripped. So when that happens you get this longing of sorts and it's not even a longing for the place, it's a longing for some idealised version of this place."
Click HERE to view a virtual studio visit with Ardeshir Tabrizi and Amy Landau, The Fowler Museum's Director of Education and Interpretation.
Watch the video below to learn more about the symbolism behind Tabrizi's work 'Sitting Courtier' (2019).
AVAILABLE WORKS