INTRO
Jackie Milad is a Baltimore City-based artist whose mixed-media abstract drawings and collages address the layers, history and complexities surrounding multi-ethnic identity. Her practice combines drawing, painting, collage, and textile techniques, exploring symbolism and abstraction. She creates a unique world of her own by blending what appears to be disparate imagery and language from her Egyptian-Honduran immigrant upbringing. Milad's art tells the story of her individual decisions, inspirations, and personal history, as well as the power of cultural heritage and shifting historical narratives. She challenges the boundaries of materials through re-using, re-purposing, and re-painting in order to create a dynamic, living work of art and capture the complex interplay of past and present.
Milad has participated in numerous group and solo exhibitions nationally and internationally, including: Harvey B. Gantt Center (Charlotte, NC), Grizzly Grizzly (Philadelphia, PA), Loyola University Maryland (Baltimore, MD),The Walters Art Museum (Baltimore, MD), Arthur Ross Gallery University of Pennsylvania (Philadelphia, PA), Museo de Arte de Mazatlan (Mazatlan, MX), and DiFOCUR de Sinaloa Sala de Arte Joven Galleria (Culiacan, MX). Milad is a multi-year recipient of the individual Artist Grant from Maryland State Arts Council. In 2019 she was named a Janet & Walter Sondheim Prize Finalist and a Robert W. Deutsch Foundation Ruby Grantee. Her work is in several private collections, including: GLB Memorial Foundation Collection, The Sheridan Libraries at Johns Hopkins University, Robert W. Deutsch Foundation and Facebook, Inc. Milad received her BFA from the School of the Museum of Fine Arts at Tufts University, and her MFA from Towson University. Besides her active studio practice, Milad also has an extensive career as a curator and educator.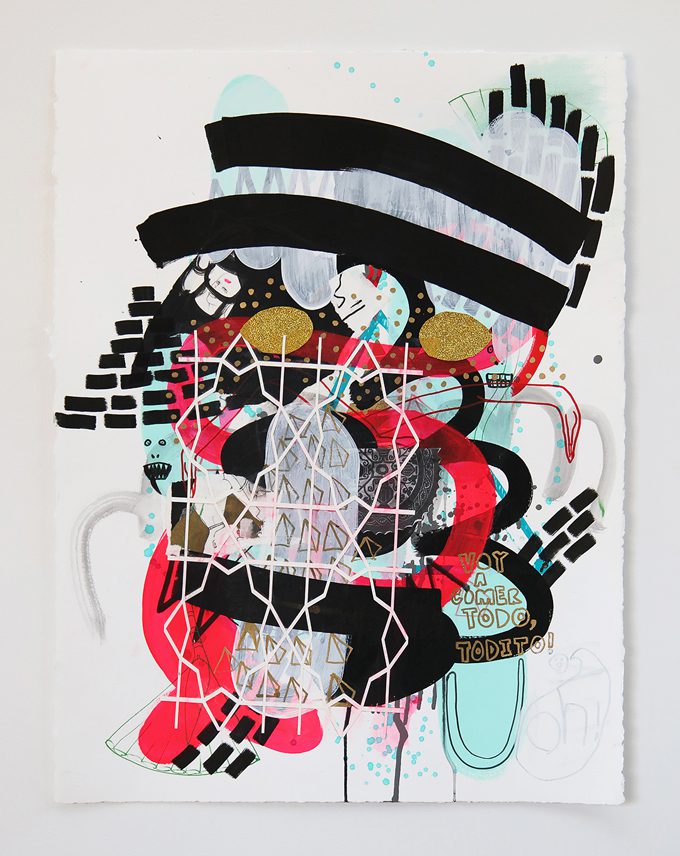 ON PROCESS
Milad utilizes a combination of drawing, painting, collage, and textile techniques. Milad's abstract works on distressed canvas are made using drawn symbols from her imagination and her mixed cultural heritage. Milad intentionally makes the surfaces of her pieces appear chaotic with an accumulation of many fragments. Every layer shows a new choice, visualizing a record of her decisions and labor. Recent canvases are large-scale tapestries, but Milad aims to create even larger installations still.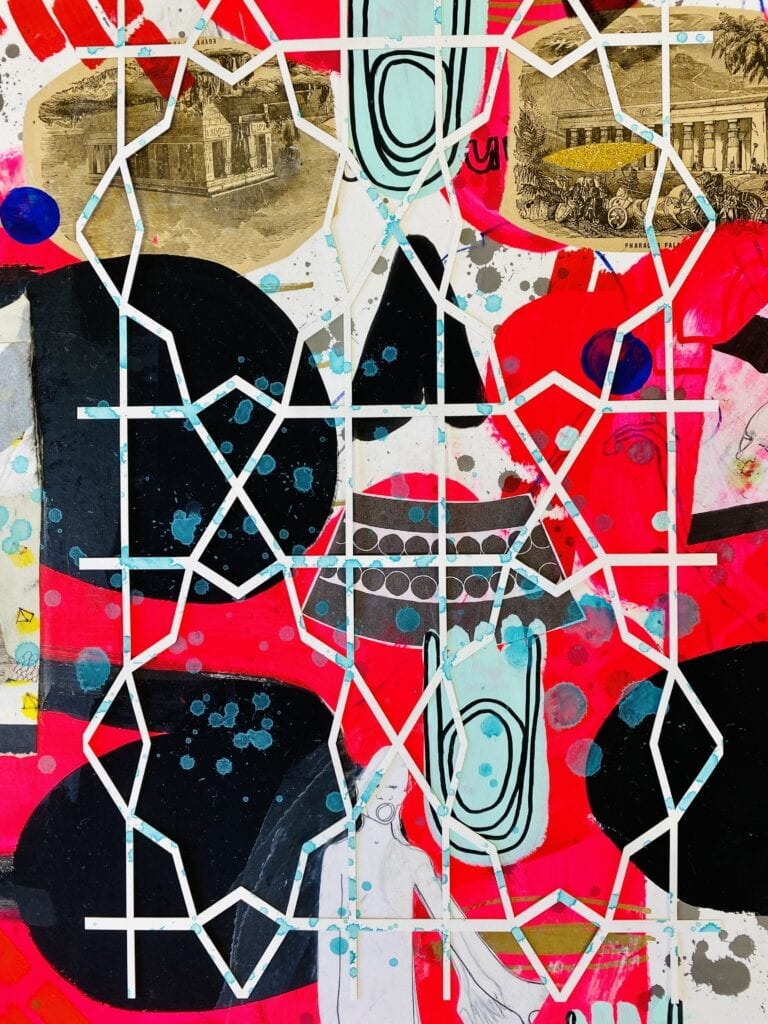 "History is a complicated thing; it is almost always told from the perspective of the dominant group. An example I consider often while making my work, exists in modern Egypt, where the writing of history is literally on the wall of the ancient tombs built for the powerful pharaohs, turned Coptic monasteries, turned mosques, and finally touristic sites. By showing the history of my hand through the dense collapse of layers, I tell my own story as a multi-ethnic first generation American. Cannibalizing my earlier artworks to use as collage material or painting over previous marks are acts of defiance. I destroy and reuse previously exhibited works to make room for a regenerative and intuitive process that never ends, and documenting the many iterations along the way. Artworks that were once static and put away into my archive, become repurposed and responsive in real-time to emulate an ever-changing complicated story."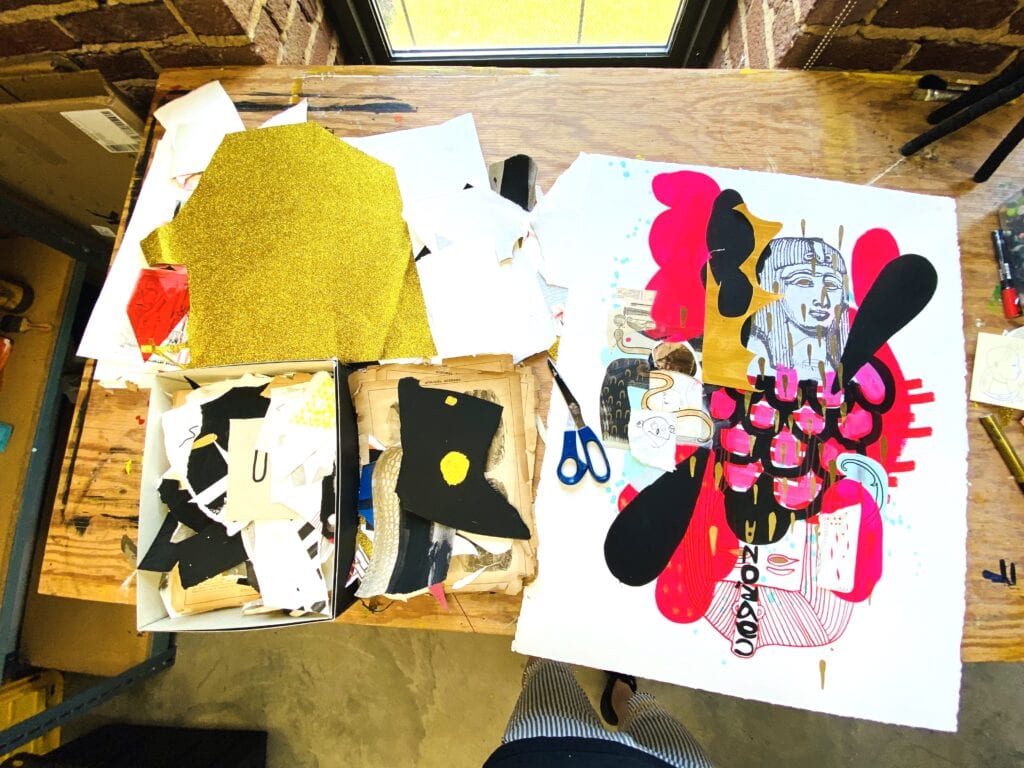 Milad greatly considers how works of art are read once they leave the studio. There is a general expectation that the work will be broken down into basic and understandable codes, whether by the artist themselves, by a writer, or by a curator; Milad challenges this expectation by stacking meaning, mixing up multiple signals, codes, and even languages. She invites people to understand and accept that not everything must be for them, not all symbols have to be revealed and explained—and sometimes it can be confusing and left a mystery.
RECENT PROJECTS
This year, Milad was featured in NO FAIR at the Erin Cluely Gallery in Dallas, TX, which opened April 17 – May 8, 2021. She was also featured in THE ROUND CHAOS, curated by Dexter Wimberly at the SOCO Gallery in Charlotte, NC, which ran April 28 – June 12, 2021.
From June 19 – August 28, 2021, Milad's work will be displayed at We Can't Predict Tomorrow, curated by Amanda Jirón-Murphy at the Arlington Art Center in Arlington, VA.
This summer, she will be attending an artist residency and featured in the Summer 2021 Artist-in-Residence Exhibition at the McColl Center for Art + Innovation in Charlotte, NC from June 7 – August 4, 2021. To watch a studio talk with Milad and curator Jonell Logan, click here.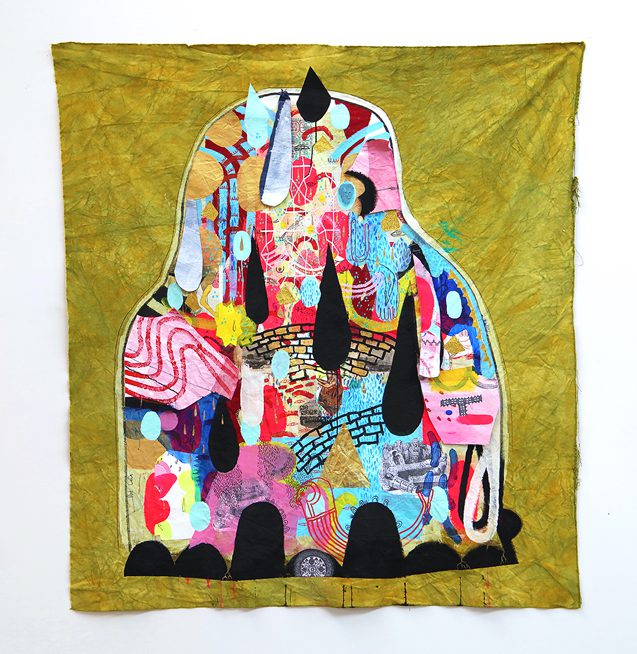 In November 2020, Milad was featured in a livestreamed talk with CreativeMornings Baltimore, where she speaks about risk-taking, radical art, and her practice. Watch it below: