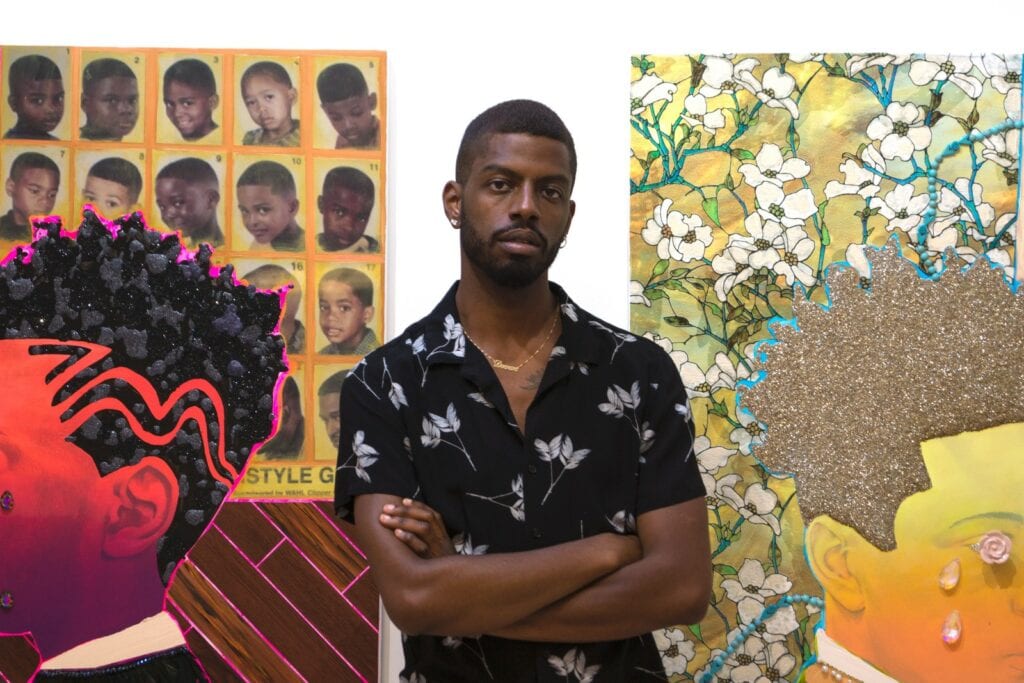 INTRO
Devan Shimoyama is a visual artist working primarily in self-portraiture and narratives inspired by classical mythology and allegory. He depicts the black queer male body as something that is both desirable and desirous and explores the mystery and magic in the process of understanding his origins, and investigating the politics of queer culture.
Shimoyama was born in 1989 in Philadelphia, Pennsylvania and graduated from Penn State University in 2011 with a BFA in Drawing/Painting. He received his MFA from Yale University School of Art in Painting/Printmaking in 2014. While there, in 2013, he was awarded the Al Held Fellowship.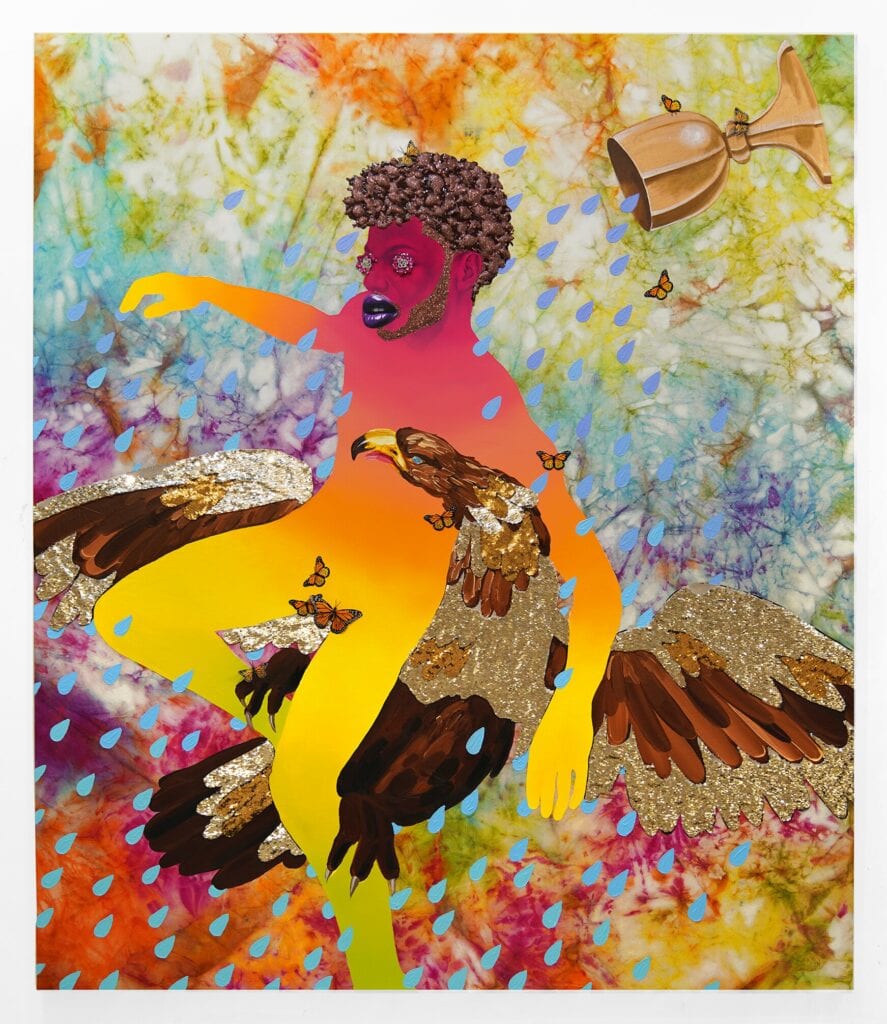 ON PROCESS
Devan Shimoyama's work showcases the relationship between celebration and silence in queer culture and sexuality. His compositions are inspired by the work of classical painters such as Caravaggio and Francisco Goya, while adding a more contemporary expression and sensuality. With the use of a variety of lustrous materials such as jewels, black glitter, rhinestones, and sequins, Shimoyama creates works that capture the beauty and alienation of the Black queer body.
It was in his junior year of college that Shimoyama began taking painting more seriously, and began using unconventional materials. "I started using objects from my own childhood," said Shimoyama. "Things with a certain luster or polish to them, thinking back to China cabinets and these little beautiful encrusted plates. Creating that fiction of glamour, of decadence, of wealth is something heavily engrained in drag culture that always fascinates me but it's also heavily engrained into Black culture."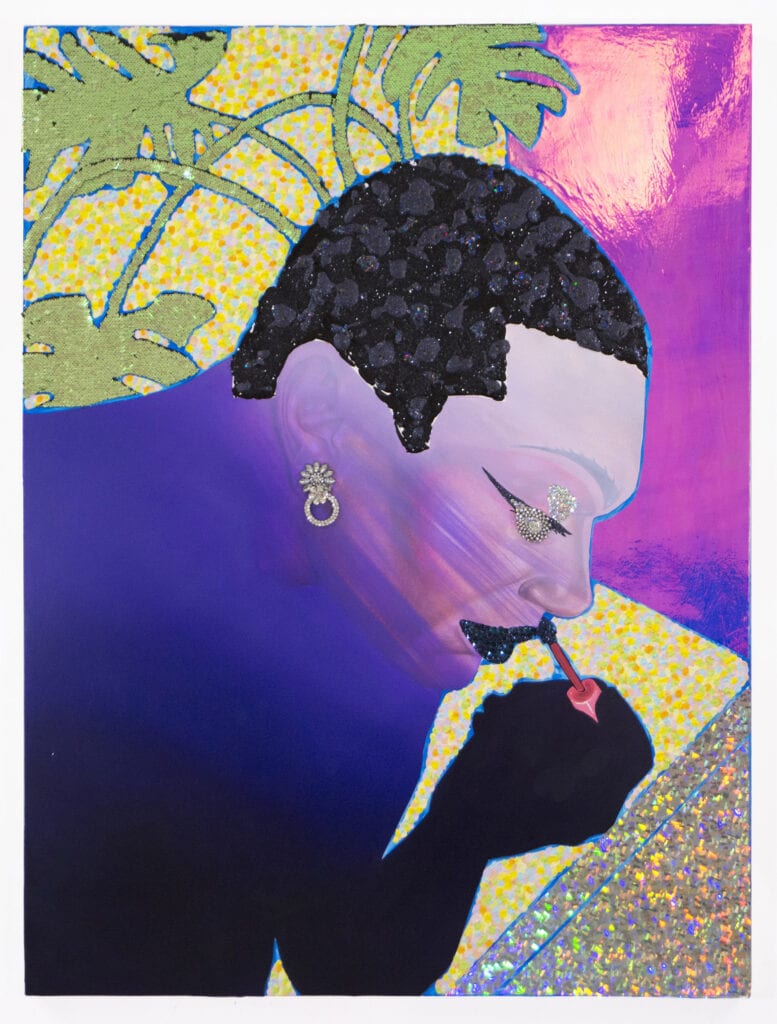 "Reading list for black futurity—what might it contain?" asks art critic and curator Antwaun Sargent in his write-up for The New York Review of Books examining some of Shimoyama's themes. "The paintings in Devan Shimoyama's "Shh…," a 2019 show at De Buck Gallery in New York City, offer some recommendations. Each of the six large glittering collages, painted in oil and acrylic and adorned with the artist's signature rhinestones, sequins, and fabrics, shows a lithe harlequin figure with bejeweled, searching eyes. Some are self-portraits or portraits of friends and acquaintances, others are completely out of Shimoyama's imagination. All of the figures are portrayed with books by various writers in everyday spaces made spectacular with a liberal use of glitter and costume jewelry that give texture to the scenes' surfaces."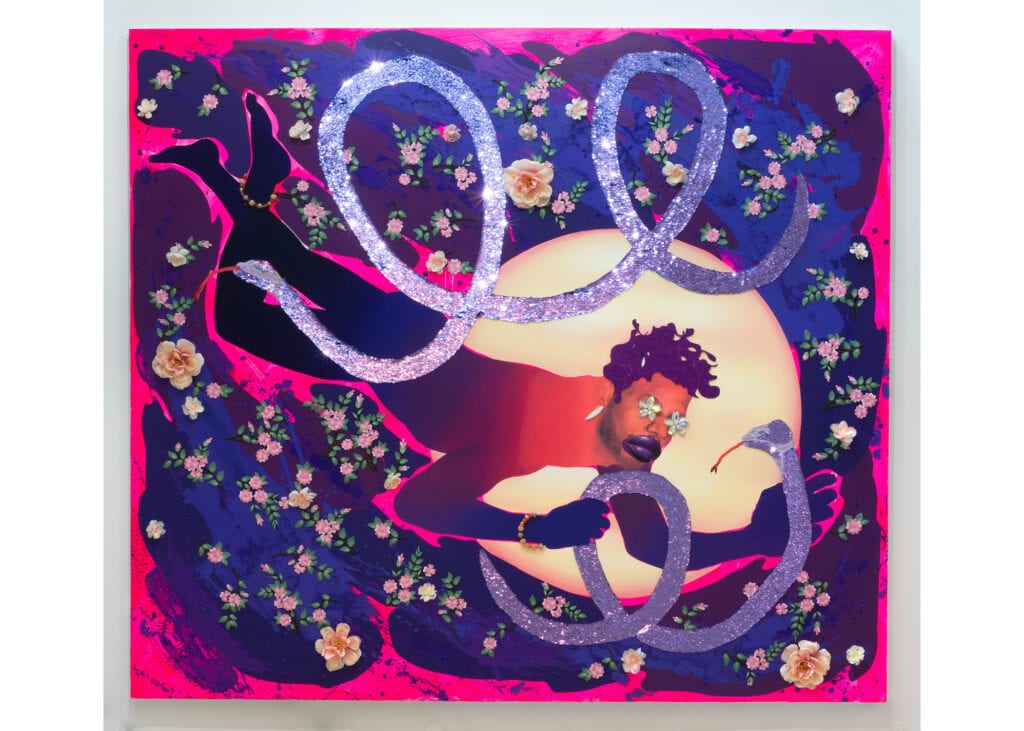 NOTEWORTHY EXHIBITIONS
In 2022, Shimoyama's work was exhibited in Make-Believe at The Katzen Arts Center, the FRONT International 2022: Cleveland Triennial for Contemporary Art, Elegies: Still Lifes in Contemporary Art at the Museum of the African Diaspora in San Francisco and Garmenting: Costume as Contemporary Art at the Museum of Arts and Design in New York.
His installation, The Grove, was shown at the Meridians Sector of Art Basel 2022. That work was originally commissioned and conceived as a site-specific installation for the Smithsonian Institution's 2021 exhibition FUTURES, which celebrated the institution's 175th anniversary and asked audiences to consider how art and technology continue to shape our world. For The Grove, which was created in response to the tumult and tragedy brought on by racial violence and the COVID-19 pandemic, Shimoyama invited viewers to enter a meditative forest-like space to forgive, breathe, pause, and heal.
In 2022, Shimoyama work was added to the collections of The Rockwell Museum and the Brooklyn Museum. In 2021, his work was included in the Scantland Collection of the Columbus Museum of Art, a collection of some of the most dynamic and though-provoking artists working today.
In 2023, Shimoyama will have his first solo exhibition in Malaga, Spain at the CAC Malaga, and at the Rockwell Museum, in Corning, New York.
CURRENT PROJECTS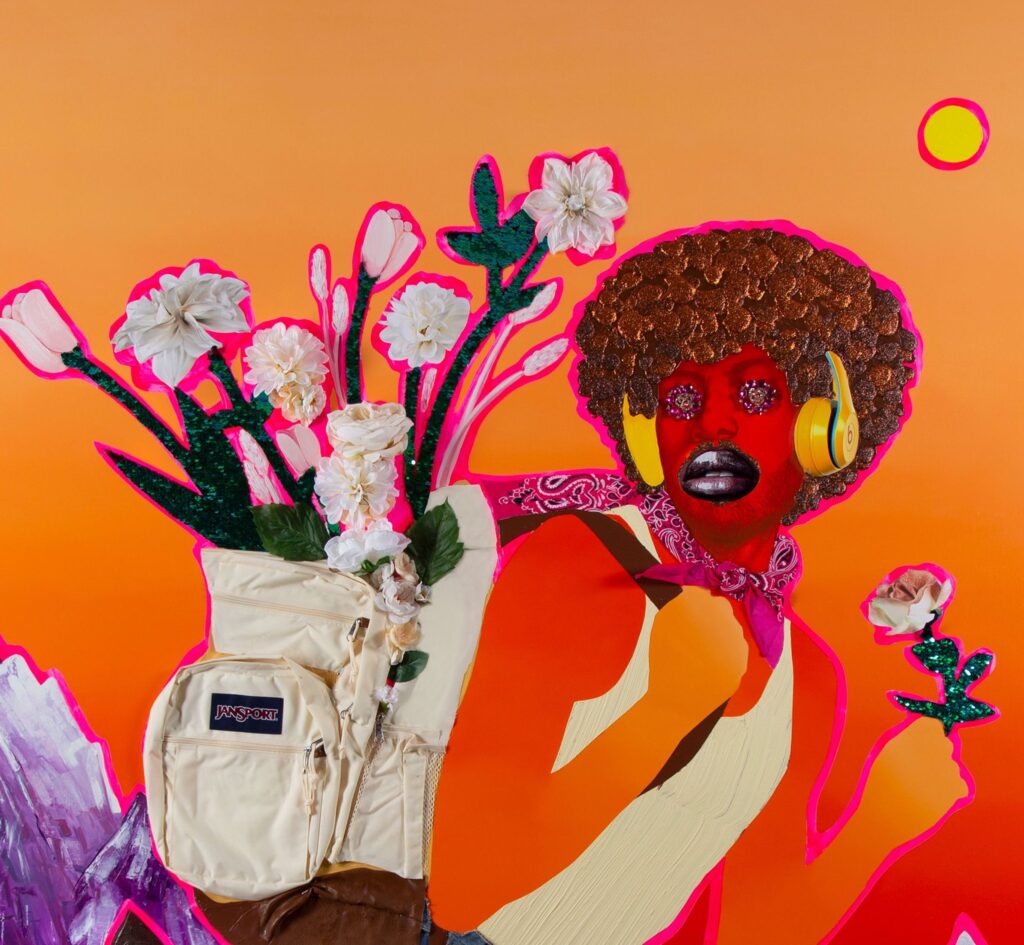 Over the past few years, Devan Shimoyama has been working on his Tarot Series, a body of work that identifies transformation and alludes to the dialog between superficial and true change in all levels, from societal to individual interactions. These works, in particular, target the human desire to present outwardly as contained and perfect, while revealing how mysticisms such as card reading can help them adapt to tumultuous times.
Shimoyama takes inspiration from the centuries-old divination practice of card reading. The Tarot Series expands on the major arcana and is contextually influenced by the well-known Rider-Waite and Marseille tarot decks, though his collection in his studio includes many more variations as well as oracle decks.
The artist's interest in mythological practices and symbols led to his 2021 exhibition, All the Rage at Kuntspalais Erlangen in Germany and more recently, Make-Believe at the Katzen Arts Center in Washington, D.C. Here, characters in changed positions and gender represent the major arcana, mythological creatures, and embodiments of meditation while, in a more general sense, explore the crafting of alternative realities.