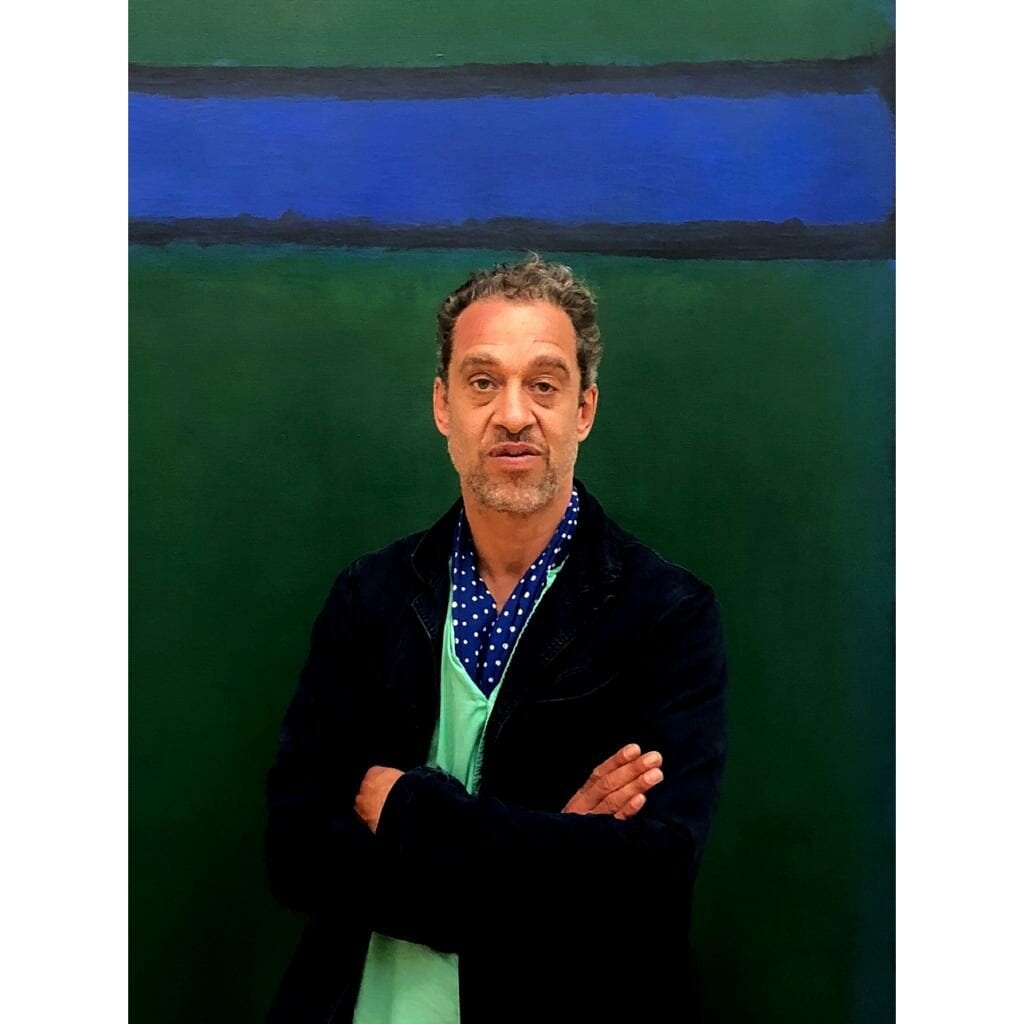 INTRO
Zak Ové creates sculpture, painting, film and photography that draws on his upbringing in London and Trinidad. His work is informed by the history and lore carried through the African diaspora to the Caribbean, Britain and beyond with particular focus on traditions of masking and masquerade as a tool of self-emancipation. Ové's artworks explore the interplay between old world mythology and what he posits as 'potential futures', a space where he reinterprets existence into the fantastical. His work is a celebration of the power of play, the spirit of imagination in the blurring of edges between reality and possibility, flesh and spirit. In this way, Ové seeks to re-write a history for the future through heralding the past in a new light.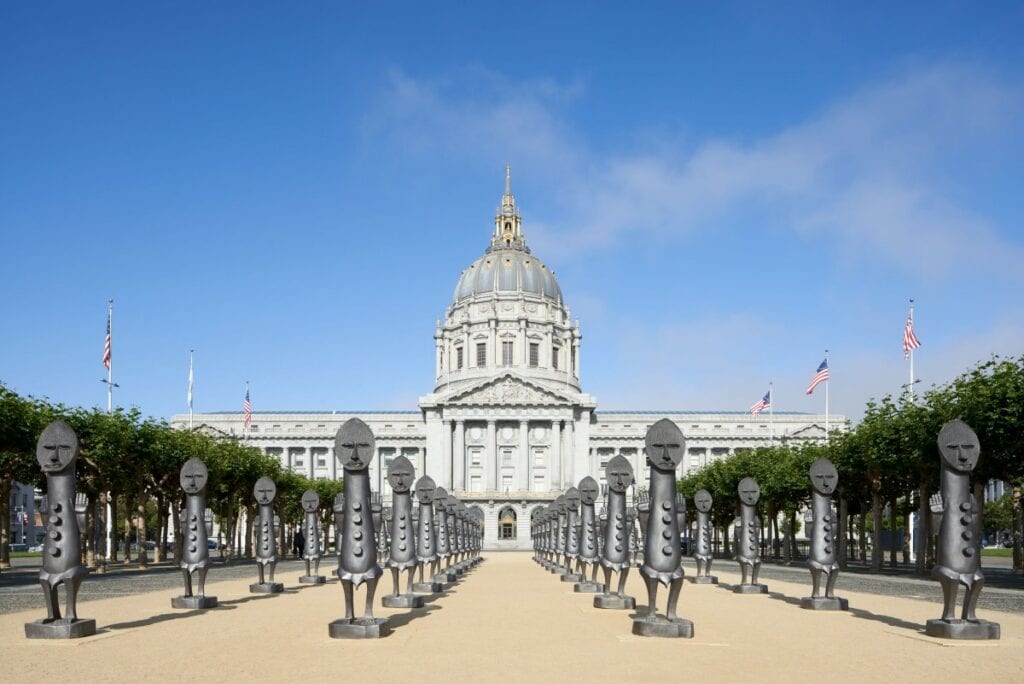 "Often what I think I look for are narratives in frozen moments, things that are suggestive, or things that take me places I have not been before… I'm looking for something that breaks the mundanity of my existence and educates me or takes me somewhere new."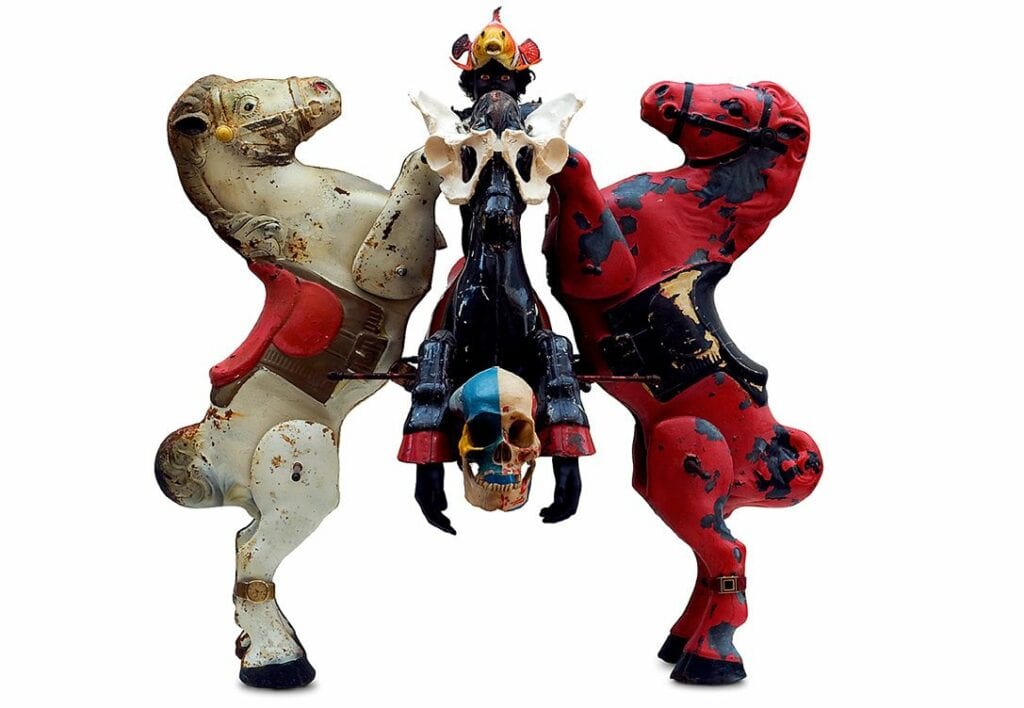 ON PROCESS
Ové uses modern materials, a sound clash of Caribbean and African colour and the reinvention and appropriation of everyday objects to bring his characters and scenarios to life. Through the diverse mediums of film, photography, painting, sculpture, and installation, Ové's practice uses these new world materials to reference old world culture, conjuring visions of our human journeys from ancient mythologies to future worlds.
Influenced by the films of his father, the acclaimed Horace Ové, Zak Ové began his career working in commercial photography, film, and music video direction, often documenting the Trinidadian Carnival such as the dynamic short film A Land So Far (2010). He developed a sincere interest in the local creators and community he documented, and decided to join the creative expression of the Carnival to "put on a [superhero] cape and champion your community… speaking about the meaningful embetterment of the self." His following work is fueled by multidisciplinary practice that spans sculpture, film, and more, uniting social activism and cultural legacy into profoundly personal yet public art.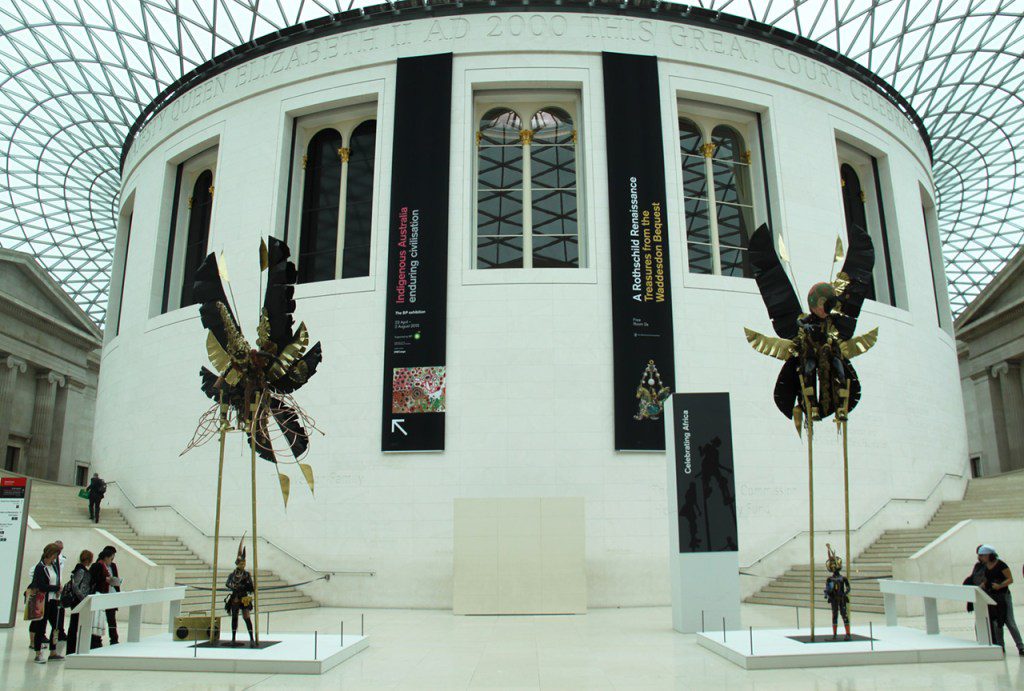 NOTABLE COMMISSIONS AND INSTALLATIONS
Perhaps his most significant commission to date is that of his Moko Jumbies sculptures (2015) by the British Museum, making it the first work by a Caribbean artist commissioned by that museum. These large black and gold winged figures that flank the staircase to the Africa galleries are assembled with recycled materials, including metal bells, wooden masks, and fiberglass uniting African and Caribbean traditions.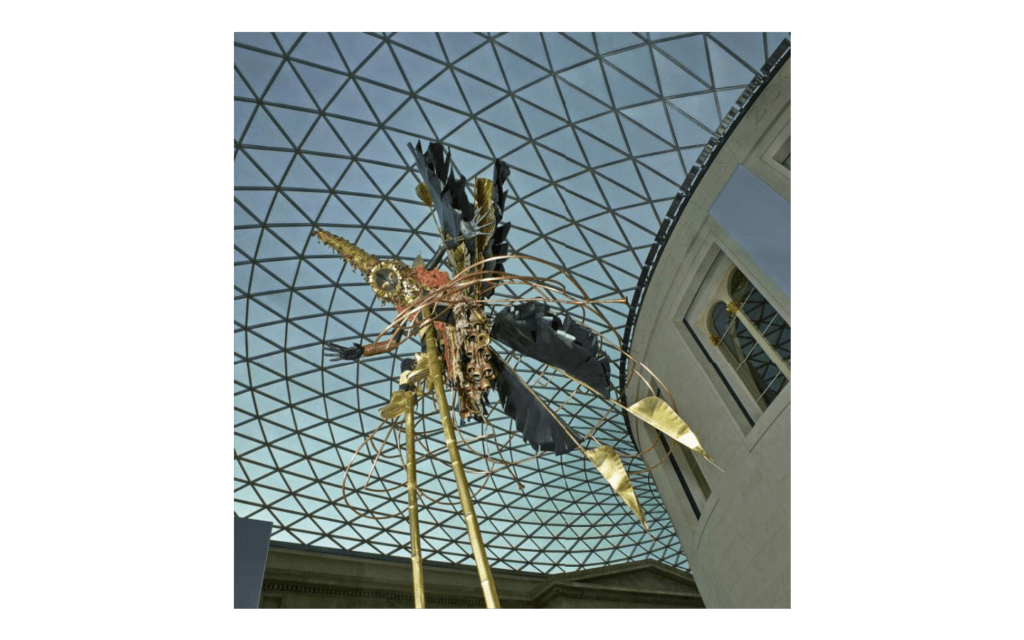 The Moko Jumbie is believed to be, per West African tradition as brought to the Caribbean, a spiritual being that guards villages from evil. The character became a popular mascot of the Trinidad Carnival. It is frequently portrayed on stilts, as it is in Ové's sculptures. "Carnival beckons us to come together," Ové says. "It's a chance for people to experience transformation and the art of African identity, following the migration of Africans to the West Indies, and Caribbeans to the UK. It's important to have an awareness of who we are, especially in new places where we may be patronized as secondary citizens or immigrants."
Among the artist's most recognizable works, The Invisible Man and the Masque of Blackness, is an installation originally made for Somerset House in London comprising a phalanx of 40 six-foot-tall graphite figures (based on a small wooden sculpture from Kenya) arranged in a military-type formation.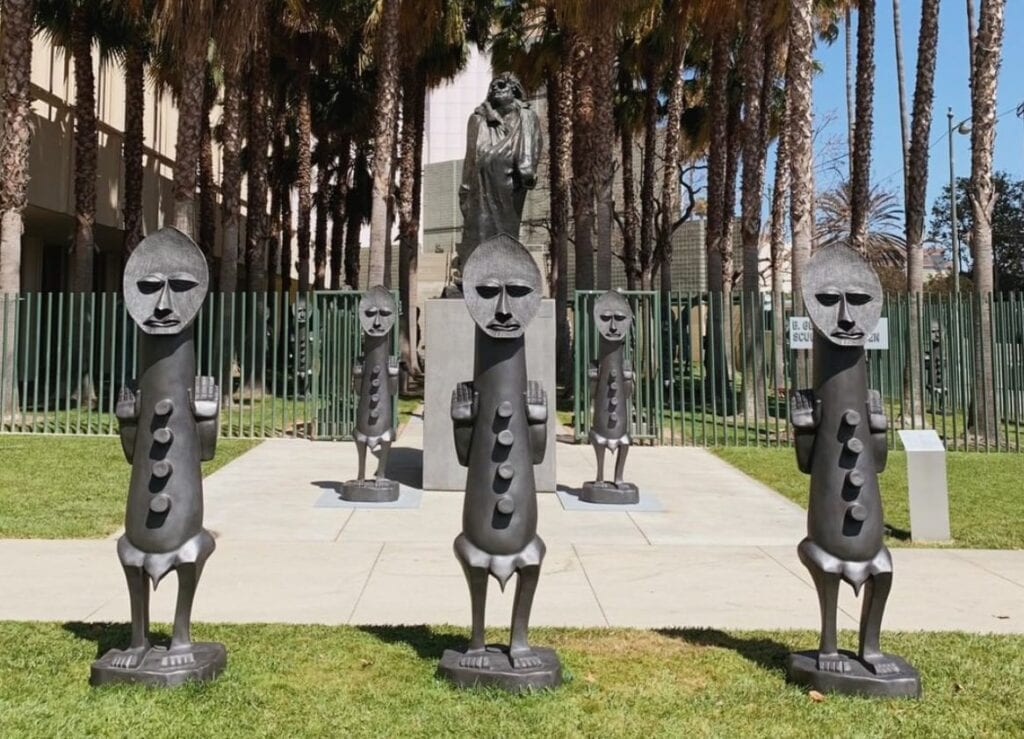 The work is a rebuke to The Masque of Blackness, a Jacobean-era masque written in 1605 by Ben Jonson for Queen Anne of Denmark in which the masquers, appearing in blackface makeup, were to be disguised as Africans and were to be "cleansed" of their blackness by King James. This installation, which can be acquired as individual works as well, is in the Modern Forms art collection of Hussam Otaibi. Click HERE to hear Ové speak about the installation in situ when it was exhibited in the B. Gerald Cantor Sculpture Garden at LACMA, Los Angeles, CA alongside works by Auguste Rodin.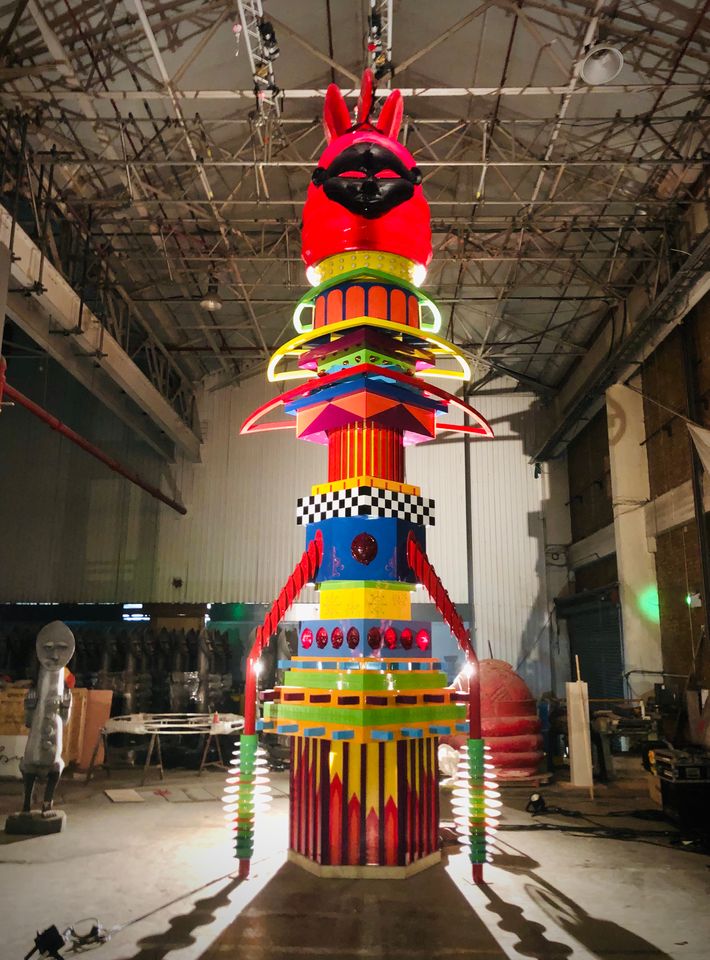 CURRENT PROJECTS
Now the artist has created his largest sculpture to date, The Mothership Connection. Towering at over 27 feet tall (6 feet wide), this massive, glowing, multi-colored sculpture unites African, Western, and pop culture influences to speak to the worldwide contributions of the African diaspora to Western modernity. Its body is crafted with elements of masonic architecture and the capitol building in Washington D.C. "It's not discussed enough how Black hands were instrumental in building these monuments through indentured labour and slavery," Ové has said.
Ové recently unveiled a new public artwork for the permanent collection of the Art Gallery of Ontario. His commissioned sculpture is currently on view on the Fifth floor entrance to the group exhibition Fragments of Epic Memory. Curated by Julie Crooks, Fragments of Epic Memory is the first exhibition organized by the AGO's new Department of Arts of Global Africa and the Diaspora.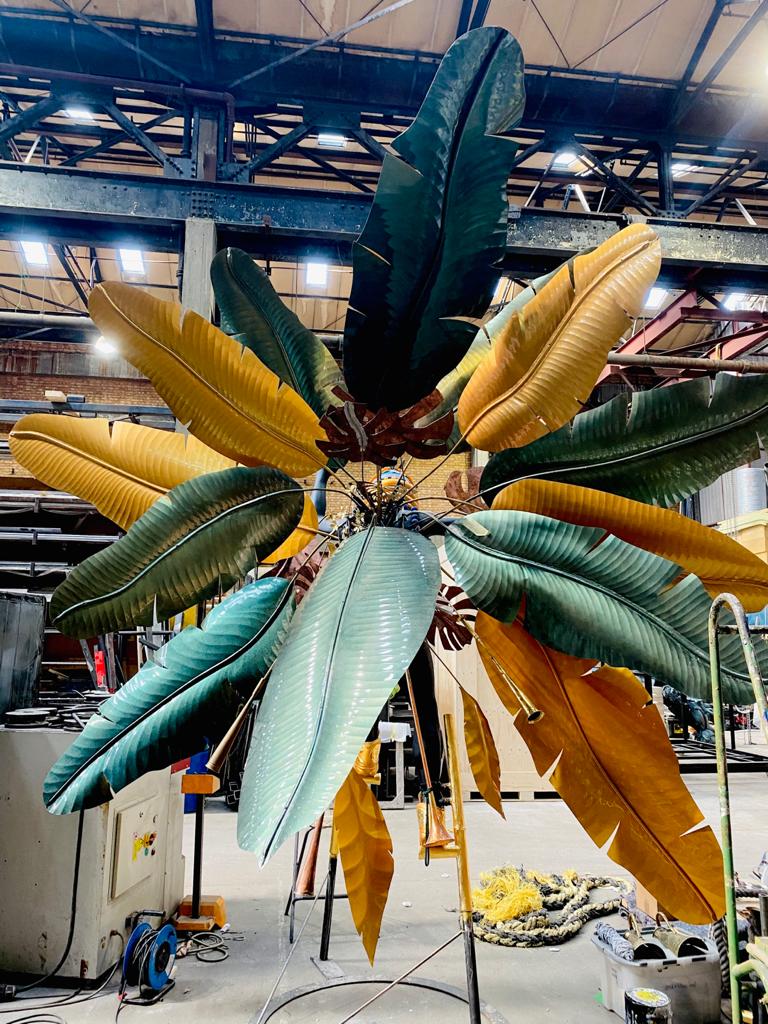 CURATORIAL ENDEAVORS
In addition to his work as an artist, Ové has also applied his vision to curatorial pursuits such as with the seminal and widely acclaimed exhibition, GET UP STAND UP NOW: Generations of Black Creative Pioneers at Somerset House, London in 2019. This major exhibition celebrated the past 50 years of Black creativity in Britain and beyond, beginning with the films of his father Horace and his generation of post-war artists through the present day. 110 interdisciplinary artists from Africa, the Caribbean, and the African Diaspora in Britain and the wider world showcased their work together for the first time, tracing collective history through experience and influence. Watch a video on the exhibition below.