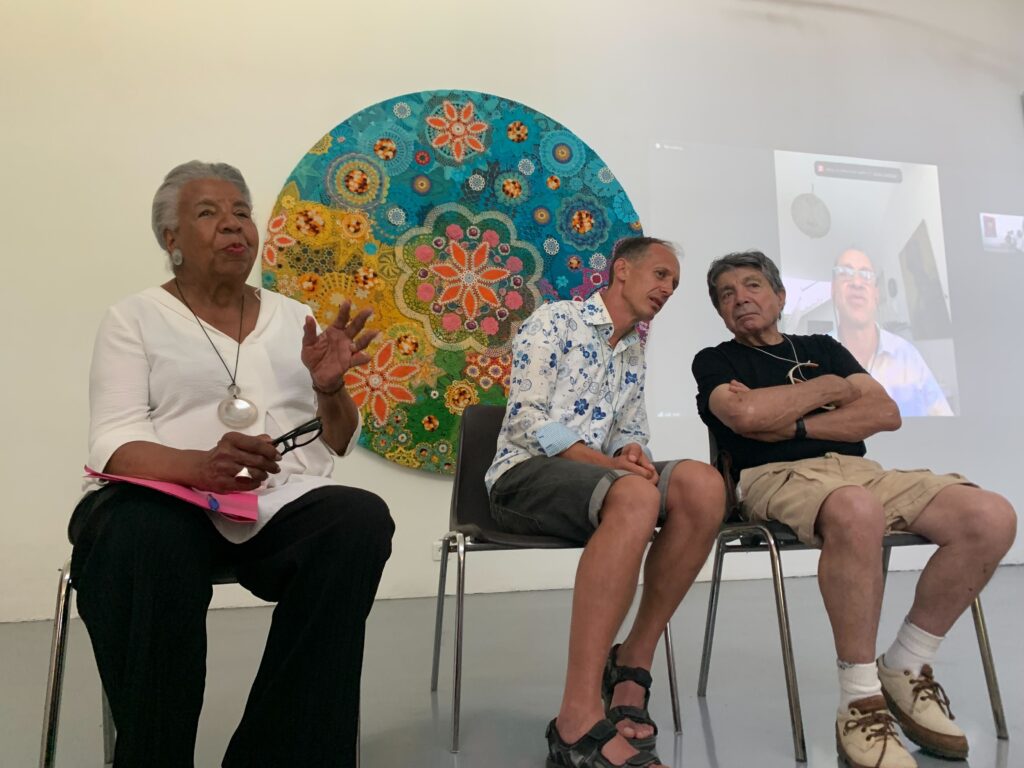 De Buck Gallery hosted a panel discussion on Saturday, June 18 in Saint-Paul de Vence as part of La Maison Baldwin's 2022 International Conference on James Baldwin. The panel, Chatting with Friends of Jimmy, featured artist Zak Ové (who joined remotely) among others who knew the author and activist. A full-length recording of the event is included below.
Panelist Florence Ladd tells a wonderful story about seeing Baldwin in Istanbul and attending the writer's last birthday party in Saint-Paul de Vence [9:15]. Later in the panel, Zak Ové recounts anecdotes with Baldwin [21:30].
Chatting with Friends of Jimmy was an intimate, bilingual storytelling roundtable among friends who spent time with James Baldwin at his beloved villa in Saint-Paul de Vence. Panelists included Luc Trizan, a local sculptor who travelled the world and then settled in Saint-Paul de Vence, where he enjoyed a collegial relationship with James Baldwin; Florence Ladd, a fiction writer, social critic, and psychologist, former dean of students at Wellesley College, liaison to the United Nations at Oxfam America, and director of the Bunting Institute at Radcliffe College who first met James Baldwin in Istanbul and maintained a fast friendship with him; and artist Zak Ové whose current show at De Buck Gallery Saint-Paul de Vence, "The Evidence of Things Not Seen," brings together new paintings inspired by the writings of Baldwin, a close family friend and mentor to the artist via his father, the radical British filmmaker Horace Ové.
During the panel, Professor Ladd shared her fascinating experiences with James Baldwin. When living in Istanbul, she drove the visiting writer and activist to a Turkish university. "He talked about contemporary authors, [Norman] Mailer, [Philip] Roth. A range of literary figures populated our conversations."
Ové described his relationship with "Uncle Jimmy." The artist said, in admiration, that Baldwin served as a catalyst for his generation "to aspire to be bigger and grow beyond the boxes by which we'd been defined, and to push oneself to that margin."
Trizan divulged a compelling story of meeting Baldwin, and shared the writer's significance to the Saint-Paul de Vence community.
Watch the full video to hear the panelists tell these stories, and many more.