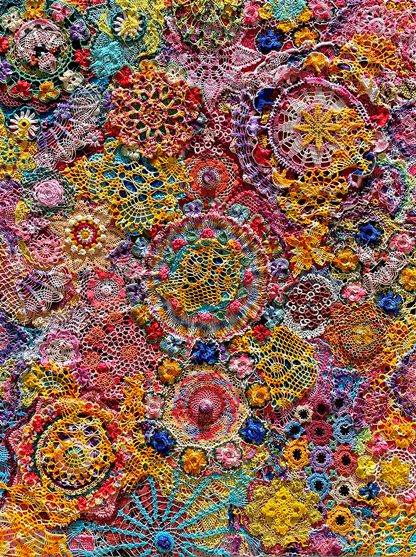 De Buck Gallery is thrilled to announce "Zak Ové: The Evidence of Things Not Seen," an exhibition featuring artist Zak Ové's latest series of mixed media works. The exhibition, which runs June 4 – 30, 2022, at the gallery's space in Saint-Paul de Vence, features seven new paintings created in homage to writer and civil rights activist James Baldwin, who was an artistic mentor to Ové and who lived in Saint-Paul de Vence for the last 17 years of his life.
These unique, vibrant works incorporate an inventive use of mixed media: crochet doilies found in markets and rummage sales. Continuing on the themes of revolution and resistance from his earlier series, Canboulay, Ové draws on the writings of Baldwin, particularly his book-length essay, The Evidence of Things Not Seen, from which the show takes its name. The essay, which explores the state of blackness in America and the value of Black lives, notably inspired the artist. "​​For me the destruction of self that [Baldwin] refers to is the same destruction that the free slaves fought against in Canboulay, in Trinidad," said Ové. "The right to live a life with the same justice and equality that the Black man's white counterpart was provided with."
The works in this exhibition, such as Giovanni's Room, No Name in the Street, and Native Son, also take their titles from Baldwin's writings. Though these titles specifically reference his essays, they are not meant to invoke the subjects of the works directly but, rather, the broader ideas and phenomena that Baldwin navigates. Ové stresses that generations will continue to suffer at the hands of misogyny and racism. "These titles are to help remind us not to fall back into them," the artist states.
It was more than Baldwin's writing that influenced Ové's practice. Baldwin was a close family friend of the artist's father, British filmmaker Horace Ové, and stepmother, Annabelle Alcazar. This gave Ové unprecedented access to this legendary figure. Reminiscing about growing up with Baldwin as a mentor and honorary uncle, Ové notes he was a "fantastical," charismatic individual who motivated and inspired his younger self.
One of the more distinctive works in this exhibition, Native Son, features a colorful figure, a young man, with wild hair and an open mouth against a bright pink background, seemingly ecstatic or in a rage depending on your interpretation. For Ové, this work originated from an inquiry: "If somebody like James Baldwin had been born in the 70s or the 80s or the 90s and had come to the same thinking and thought process as a young man today, how would he look?" The artist draws on the same hope that many in Baldwin's generation likely had; that their children would grow up without oppression and have the freedom to be anything they would like. The Native Son becomes a collective child, with the right to be as eccentric, whimsical, or as camp as they wish. To the artist, these freedoms are what makes a "Good Native Son."
"The Evidence of Things Not Seen" is timed with La Maison Baldwin's 2022 International Conference on James Baldwin in Nice, France, which includes a panel discussion at De Buck Gallery in Saint-Paul de Vence featuring Zak Ové. The conference will also feature a documentary film made by Horace Ové featuring James Baldwin.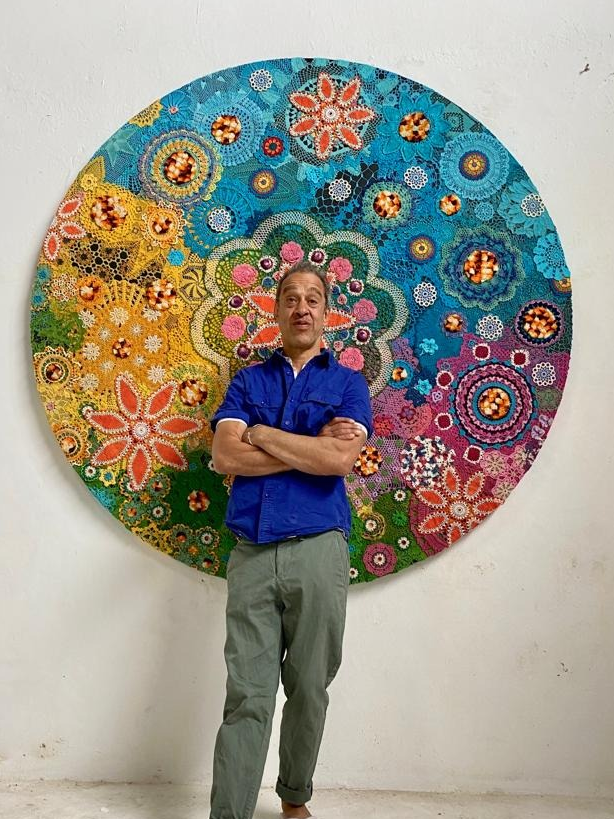 Zak Ové (b. 1966) is a British-Trinidadian artist whose work is informed by the history and lore carried through the African diaspora to the Caribbean, Britain and beyond with particular focus on traditions of masking and masquerade as a tool of self-emancipation. The artist was recently featured in Tate Britain's 2021 exhibition, "Life Between Islands: Caribbean-British Art 1950s – Now," which celebrated 70 years of British-Caribbean art. In 2015, The British Museum commissioned Ové to produce a pair of staggeringly-tall steel sculptures, making Ové the first Caribbean artist to be featured in its permanent collection. Entitled Moko Jumbie, a pair of similar commissions of the same name were included in Art Gallery of Ontario's exhibition, "Fragments of Epic Memory."
Location
De Buck Gallery
Saint-Paul de Vence
Date
June 4, 2022 - June 30, 2022
Artist(s)