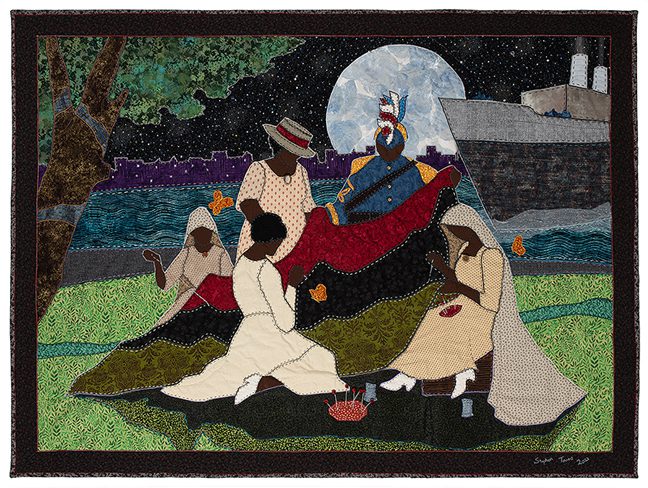 8 Must-See Gallery Shows Around the Country This November
Rounding up the best gallery exhibitions across the United States each month, Galerie crossed from New York City to California to discover the top solo shows for November. From Stephen Towns's paintings and quilts of Black Americans laboring for the greater good at De Buck Gallery and Susumu Kamijo's two-venue exhibition of paintings of abstracted poodles at Venus Over Manhattan and Jack Hanley Gallery in New York to Linder's feminist photomontages at Blum & Poe in Los Angeles and Julie Buffalohead's paintings and drawings of dreamlike scenes from the imaginative mind of a Native American at Jessica Silverman in San Francisco, these are the not-to-be-missed shows this month.
Stephen Towns at De Buck Gallery, New York
A Baltimore-based figurative painter and fiber artist, Stephen Towns makes work that explores how American history has influenced contemporary society. Creating paintings that mix classical art poses with Impressionistic brushwork and narrative quilt works constructed with fabrics sourced from family and friends, the DIY artist shines a light on the vital role that Black Americans have played in shaping the nation's developing democracy.
Returning to New York's De Buck Gallery for his third solo show, Towns is presenting 13 recent paintings and quilt pieces in the exhibition "Glimpses of Americana." Inspired by the themes of labor, resilience and leadership and based on archival images researched and transformed by the artist, the figurative paintings and quilts share the tales of such celebrated African-Americans as Ona Judge, an enslaved woman who fled to freedom from George Washington's family plantation, and Marcus Garvey, a political activist who promoted Pan-Africanism and Black brotherhood, as well as everyday laborers, like teachers and nurses, who persevered through tough times.