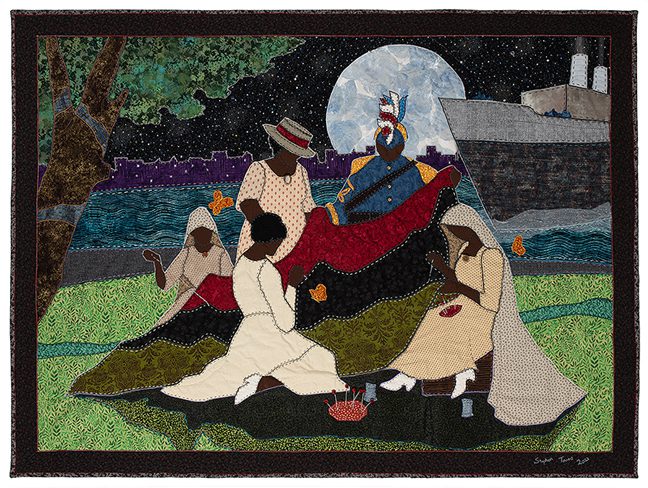 De Buck Gallery is delighted to announce "Stephen Towns: Glimpses of Americana," a solo exhibition by Baltimore-based artist Stephen Towns. The show will feature 13 works and is inspired by the themes of labor, resilience, and leadership; which have been a focal point for the artist over the past few years. Featuring a selection of eight paintings and five quiltworks, "Glimpses of Americana" expands on the historical narrative of enslaved and free people subjected to the hardships of early industrial America as People of Color and their perseverance through skill, determination, and acts of rebellion.
Across this body of work, the artist draws our attention to the many hidden figures, the unsung and often exceptional African Americans, whose roles helped shape the American economy. According to Towns, "There is a narrative that we come from kings and queens, but I probably didn't come from a king or a queen, I probably came from a laborer that was captured and sold into slavery and there is just as much importance in the people in the background as there is in the people on the top." Thus, his works reveal stories that have largely been left out of the "typical" American narrative and in the canon of Westernized American Art.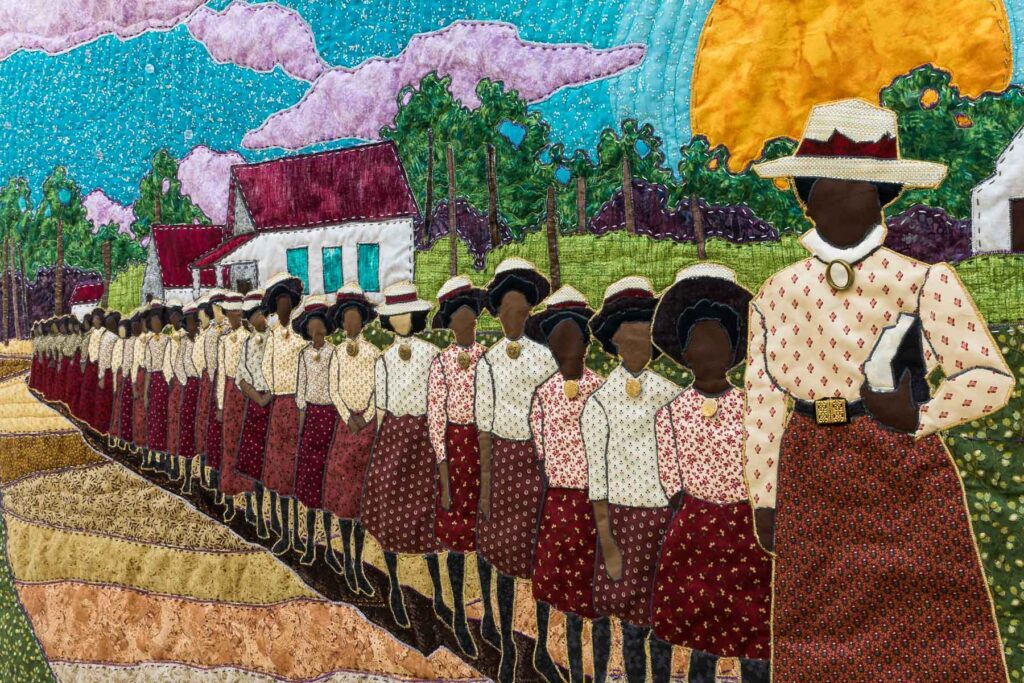 Stories include that of Mary McLeod Bethune, an educator, women's rights activist, national civil rights pioneer, and later, presidential advisor, who started the Daytona Literary and Industrial Training Institute for Negro Girls in 1904 and later the Mary McLeod Hospital and Training School for Nurses after noting the disparities in healthcare for African Americans in Daytona Beach; and Marcus Garvey, a Jamaican-born activist and writer who founded the Universal Negro Improvement Association and African Communities League in 1914 which served to achieve Black nationalism through the celebration of African history and culture. Garvey has a special connection to New York in that the city's residents can visit Marcus Garvey Park in East Harlem.
Within the exhibition, the artist also pays tribute to Ona Judge, a formerly enslaved servant in the household of President George Washington where she was an invaluable seamstress and maid to Martha Washington. On May 21, 1796, Ona Judge escaped the grounds and fled before the presidential family's return to Mount Vernon from Philadelphia. Stephen Towns depicted Ona Judge's escape in both Ona Judge Escapes and Ona Judge and Her Family, where the figures are surrounded by a forest of birch illuminated by a full moon which takes up almost the entirety of the quilts. The two works contrast each other in terms of movement and rest, while capturing the urgency the family would have felt making their escape.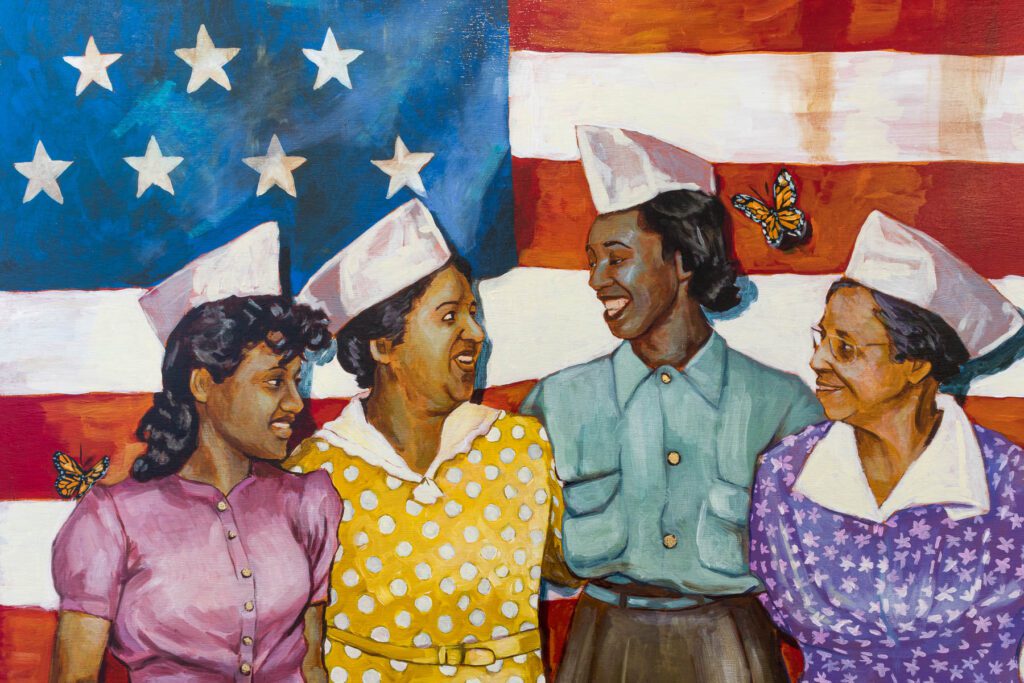 Still, Stephen Towns depicts the millions of nameless individuals through his work who by sheer will and determination, shaped the country through their labor in fields, institutions, and much more, showing that their lives and efforts also deserve prominent storytelling.
Stephen Towns was born in 1980 in Lincolnville, South Carolina, and received a Bachelor of Fine Art in painting from the University of South Carolina. His work has been exhibited locally and nationally, including solo exhibitions at the Baltimore Museum of Art, York College, Goucher College, Galerie Myrtis, as well as group exhibitions at the Smithsonian National Museum of African American History and Culture, Jack Shainman Gallery: The School, August Wilson Cultural Center, Arlington Art Center, Montpelier Arts Center, Star-Spangled Banner Flag House and Museum. His work has been featured in publications such as the New York Times, Cultured Magazine, ARTnews, American Craft Council Magazine, and The Baltimore Sun. Towns was honored as the inaugural recipient of the 2016 Municipal Art Society of Baltimore Travel Prize and received a Greater Baltimore Cultural Alliance Rubys Artist Grant in 2015. In 2018, Towns was a semi-finalist for Sondheim Artscape Prize and awarded a MD State Arts Council's Individual Artist Award. Towns's work is in the collections of the Smithsonian National Museum of African American History and Culture, The Baltimore Museum of Art, the City of Charleston, South Carolina, The Nelson Atkins Museum, Kansas City, Missouri, the private collection of Art + Practice, artist Mark Bradford's nonprofit based in Leimert Park, Los Angeles, as well as other private collections nationally and abroad. In 2022, Towns exhibited Declaration and Resistance, a solo exhibition of paintings and quilts at the Westmoreland Museum of American Art, Pennsylvania. Additional recent acquisitions include The Huntington Museum of Art in West Virginia and The Rockwell Museum. Towns currently lives and works in Baltimore, MD.
For press inquiries, please contact us at info@debuckgallery.com
For sales and all other inquiries, please contact us at collect@debuckgallery.com
Installation Images of the Exhibition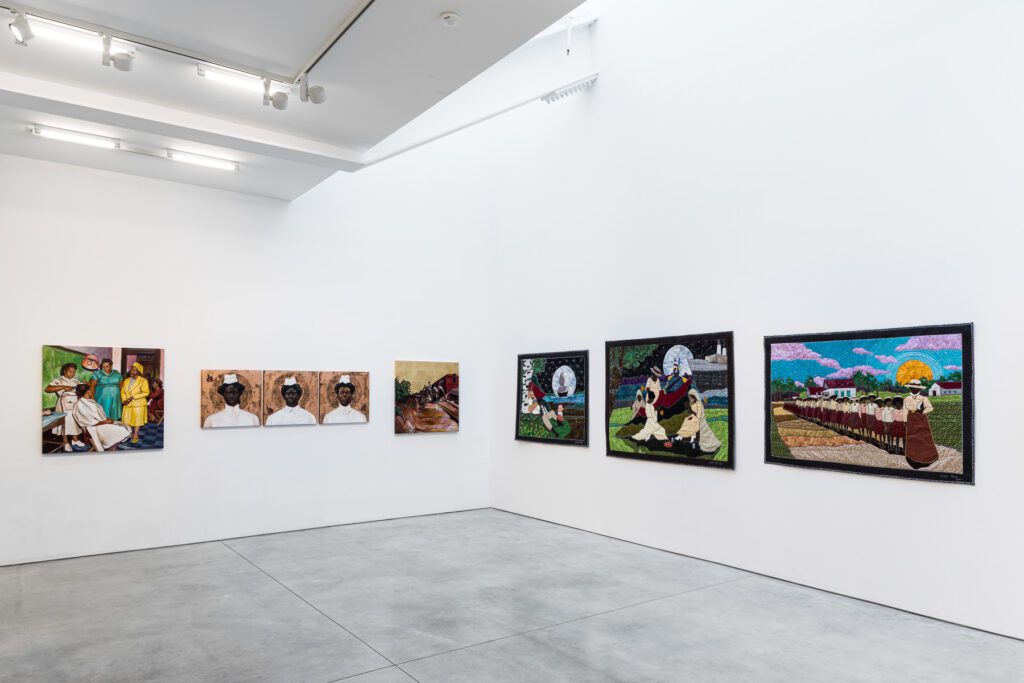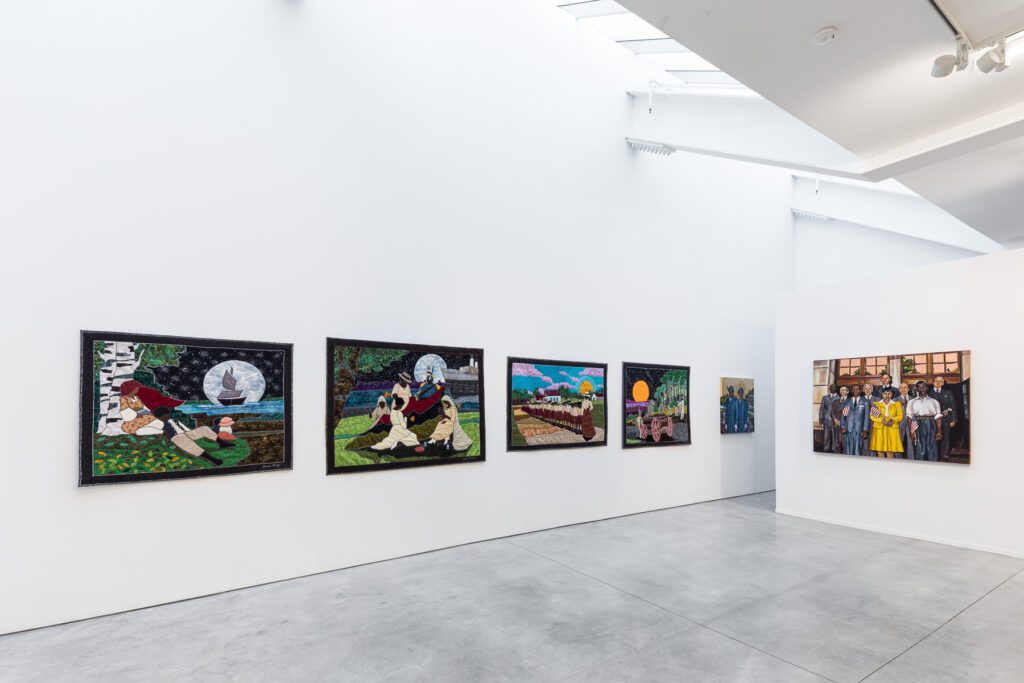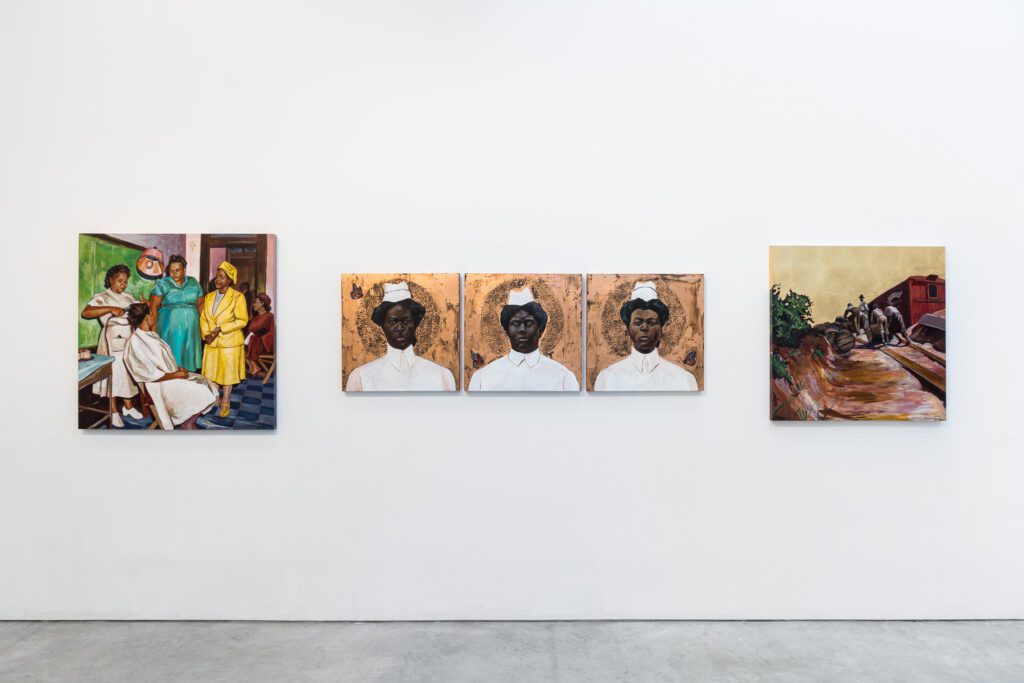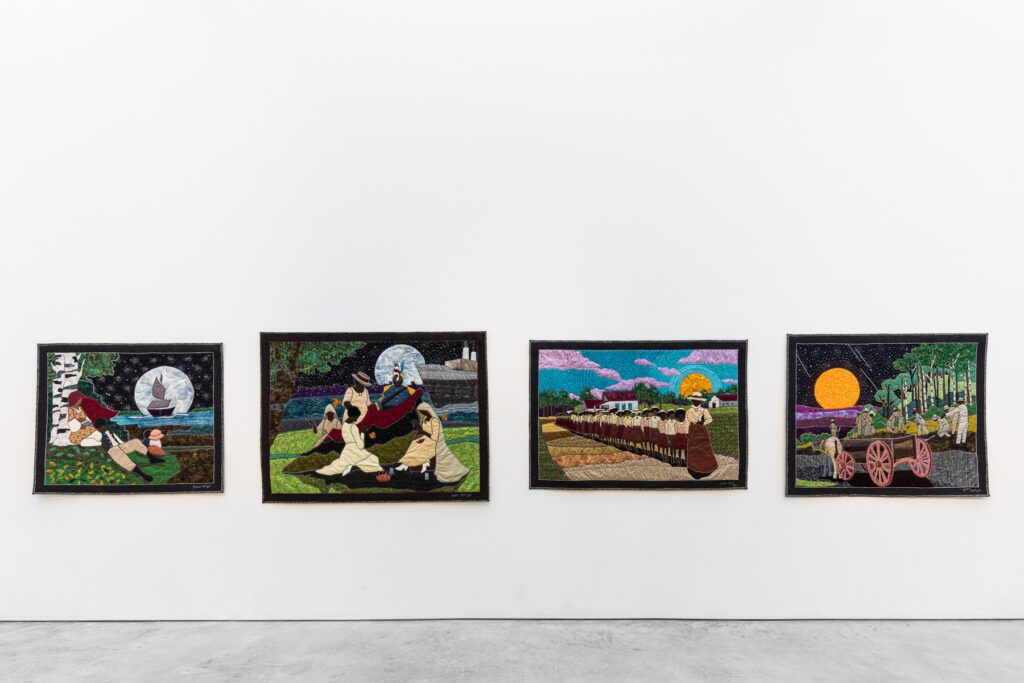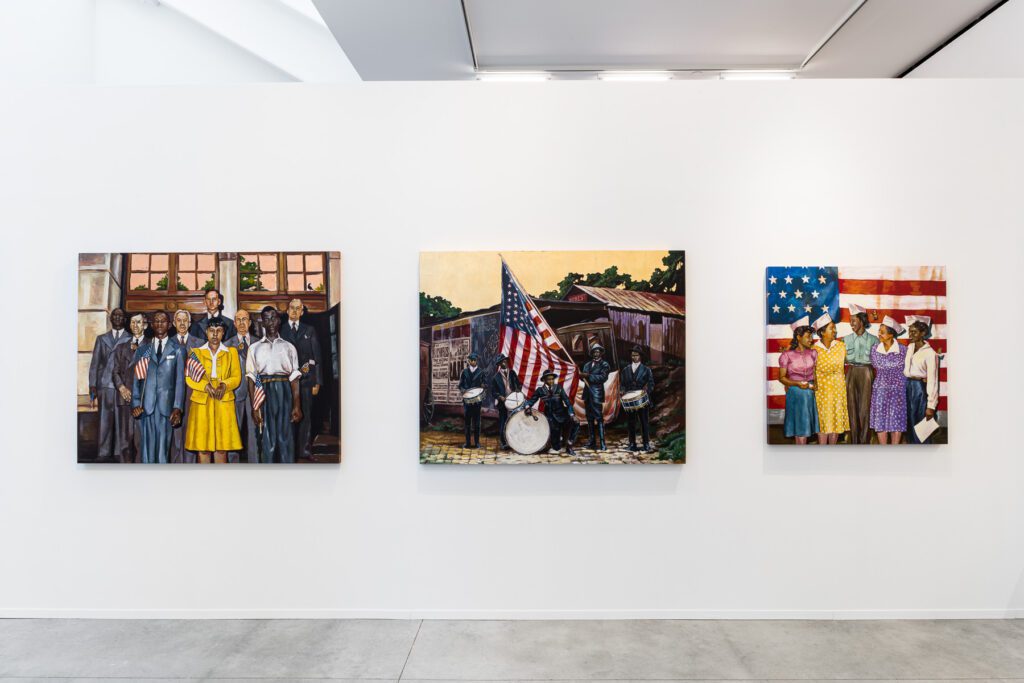 Date
October 11, 2022 - November 12, 2022
Artist(s)