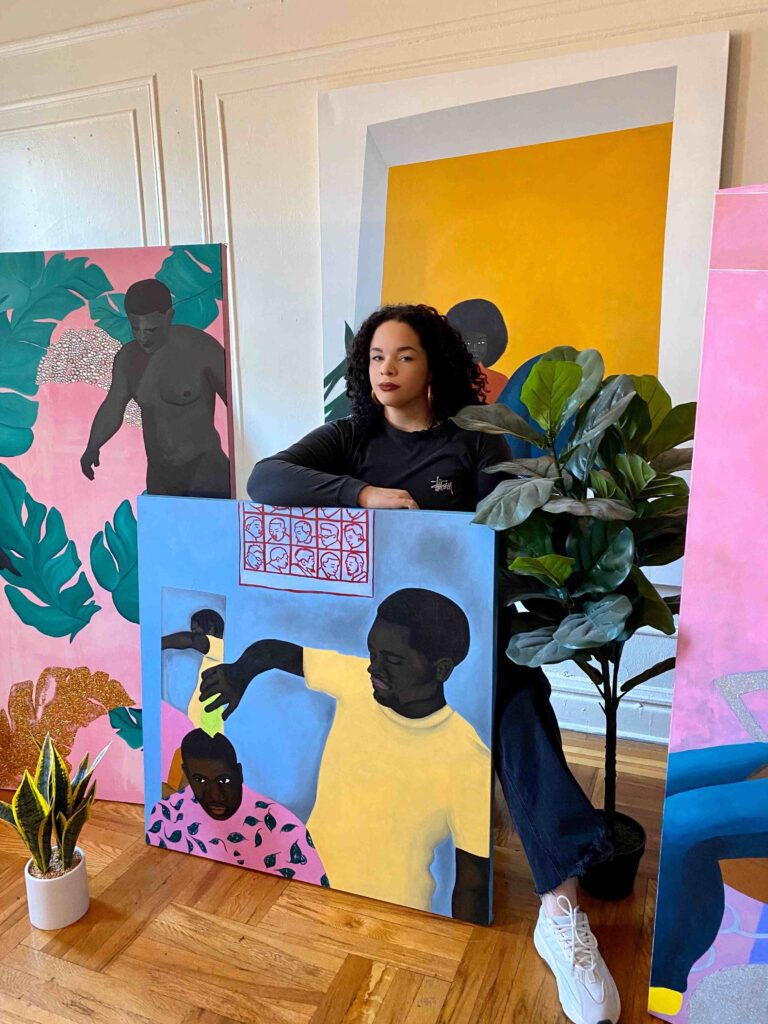 This year at EXPO CHICAGO, De Buck Gallery brought a new selection of work by Tiffany Alfonseca, whose vibrant and colorful paintings celebrate Black and Afro-Latinx diasporic culture. Timed with the fair, De Buck Gallery sat down with the artist to gain insights into her practice. Find out what role music plays in her studio practice and what music she was listening to while creating these works.
De Buck Gallery: When did you start painting?
Tiffany Alfonseca: I started painting at a very young age of 3 and decided to pursue it as a career when I was applying for high schools. At that point, I always knew I was passionate about art so I wanted to explore different routes of my creativity. I attended the high school of fashion industries and majored in fashion design/illustration.
DBG: What can you tell us about these new paintings?
TA: With this body of work I wanted to focus on embracing female energy. So many times we see people of color portrayed in art working, doing manual labor etc and I wanted to step out of that context. Capturing women of color in a more relaxed setting and embracing their soft feminine energy. My inspiration comes from my family, friends and community! All of my subjects are people that I know or have taken photos of.
DBG: Were you introduced to art as a child?
TA: My family wasn't into art but it was always a part of my upbringing, because from a young age I've always shown interests in the arts.
DBG: What do you do in your spare time?
TA: I'm a big music lover so you will always catch me listening to music on my spare time! A lot of my work is inspired by some of my favorite musicians, lyrics, sounds, or beats.
DBG: What are three songs you listened to in creating these works?
TA: Yo Perreo Sola by Bad Bunny, TQG by KAROL G and Shakira, and Yo Quiero Bailar by Ivy Queen
DBG: If you could be magically transported anywhere in the world right now, where would it be?
TA: I'm right where I want to be! Just wishing the weather was a bit warmer, I thrive in the summertime.