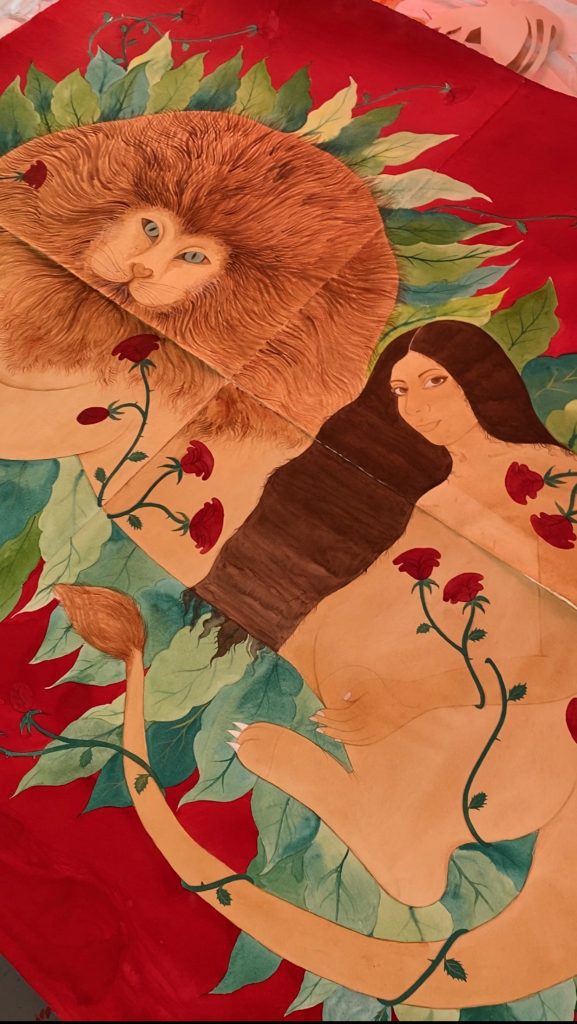 On Thursday, January 14, Rockefeller Center and Art Production Fund unveiled "In My Heart," a new installation by Hiba Schahbaz. The project is part of the public art program Art in Focus, a diverse array of New York-inspired, site-specific installations ranging from large scale sculptures to whimsical illustrations scattered throughout Rockefeller Center.
The editors of artnet News have selected Schahbaz's site-specific installation as a top pick for the week. Editor Sarah Cascone writes:
Hiba Schahbaz takes over unused ad spaces at Rockefeller Center in the latest offering from Art Production Fund. The artist, known for her mythological-flavored self portraits, has created paper cut-outs featuring garden scenes and female figures amid the doldrums of winter in New York. The highlight will be a 125-foot-long site-specific mural at the concourse of 45 Rockefeller Plaza, while smaller lightbox displays are inspired by traditional Indo-Persian miniature paintings.
Read the full story here. Visit the exhibition page for 'In My Heart' to learn more about this installation. Visit Hiba Schahbaz's artist's page for more information on the artist and to view available works.
More about the installation:
Schahbaz's site-specific installation presents mythological garden scenes, utilizing natural motifs such as gardenscapes, animals, and birds along with female figures inspired by her personal narrative.
The artist's intention is to create a healing space within the City that is both beautiful and transformative. The scale of this project allowed Schahbaz to present the full scope of her various painting styles.
For the vitrine windows in the lobby of 45 Rockefeller Plaza, Schahbaz will present three unique scenes made from painted paper cutouts and larger paper paintings. These installations will depict almost lifesized human and animal forms surrounded by delicate trees, flowers, birds, and snakes.
For the concourse displays at 45 Rockefeller Plaza, Schahbaz will create a 125-foot long site-specific mural specifically designed for this unique space. This painting will narrate a scene depicting the journey of life, beginning in a garden, moving towards the water, and ending in the sky. The palette for these works is bright, lush, and jewel-like. Schahbaz's paintings are created using flat washes and intricate rendering, with looser forms containing areas of intense detail.
The objective is to represent life in an idealized and harmonious way as opposed to a realistic manner. Influenced by traditional Indo-Persian miniature paintings, small, detailed scenes of imaginary gardens and landscapes will be presented on the lightboxes at Rockefeller Plaza and on Fifth Avenue. Much of the work presented at Rockefeller Center is figurative, with each image presenting the artist's individual personal narrative while simultaneously reflecting upon a collective experience of women.
Throughout this exhibition, Schahbaz explores themes of beauty, healing, emotional journey, and spirituality within one's surroundings.
"I love the idea of creating an installation that will become a part of people's lives as they experience it in passing. My intention is to create something beautiful and from my heart which will elevate spirits, bringing joy and balance back to daily life. " – Hiba Schahbaz