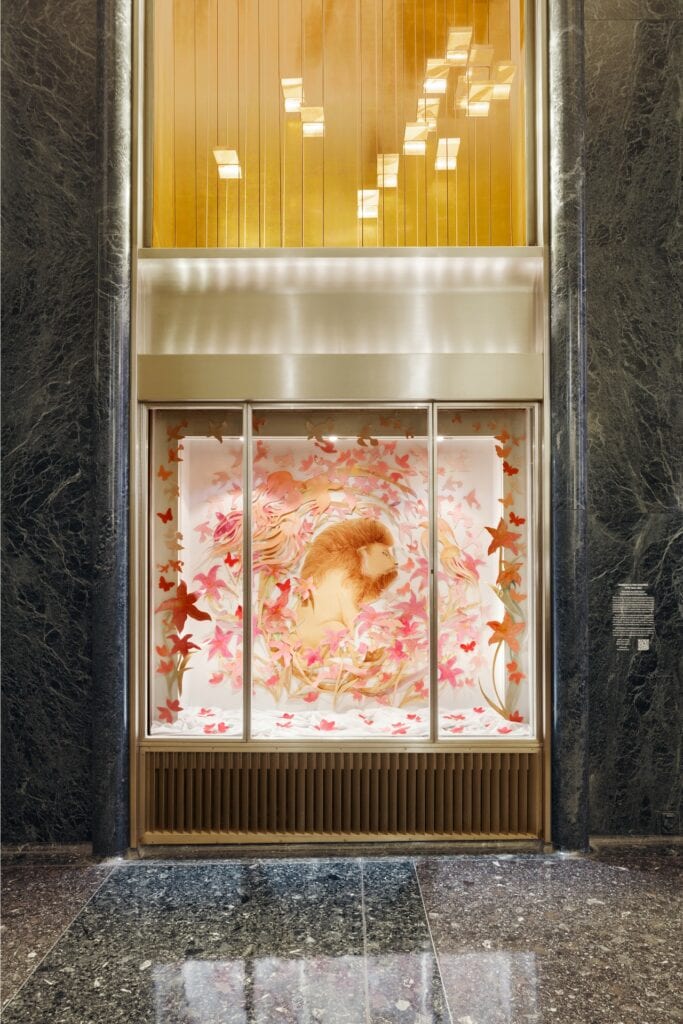 ROCKEFELLER CENTER® & ART PRODUCTION FUND ANNOUNCE
ARTISTS FOR 2021 ART IN FOCUS PUBLIC PROGRAM
Hiba Schahbaz, Sanford Biggers, Hilary Pecis, Maurice Harris, and Lisa Congdon
to display site-specific works in public spaces throughout
Rockefeller Center campus
NEW YORK, NY – Rockefeller Center and Art Production Fund today announce the artist lineup for the third year of the Art in Focus public art program, a diverse array of New York-inspired, site-specific installations ranging from large scale sculptures to whimsical illustrations scattered throughout the Center.
Art in Focus presents a diversity of experiences and offers a variety of interpretations of New York, with each artist having lived or worked in the City. This year's Art in Focus artists follow in the footsteps of Oliver Jeffers, Genevieve Gaignard, Hein Koh, LaKela Brown, Lucy Sparrow, Ryan Flores, Vanessa German, Portia Munson, and Angelica Hicks who have participated in the program in years past.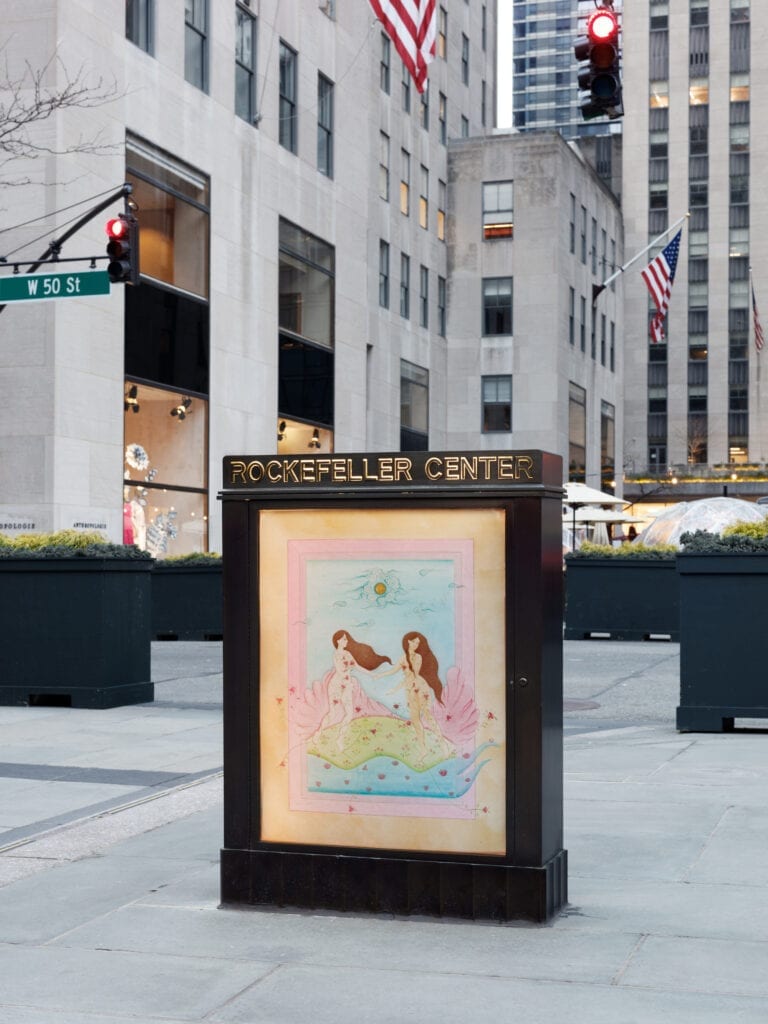 The year-long public program consists of five separate installations and will kick off on Thursday, January 14 with In My Heart by Brooklyn-based interdisciplinary artist HIBA SCHAHBAZ. Following Schahbaz are New York-based interdisciplinary artist SANFORD BIGGERS, visual artist HILARY PECIS, floral artist and founder of the studio Bloom & Plume MAURICE HARRIS, and renowned illustrator and author LISA CONGDON who will show her vibrant graphic drawings across the Rockefeller Center campus and create the annual Rockefeller Center holiday map, a free takeaway to all visitors of Rockefeller Center during the holiday season that depicts scenes of New York's most distinguished holiday destination.
Artists in the 2021 Art in Focus program explore the themes of home, community and the environments in which we exist, each using their own unique forms of mixed media and materials, interpreting their surroundings in both real life and in the realm of fantasy.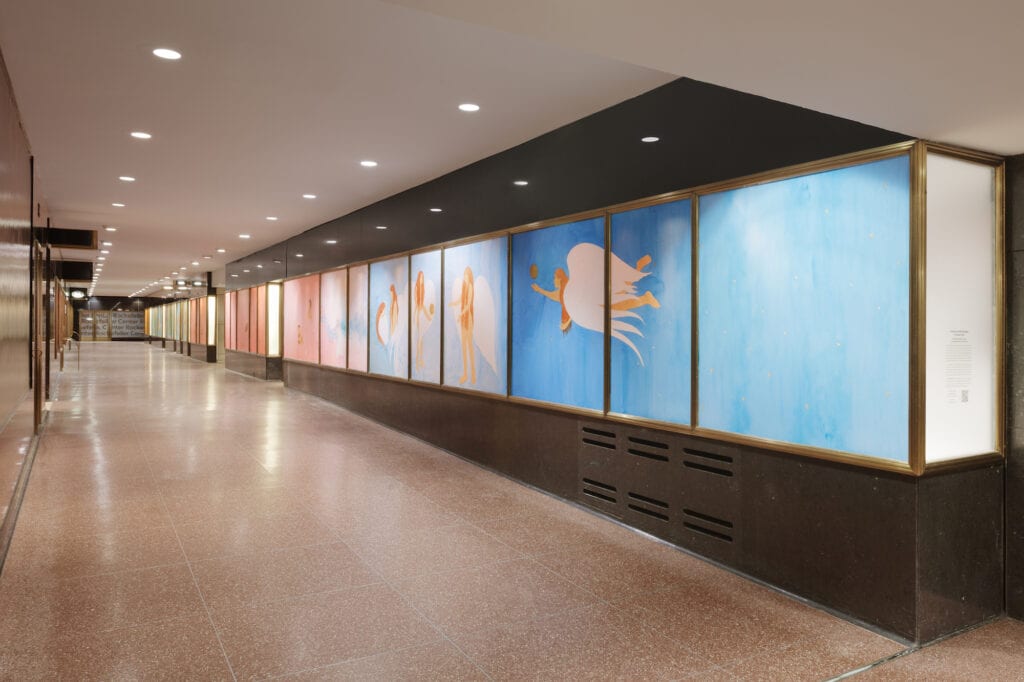 "As we enter our third year of Art in Focus, we continue our commitment to bring public art and creative energy to Midtown by showcasing works made by and for New Yorkers. Art in Focus draws inspiration from the vibrancy of our City and seeks to delight and inspire joy with those who experience it, in the most iconic locations on the Plaza and in surprising and hidden corners of our vast campus. As New York starts the New Year with a renewed sense of hope, there is no better way to kick off the program than with the uplifting and healing works of Hiba Schahbaz." – EB Kelly, Tishman Speyer Managing Director overseeing Rockefeller Center
"We are so proud to continue the ambitious Art in Focus program in partnership with Rockefeller Center. The diverse perspectives and practices of this year's artists consider community and surroundings, both real and imagined, offering the opportunity for visitors to reflect on the world around them." – CASEY FREMONT, Executive Director, Art Production Fund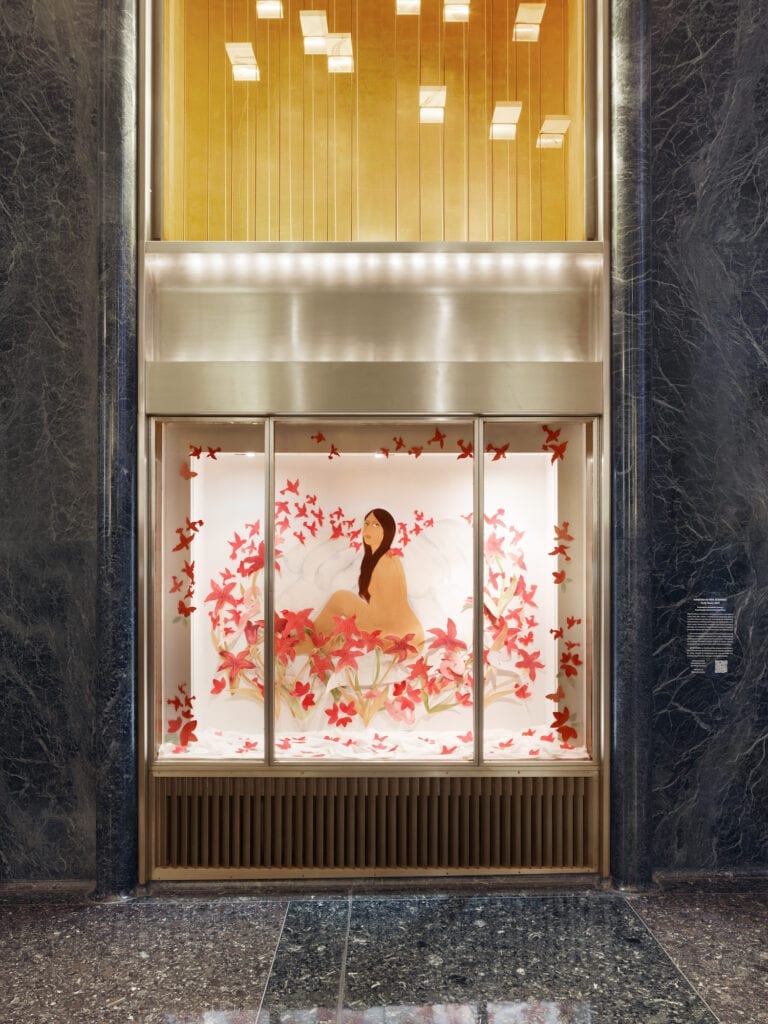 JANUARY 14 – HIBA SCHAHBAZ, "In My Heart"
Schahbaz's installation incorporates self-portraiture, art history, mythology, and autobiography. Schahbaz's site-specific installation presents mythological garden scenes, utilizing natural motifs such as gardenscapes, animals, and birds along with female figures inspired by her personal narrative. The artist's intention is to create a healing space within the City that is both beautiful and transformative. The scale of this project allowed Schahbaz to present the full scope of her various painting styles.
For the vitrine windows in the lobby of 45 Rockefeller Plaza, Schahbaz will present three unique scenes made from painted paper cutouts and larger paper paintings. These installations will depict almost life-sized human and animal forms surrounded by delicate trees, flowers, birds, and snakes.
For the concourse displays at 45 Rockefeller Plaza, Schahbaz will create a 125-foot long site-specific mural specifically designed for this unique space. This painting will narrate a scene depicting the journey of life, beginning in a garden, moving towards the water, and ending in the sky. The palette for these works is bright, lush, and jewel-like. Schahbaz's paintings are created using flat washes and intricate rendering, with looser forms containing areas of intense detail. The objective is to represent life in an idealized and harmonious way as opposed to a realistic manner.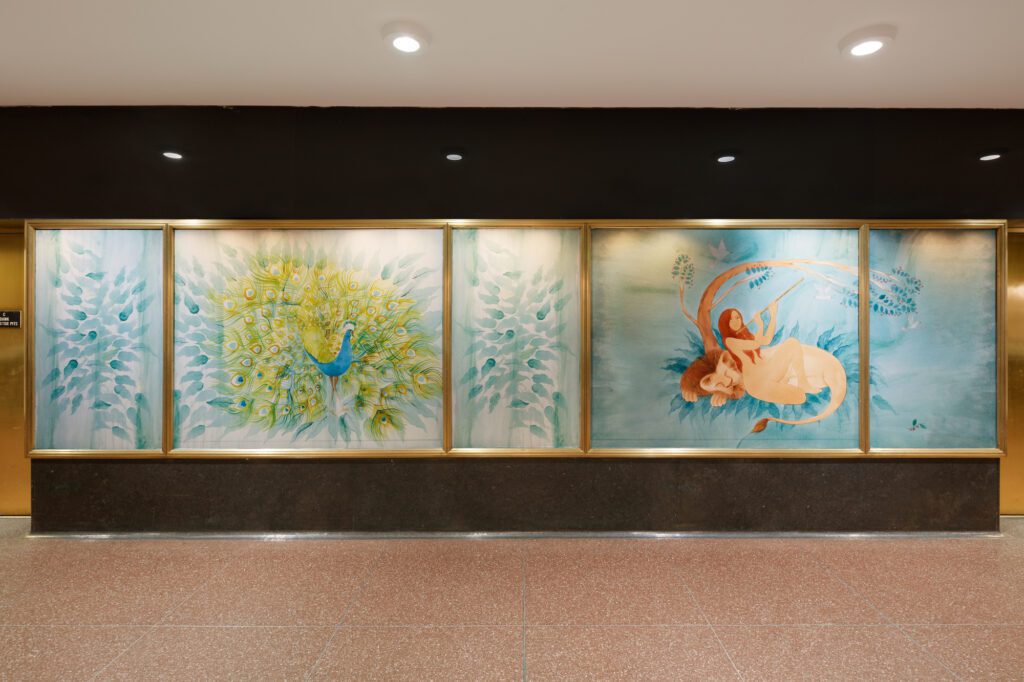 Influenced by traditional Indo-Persian miniature paintings, small, detailed scenes of imaginary gardens and landscapes will be presented on the lightboxes at Rockefeller Plaza and on Fifth Avenue. Much of the work presented at Rockefeller Center is figurative, with each image presenting the artist's individual personal narrative while simultaneously reflecting upon a collective experience of women. Throughout this exhibition, Schahbaz explores themes of beauty, healing, emotional journey, and spirituality within one's surroundings.
"I love the idea of creating an installation that will become a part of people's lives as they experience it in passing. My intention is to create something beautiful and from my heart which will elevate spirits, bringing joy and balance back to daily life. " – HIBA SCHAHBAZ
Born in Karachi, Pakistan, HIBA SCHAHBAZ is a Brooklyn-based figurative painter who works primarily with paper, black-tea, and water based pigments. Her subjects, largely drawn from her lifelong practice of self portraiture, inhabit a dreamlike, all-female world. Schahbaz initially trained in Indo-Persian miniature painting at Lahore's National College of Arts, and later earned a Master's in Painting from Pratt Institute in New York. Her work addresses issues of personal freedom, destruction, sexuality and censorship by unveiling the beauty, fragility and strength of the female form. Her solo shows include Dreaming (De Buck Gallery 2020), In Solitude (De Buck Gallery, 2020), The Garden (Spring/Break Art Show, 2018), Hiba Schahbaz: Self-Portraits (Project for Empty Space, 2017), Hanged With Roses (Thierry Goldberg Gallery, 2015), and In Memory (Noire Gallery, 2012). Schahbaz has participated in numerous group exhibitions, including a recent show curated by Jasmine Wahi in Tokyo, "all the women. in me. are tired.", at THE CLUB, as well as exhibitions at NiU Museum of Art, The Untitled Space, and Center for Book Arts; and has shown at art fairs such as Pulse Art Fair, Untitled Art Fair, Art Fair Cologne, and Vienna Fair.
ART IN FOCUS is a multidisciplinary program that showcases installations by contemporary artists inspired by the New York City landscape and contemporary life. Artists featured in the series will have their work displayed in a number of prominent and unexpected public locations throughout Rockefeller Center. Art in Focus is presented in partnership with Art Production Fund, a non-profit organization dedicated to commissioning and producing ambitious public art projects, reaching new audiences, and expanding awareness through contemporary art. Past Art in Focus artists include Joana Avillez (Rockefeller Center Holiday Map, December 2018), Hein Koh (Braving the Cold, January-April 2019), Portia Munson (Pink Projects, April-July 2019), LaKela Brown (July-September 2019), Lucy Sparrow (Lucy's Delicatessen on 6th, September-November 2019), Angelica Hicks (Rockefeller Center Holiday Map, December 2019), Vanessa German (The Holiest Wilderness if Freedom, January-April 2020), Ryan Flores (Low Lifes: An Upside Down Love Letter, June-September 2020), Genevieve Gaignard (September-November, 2020) and Oliver Jeffers (Rockefeller Center Holiday Map, December 2020).
Location
Rockefeller Center
New York
Date
January 14, 2021 - May 4, 2021
Artist(s)