INTRO
Philip Colbert (Scottish, 1979) is a London-based multidisciplinary artist working in painting, sculpture and NFTs. He is most known for his Neo-Pop Surrealism and his cartoon lobster character. Often referred to as the "godson of Andy Warhol," his practice evokes the style of his Pop art forebears such as Warhol and Roy Lichtenstein, while also paying homage to other influential figures across the Western art historical canon including Post-Impressionist Vincent van Gogh, Flemish Baroque artist Anthony Van Dyck, and contemporary artist George Condo to name a few. Most of his cheeky, satirical works feature the lobster character as the central subject.
Born in Scotland, Philip Colbert currently lives and works in London. His works have gained international recognition in the United States, Korea, Japan, Holland, and China. He received is MA in Philosophy from St. Andrews University after attending Strathallan School in Scotland. Colbert's work has been exhibited at institutions globally including the Tate Modern, the Van Gogh Museum, and the Modern Art Museum in Shanghai.
Philip Colbert's art took off with his lobster persona, which has since become his calling-card. He has exhibited at GSTAAD in Switzerland, the Sejong Gallery in Seoul, the Whitestone Gallery in Taipei, and the Modern Art Museum in Hong Kong with Lobster works that reference Andy Warhol, Yayoi Kusama, Van Gogh, Duchamp, and Frank Stella. In 2018, Colbert first exhibited his large-scale 'Hunt Paintings'—a series of large paintings that combine his signature uses of pop art, classical art figures, and culture—at the Saatchi Gallery in both London and Los Angeles and Gallery Nichido in Tokyo.
While Colbert has often taken advantage of digital platforms to display his work, the pandemic pushed his works forward into the metaverse. Following his success of a semi-virtual exhibition at Saatchi Gallery in 2020, Colbert launched Lobsteropolis, a virtual reality world within the Decentraland platform. The largest and most ambitious single-artist venture on Decentraland to date, Colbert's virtual world is set across 57 land parcels in the metaverse and has even featured an auction with famed auctioneer Simon de Pury.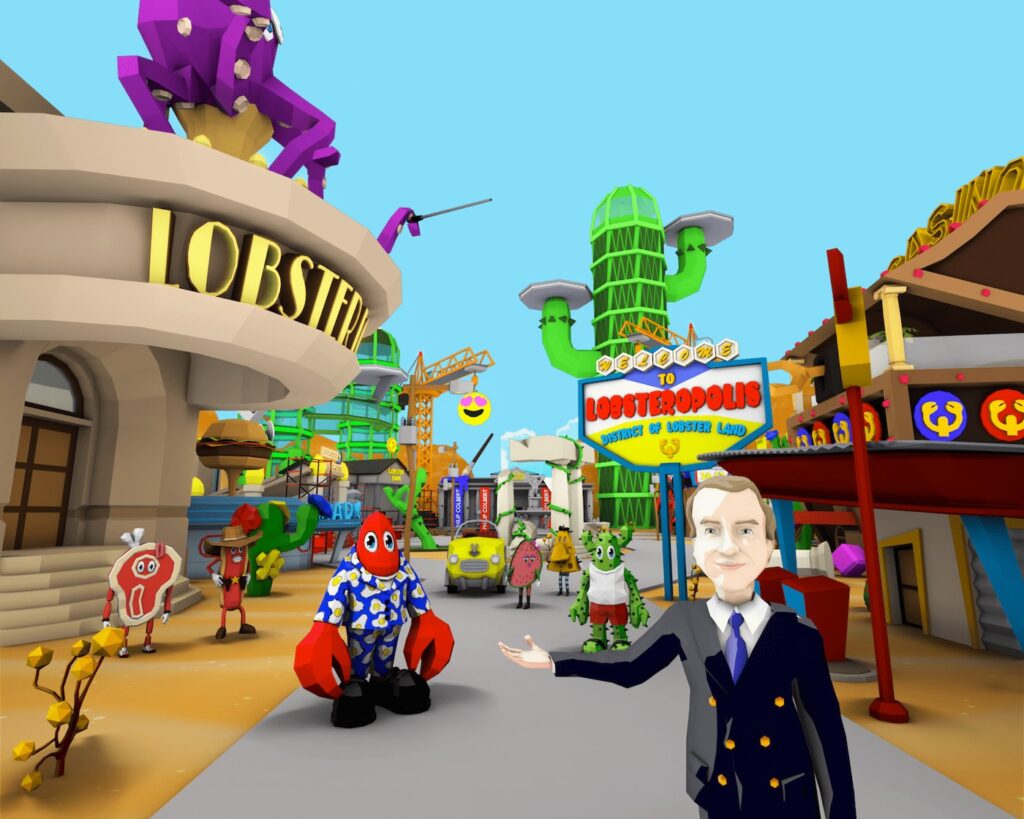 Within Philip Colbert's enormous virtual reality, he includes his virtual exhibition at the Lobster Land Museum. This exhibition includes a series of NFT works available exclusively on an NFT marketplace.
In April 2022, Colbert launched 7,777 lobster portraits, The Lobstars, a series of NFT collectible crustaceans that include a citizenship to Colbert's Lobstertopolis and sponsorship of a real-life lobster released into the wild, coinciding with the U.K.'s latest additions to its Animal Welfare Bill. To further the excitement, buyers of the NFTs have a unique Lobstar portrait that will only reveal itself after their purchase. De Buck Gallery offers 10 unique NFTs from this series in its current Spotlight.
ON PROCESS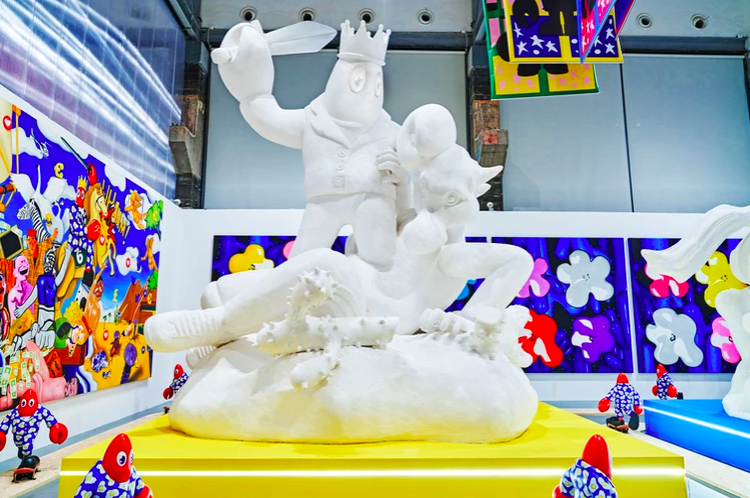 As of Colbert's latest NFT project, The Lobstars, the artist says, "The original ideas always start in sketch form so I can test out if they work, then are developed and 3D modeled. As they were portraits, the first key challenge was developing the main pose for the series, I wanted to have this unusual bold and expressive emotive pose, the way the lobsters' claws and head are positioned, etc, as a sort of subtle reference to Picasso and Velasquez style portraits of the thinking engaged sitter."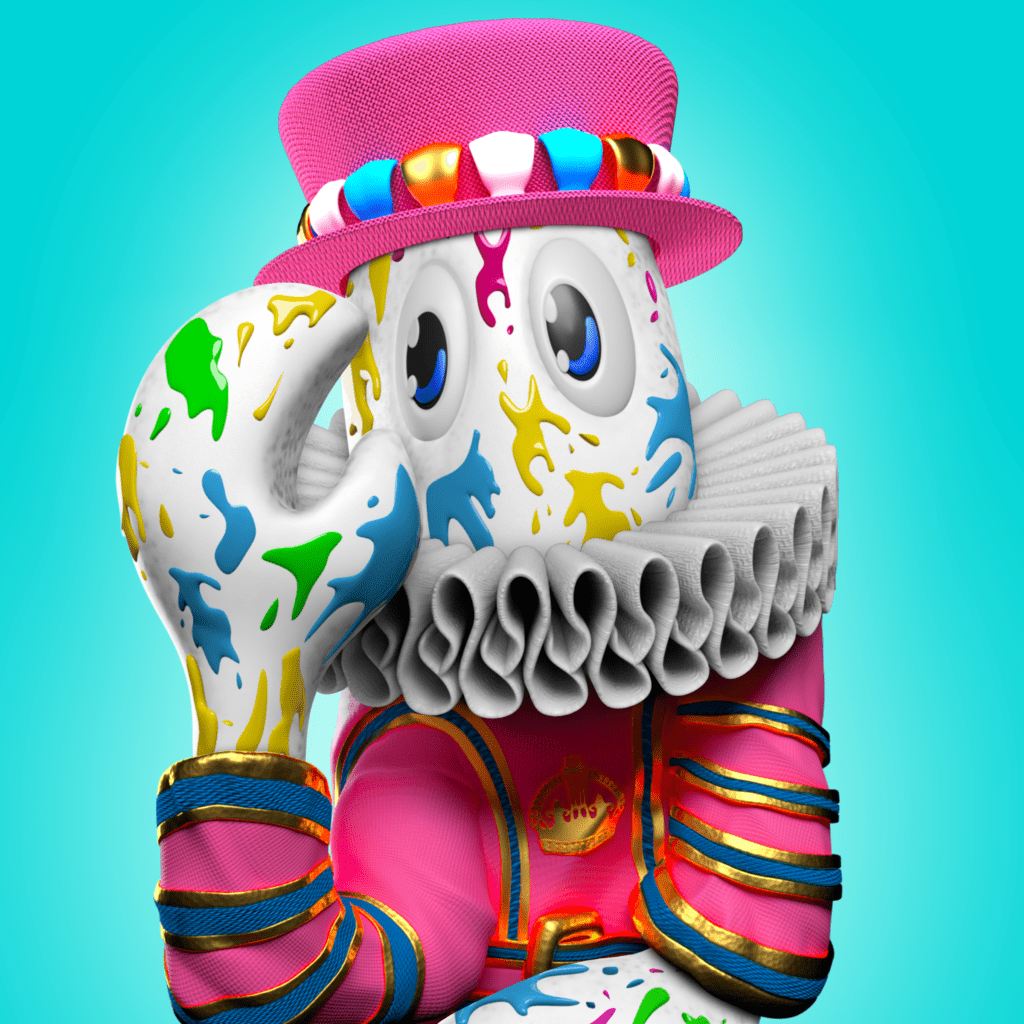 Colbert began his venture inspired by the idea of a community art project. Timed with the launch of The Lobstars, Colbert staged an artistic intervention ahead of the opening week of the 59th Venice Biennale with an inflatable lobster sculpture that floated along the Grand Canal. "I now have a global community of fellow 'Lobstar' avatars," said Colbert.

COLLABORATIONS
Philip Colbert has done collaborations with brands such as Adidas, Rolex, Monte Blanc, Christian Louboutin, and Comme des Garçons creating travel accessories, watches, clothing, and even decorated cars. He, furthermore, has designed wearable art and artistic furniture in his signature style.
CURRENT PROJECTS
In 2021, Philip Colbert launched his open-source Virtual Realities Lobster Land and Lobsteropolis in Decentraland, a platform powered by the Ethereum blockchain. Curated by renowned art auctioneer and dealer Simon de Pury, users can explore and experience the launch through a unique avatar. The project also features digital works from his 2020 exhibition at Saatchi Gallery in London, which were created in response to the pandemic.
Most Recently, in April, Colbert has launched a series of 7,777 NFTs that are unique portraits of lobsters entitled The Lobstars. De Buck Gallery is thrilled to announce the addition of ten unique NFTs from The Lobstars that come with unique prints to our online Spotlight of Philip Colbert's works.