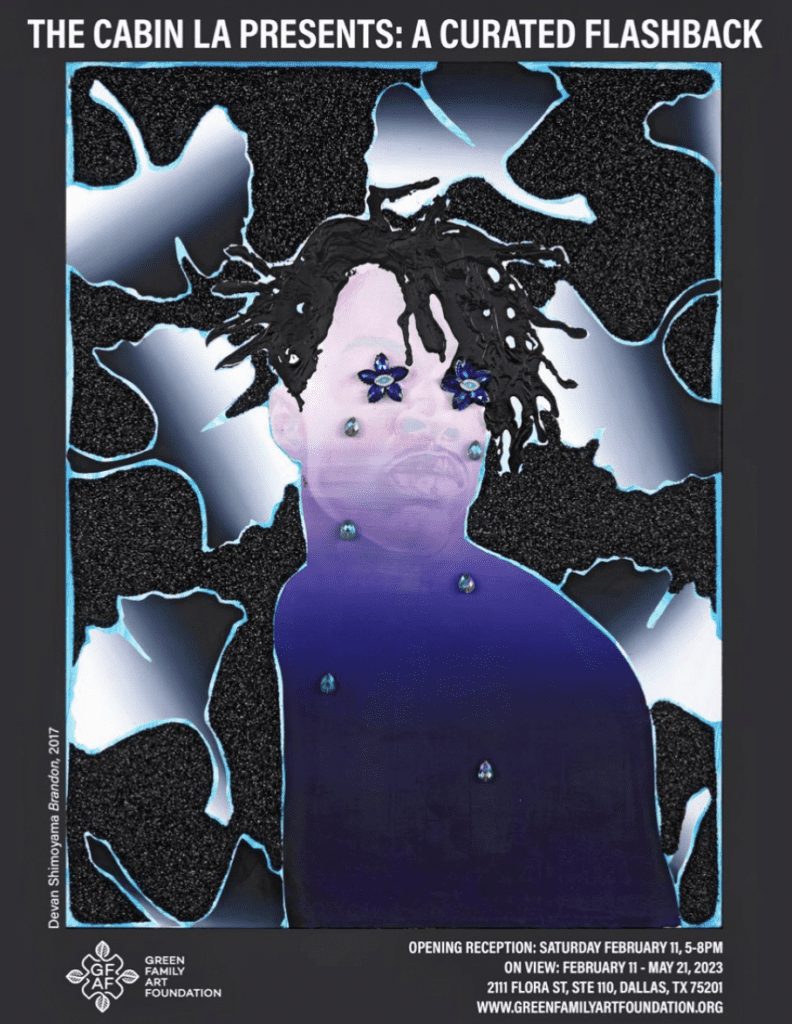 Artists Devan Shimoyama, Annan Affotey, and Gommaar Gilliams are among the artists featured in "The Cabin LA: A Curated Flashback," an exhibition at the Green Family Art Foundation in Dallas, Texas of work by artists who participated in the renowned residency program, The Cabin LA managed by Danny First. The show will present 42 works by artists who have been part of the residency over the last seven years.
Included among the works will be Devan Shimoyama's "Brandon," 2017, a painting embellished with jewelry, flashe, sequins, and fabric. Devan was a resident of The Cabin LA in June, 2017. Gommaar Gilliams will also offer a new painting.
The exhibition will be on view from February 11, 2023 through May 21, 2023 with an opening reception on February 11.
Devan Shimoyama's most recent series, The Tarot, was on view at De Buck Gallery's booth at Untitled this past December, and will next be on view at his solo exhibition at CAC Malaga in Malaga Spain in this summer. His installation The Grove, initially commissioned by the Smithsonian Institution for its 175th anniversary exhibition, was installed during Art Basel Miami Beach in the Meridians sector. To learn more about his work click here.
Gommaar Gilliams's large-scale paintings and textural wall hangings fuse American Abstract Expressionism with figurative elements derived from Middle Eastern to European symbolism. He most recently completed a residency with the SMAC Gallery, Cape Town, South Africa. In 2022, De Buck Gallery presented his show "Under Cassiopeia" in New York.