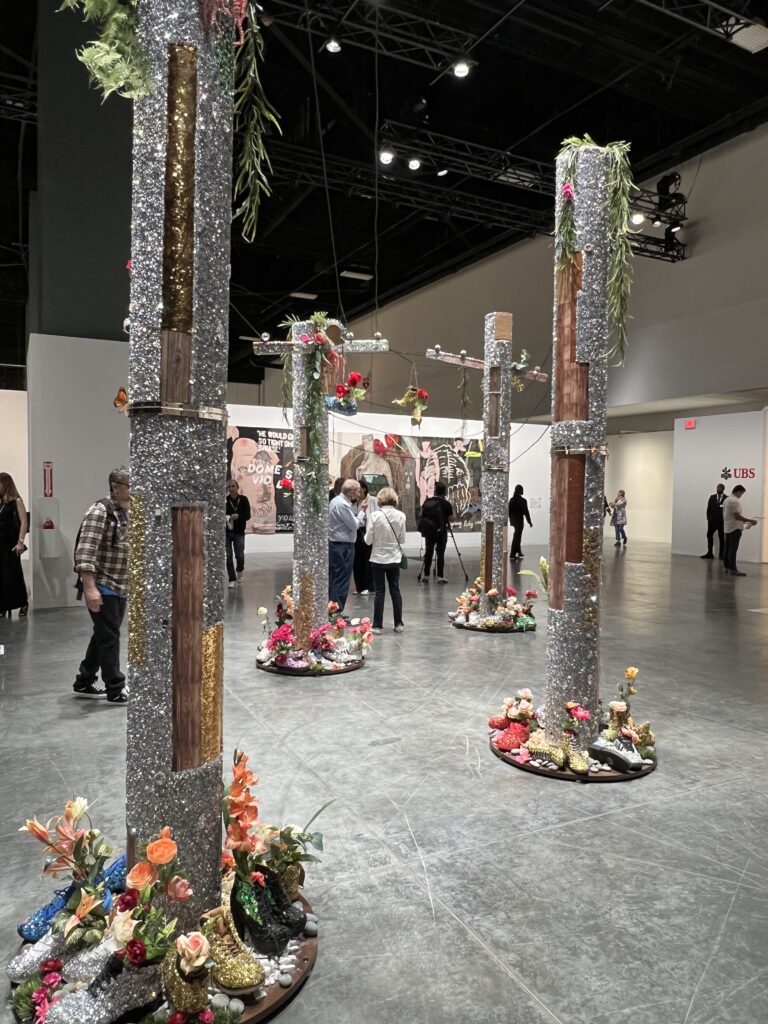 Devan Shimoyama's installation The Grove (2021), at the Meridians Sector of Art Basel Miami Beach is featured in The New York Times story, 'The Miracle of Miami': Art Basel Marks 20 Years in South Florida.'
The Grove (2021) is on view in the Meridians Sector at Art Basel in Miami during Miami Art Week. Created in response to the tumult and tragedy brought on by racial violence and the COVID-19 pandemic, this installation, which was commissioned by the Smithsonian Museum and featured in its 175th anniversary exhibition, 'Futures,' and is presented at Art Basel by Kavi Gupta gallery, invites viewers to enter a meditative forest-like space to forgive, breathe, pause, and heal.
Excerpt from the article:
This week fairgoers can feast on the usual superabundance of art, including 20 large-scale projects in the Meridians section, curated by Magalí Arriola, director of Museo Tamayo in Mexico City. They include Devan Shimoyama's "The Grove" (2021), a massive work made of "D.I.Y." utility poles, shoes, crystals and silk flowers, presented by Kavi Gupta gallery. The piece, conceived in response to the upheavals of 2020 and the idea of spontaneous memorials, draws on the urban tradition of hanging shoes from telephone wires and the many different ways it can be perceived.
The Grove is on View in Meridians Sector, Art Basel, Miami Beach Convention Center 1901 Convention Center Drive Miami Beach, FL