De Buck Gallery is pleased to announce its participation in the tenth anniversary edition of EXPO CHICAGO 2023 returning to the Navy Pier's Festival Hall with a presentation of new work by Devan Shimoyama, Gommaar Gilliams, Tina Williams Brewer, Stephen Towns, Tiffany Alfonseca, and Zak Ové. Head to EXPO CHICAGO Online via the link above or below to see our full selection of works at the fair. Below, you can see a small selection of highlights.
HOURS
VIP Preview
Thursday, April 13 | 12:00noon – 9:00pm
By Invitation Only
Opening Night of EXPO CHICAGO
Thursday, April 13 | 6:00–9:00pm
Limited Availability | A portion of each ticket sold will benefit the Museum of Contemporary Art Chicago
Admission to Opening Night at EXPO CHICAGO grants ticket-holders exclusive first-look access alongside premier offerings and benefits. General admission tickets for EXPO CHICAGO are not valid for Opening Night.
General Admission
Friday, April 14 | 11:00am – 7:00pm
Saturday, April 15 | 11:00am – 7:00pm
Sunday, April 16 | 11:00am – 6:00pm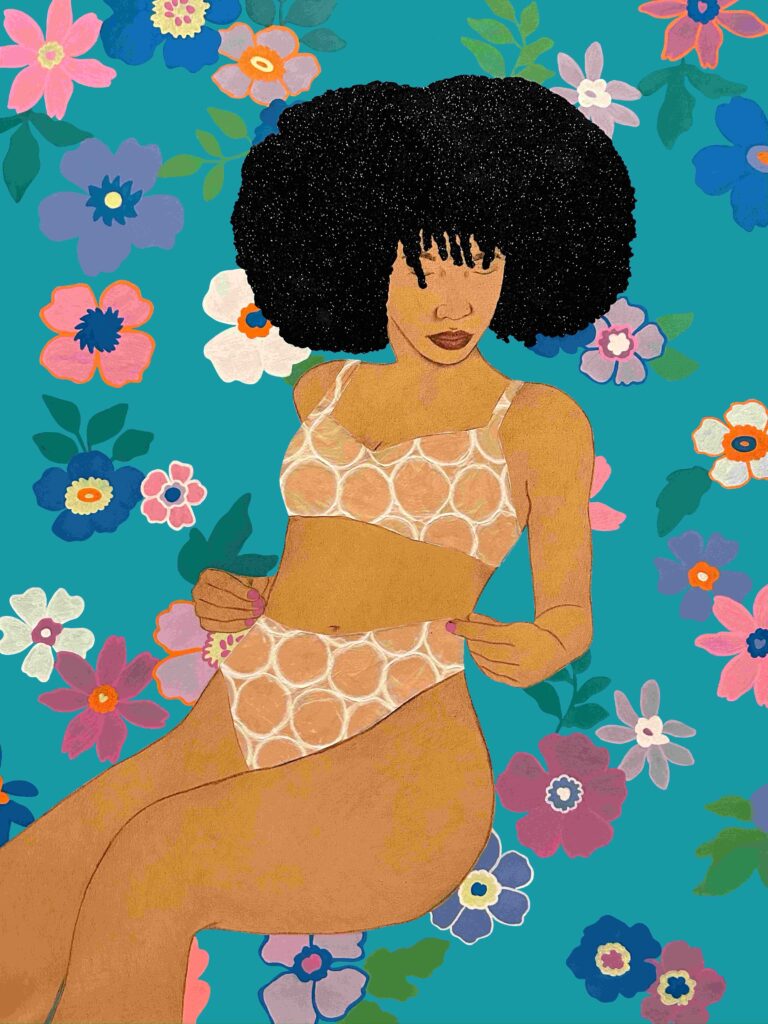 Tiffany Alfonseca
Tiffany Alfonseca is a Dominican-American mixed media artist who creates vibrant and colorful artworks that celebrate Black and Afro-Latinx diasporic culture. Alfonseca uses family and friends as inspiration behind her vivid portraits. Using photographs of her subjects, she situates each within bold and picturesque settings using acrylics, pencils, and tactile, shiny materials such as glitter.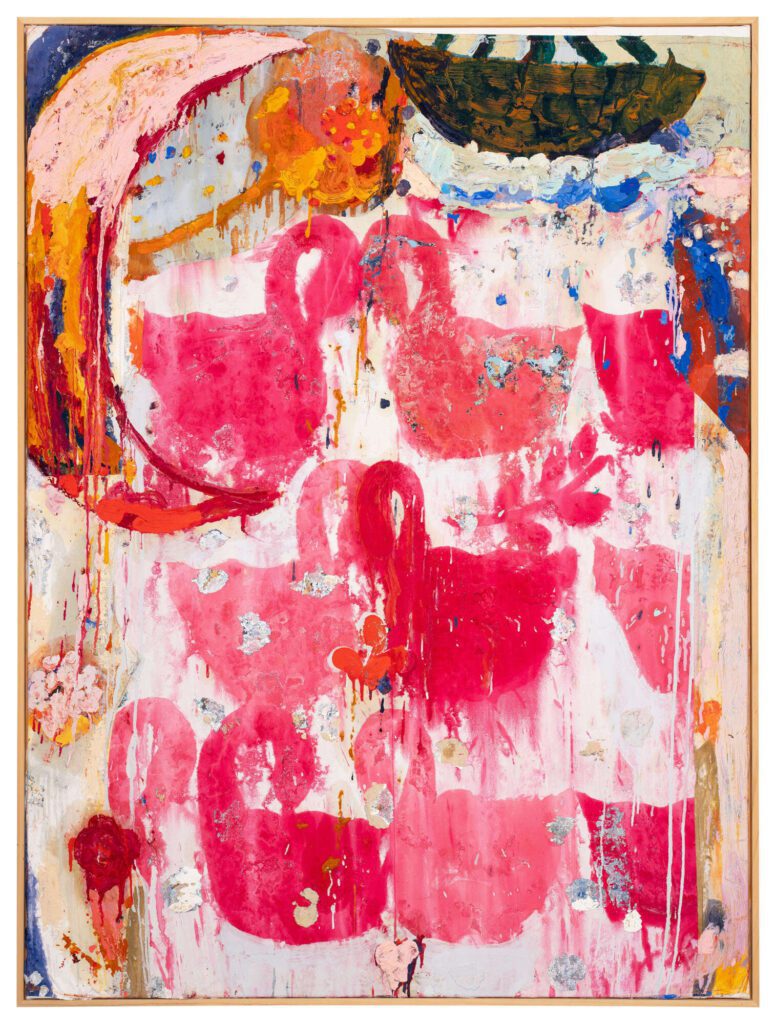 Gommaar Gilliams
Oscillating between abstraction and representation, Gommaar Gilliams weaves colors and textures with both allegorical symbols and human figures. Compositions framed in celestial elements and wreathes of textural flora beckon the viewer into lush spaces filled with fairytale castles and animals in motion. Gilliams' motifs are dreamy, but intentional–the artist references both the history of painting and the history of art through this body of work. He examines the way that humans search for and utilize repeated symbolic imagery throughout time periods and cultures, tapping into our shared desires and our shared wonder for the natural world.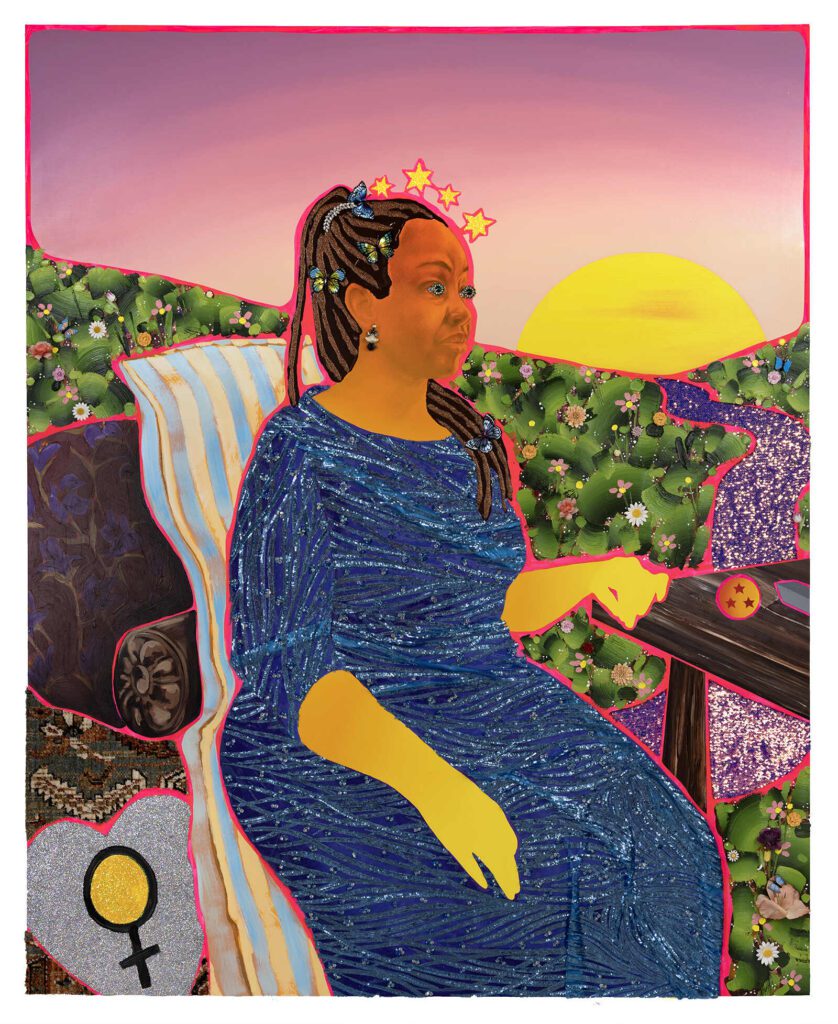 Devan Shimoyama
Devan Shimoyama's Tarot Series references imagery and cultural symbols including astrological signs and natal charts, ancient pagan practices, Orisha gods and related spiritualities and mythologies. Tarot readings and pop culture from decades past are prevalent in this series and are reexamined through the lens of Shimoyama's own process.
According to the artist, "The Tarot Series to me is a lot about self-reflection, indulging in my own childhood, the things that I really loved and that helped to form my own visual language, that I am still attached to today, with regard to materiality, references, and colors," says Shimoyama.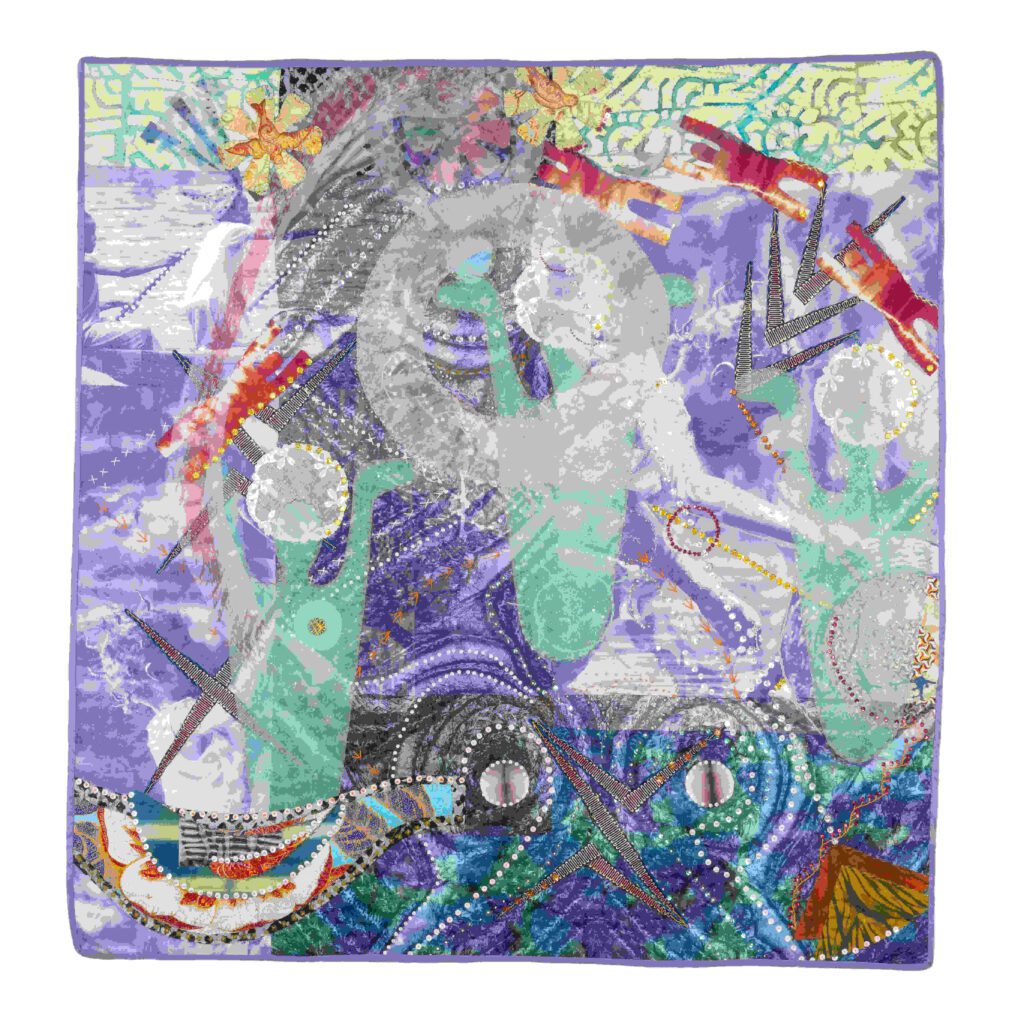 Tina Williams Brewer
Known for her story quilts, Tina Williams Brewer uses symbolism, textile, and fabrics to explore African-American history, generational healing, and the spirituality of her culture. Speaking of her work, Williams Brewer states, "through my work I tell a story, carrying messages from ancestors. My work is a celebration of the profound joy of gathering with loved ones and the strength of spiritual connections. It is an expression of the deep pain of racism and the pathways forward, the resilience of African American families and the light that lifts them up. My intention is to give dignity to human suffering, finding rhythms that are both mind-stirring and soul-soothing." Williams Brewer's pieces are primarily hand-quilted and collage mixed-mediums including photo transfers, printmaking, and hand-beading. Each piece is embellished with symbols drawn from African nations and rich colorful fabrics with patterns that allude to both cultural meanings and personal history. Her process creates complex, layered compositions that function as maps investigating her heritage, the African diaspora, and the links between past, present, and future.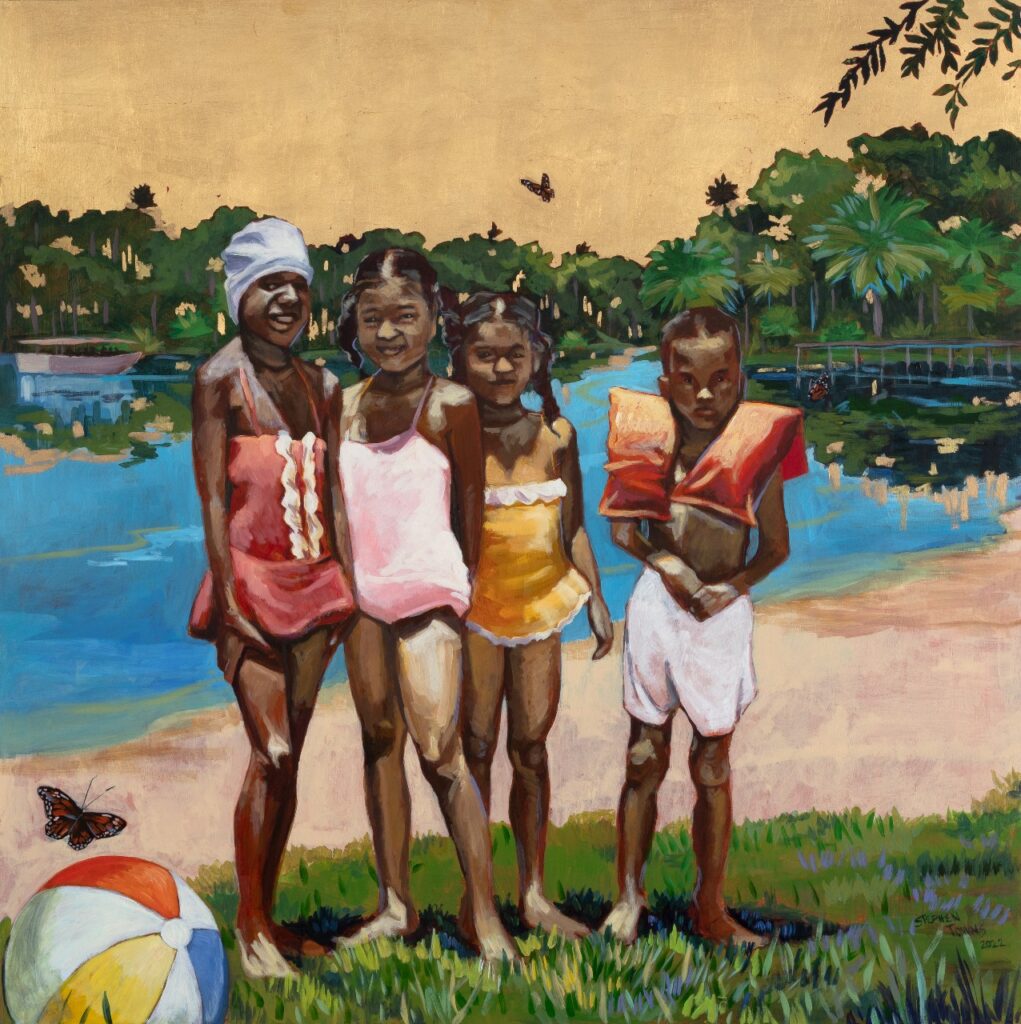 Stephen Towns
Stephen Towns's most recent series, Paradise Park, was inspired by archival images of children in segregated parks. Open from 1949 to 1969, Paradise Park was a popular tourist attraction for Black vacationers. It was designated as the Black only section of Silver Springs Park in Silver Springs, Florida. In their book Remembering Paradise Park, authors Lu Vickers and Cynthia Wilson-Graham noted that "Though the patrons of both parks shared the same river, they seldom crossed the invisible line in the water."
"I chose to convey the freedom and playfulness of the children as they stand surrounded by lush backdrops that were meant to contain them," said Towns.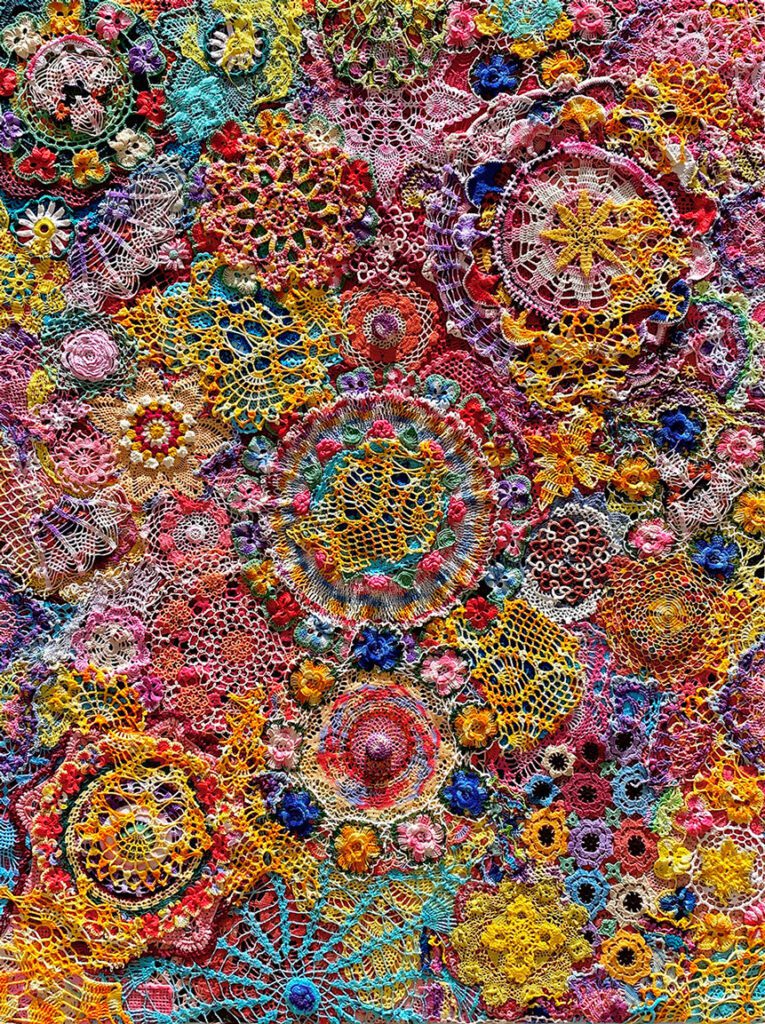 Zak Ové
For EXPO CHICAGO, De Buck Gallery brings a selection of Zak Ové's doily works, mixed-media flat sculptural paintings on which Ové layers and weaves together both found and collected doilies in radiating patterns. The vibrant abstractions have a lifelike quality that for Ové are reminiscent of coral reefs but also speak to an experience of repression and liberation.
 "I became interested in a sort of 'Granny Psychedelia' that was taking place—that these doilies were often made by repressed women through the 1970s and 1980s in Catholic family homes across South America, across Eastern Europe, across Africa," Ové has said about his doily works. "And what I liked was the way suddenly these sort of fluorescent bright colors would appear in the landscape of the home, to break that repression and give them a sense of freedom."