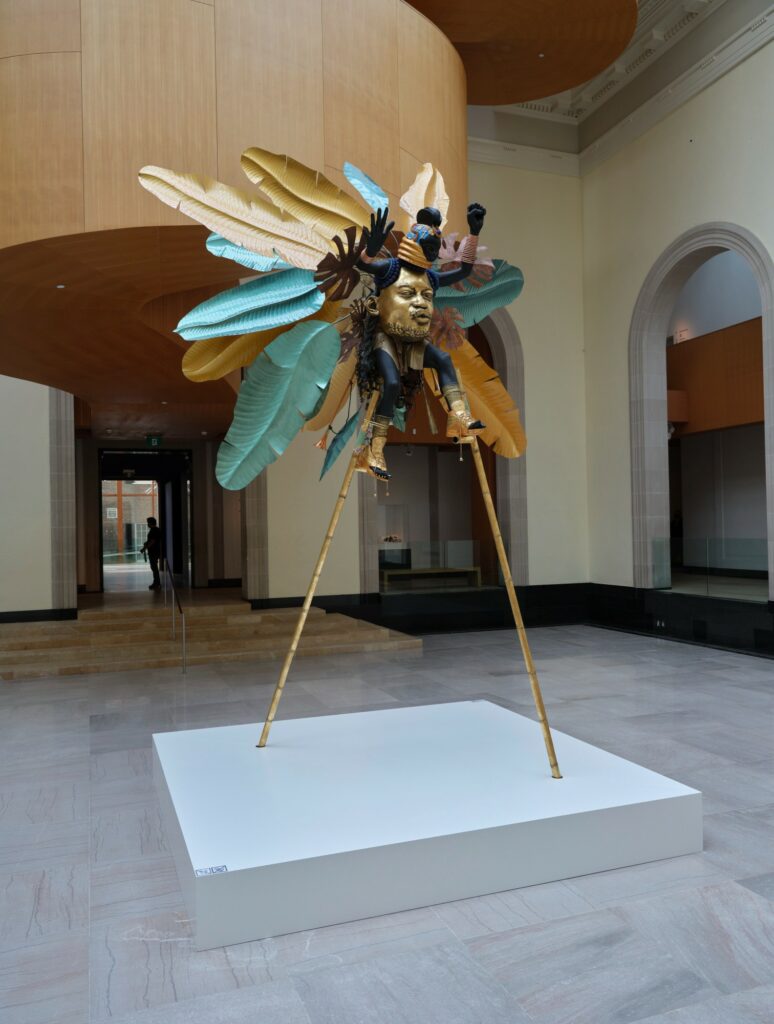 Artist Zak Ové's new commission for the Art Gallery of Ontario, an 18-foot-sculpture titled Moko Jumbie, has been unveiled. It welcomes visitors to Fragments of Epic Memory, an exhibition organized by the Department of Arts of Global Africa and the Diaspora that brings together painting, sculpture and video by modern and contemporary Caribbean artists and invites viewers to experience the region's histories from Emancipation onward.
Ové's work has a conceptual connection with Carnival, Trinidad and the African Diaspora. Moko Jumbie, the Carnival character that the work is named after, is traditionally a guardian, protector figure that due to its soaring height can anticipate and protect the village against danger. In Carnival, the figure is represented by a person on stilts donning a colorful costume and mask. The character is thought to originate in a tradition brought to the Caribbean from West Africa.
"I was very familiar with Zak's work," said Julie Crooks, Curator of Arts of Global Africa and the Diaspora at the Art Gallery of Ontario who curated Fragments of Epic Memory. "Zak was very much a part of the carnival histories and experiences in Trinidad where his father [legendary British filmmaker Horace Ové] was influential in Carnival, and his associates were influential mask-makers. He comes from that line of thinking about performance and film and that art-making tradition.
"So I knew this about Zak, and I started thinking about my show. I wanted a work that would speak to those histories, in a conceptual way, and in a beautiful way, of course."
Also influential in Crooks's selection was the commission by the British Museum of his Moko Jumbie sculptures in 2015.
"I'd seen the Moko Jumbie figures that were commissioned by the British Museum and thought, 'That's exactly what I need for this show,'" said Crooks.
Arguably the most significant acquisition of Ové's work, this was the first work by a Caribbean artist commissioned by that museum. The black and gold winged figures created from recycled materials now flank the staircase to the Africa galleries.
"Carnival beckons us to come together," Ové says. "It's a chance for people to experience transformation and the art of African identity, following the migration of Africans to the West Indies, and Caribbeans to the UK. It's important to have an awareness of who we are, especially in new places where we may be patronized as secondary citizens or immigrants."
The sculpture is positioned in an open space on the main floor of the fifth floor where it serves as a beacon for the "Fragments of Epic Memory" show, which runs through February 22, 2022.
"Its presence, it's beauty, how complicated a work it is," said Crooks listing its virtues. "It's a static sculpture, and yet it's so dynamic." She also noted that while it was an imposing work at 18 feet tall, viewers are also rewarded by a closer look. "All of the little touches he's put on it are remarkable—the formal attributes of the work itself."
The exhibition will run until February 22, 2022 and the sculpture will be moved to the Gallery Italia afterwards. Every Saturday, there are steel pan performances for the public.