De Buck Gallery is thrilled to announce that Devan Shimoyama is amongst several fabric artists in the Museum of Art and Design's first global survey exhibition featuring clothing as a medium for visual art. "Garmenting: Costume as Contemporary Art," which opens March 12, features 35 international contemporary textile and performance artists.
The exhibition is guest curated by Alexandra Schwartz, a New York-based art historian, curator, and adjunct professor in the School of Graduate Studies at SUNY, Fashion Institute of Technology. Comprising sculpture, installation, garments, and performance art, the show explores various artists' concept of dress as a critical tool to address aspects of subjectivity including gender, class, race, and ethnicity. Yinka Shonibare, Mary Sibande, and Zoe Buckman are among the other artists showcased.
Garmenting as an artistic strategy surfaced in the 1960s and 1970s, according to the press release for the show. Its rise is connected to performance art, with garments being used in installations often doubling as costumes in live performances. The practice became even more prominent in the 1990s, flourishing alongside the increasing effects of globalization. "With its emphasis on craft and the unique object, garmenting has been adopted globally by artists seeking ways to respond to the twenty-first-century blurring of socioeconomic boundaries, cultures, and identities. While some celebrate the hybridization of cultures resulting from globalization, others protest the fading of regional and ethnic traditions and communities; and many do both simultaneously."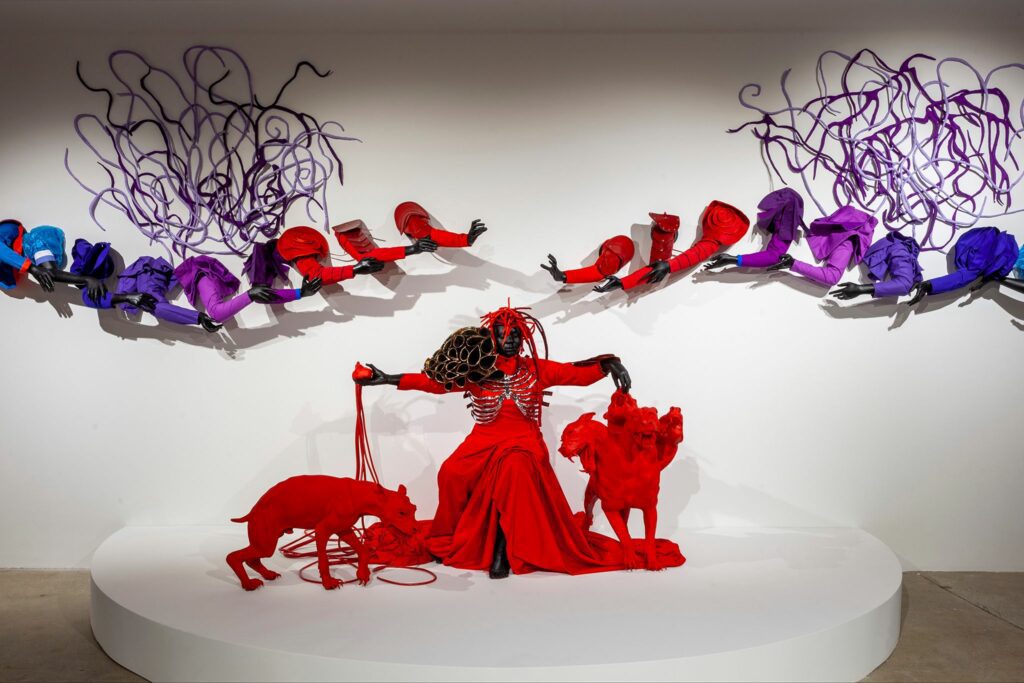 In a recent story on the show, WWD asked 'What in the World is Garmenting?' and explored the global survey in more detail. Here is an excerpt from WWD:
The aim is to use apparel as a means to examine issues of subjectivity, identity and difference. The work will be showcased in five themes: functionality, gender, activism, cultural difference and performance. Sibande's life-sized "Domba Dance" piece is a favorite of Schwartz's. Another standout is a hoodie covered in silk flowers, rhinestones, sequins and jewelry by Devan Shimoyama that is a tribute to Trayvon Martin, the 17-year-old Black teenager who was wearing a hoodie when he was fatally shot by George Zimmerman in 2012.
"Devan Shimoyama is a multiracial artist and he, as many people were, was very distraught about the Trayvon Martin murder," [guest curator, Alexandra] Schwartz said. "…Shimoyama has taken a found hoodie and the flowers, sequins and other embellishment refer to how there are these impromptu memorials that spring up all over the world, where people bring bouquets, candles, etc. He is using them and putting them together in this very moving and poignant work."
Garmenting: Costume as Contemporary Art is on view at the Museum of Arts and Design in Manhattan from March 12 through August 14, 2022.