Artist Stephen Towns was interviewed by Jessica Lanay of Bomb Magazine on the occasion of his exhibition, 'Declaration & Resistance,' which was organized and is being toured by the Westmoreland Museum of American Art. Read the full interview, titled This Little Light of Mine (I Am Gonna Let It—):, below.
---
This Little Light of Mine (I Am Gonna Let It—): Stephen Towns Interviewed by Jessica Lanay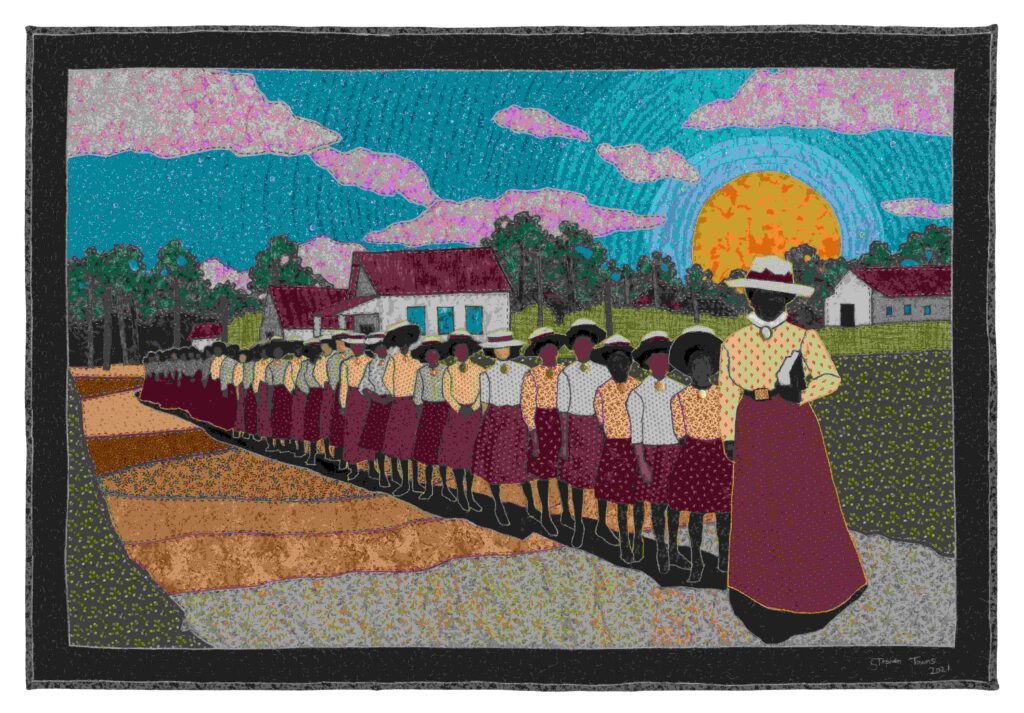 Every nation-state has its creation myth, its twisting of history that attempts to make the origins of national values seem natural. Race and white supremacy are the mythologies that undergird the concept of nation-states and that initiated the long economic reality of the transatlantic slave trade to which the contemporary global economy and our lived materiality can be traced. Stephen Towns's solo show Declaration & Resistance at the Westmoreland Museum of American Art, curated by Kilolo Luckett, questions the lack of value placed on Black labor and questions the link between individual value and labor: Do we believe that mercy can be earned through citizening ourselves through labor? Immaculate, ethereal, and demanding, Towns's paintings and quilts gilt and shimmerize everyday Blackness and innovation through time; and with meticulous beauty they seek to break our collective cognitive dissonances at the meeting place of race, gender, labor, and value.
—Jessica Lanay
Jessica Lanay There is a connection between labor and citizenship, as if citizenship can earn Black people the mercy of recognition. I wonder about labor, citizenship, and mercy in the context of the work that you did for Declaration & Resistance.
Stephen Towns I think about that often: how labor is dignified, how it's not, how you always have to work. I think about how you have to work in order to earn the right to be an American: to earn social security. At the same time, those things were not granted to people who did the work. I thought about Harriet Tubman and her service in the Civil War on the Union side and how at the end of her life she had to fight for her benefits that she rightly earned. That was one of the jumping-off points for this show. As Black Americans we have to constantly fight to show our worth, to show that we are Americans, that we are citizens—no matter what we do, labor or not. It was a challenge that I saw in creating the work for this exhibition.
JLThe paintings and the quilts are immaculate. You join canonic figurative traditions with radical ideas. You combine Byzantine icons with Black people standing in contrapposto. What do those juxtapositions mean for you?
STThe reason I make things immaculate and beautiful is just because I felt for so long I didn't have access to those things, I didn't have access to beautiful things, and so I always had to make those things for myself. Any time I make that work, especially about being home in South Carolina, I want to reframe my experience of being there and find the beauty in the things that I wasn't able to find the beauty in before. I hope that viewers have a similar experience, that they are able to see the beauty in the things that sometimes weren't seen as beautiful before, especially as Black people. I think of myself, a dark-skinned Black person, being rejected in so many ways; and now at this point in my life it is about learning how to embrace this and love it and show that other people should too.
JLBlack resistance is often framed as Black heterosexual masculine martyrdom; Blackness as an experience is usually framed through the cisgendered masculine. But you pay particular attention to Black women in this exhibition; you engage in what would be considered in particular the Black feminine artistic tradition of quilting. Why shift the narrative lens in this body of work?
STI've been reading books like Incidents in the Life of a Slave Girl by Harriet Jacobs and reading about Harriet Tubman and Susie King Taylor. I realized that a lot of these stories are not being told. I needed to pay a lot of attention and a lot of focus on Black women's stories and how important they are in the history of building this country. Black women literally fed and took care of people and showed resistance in other ways, some that were violent, some that weren't. The piece Burn the House Down (2020) was one of the last pieces that I did on Harriet Tubman and all the ways she burned the Confederacy down. That was one of those pieces that just came into my head, of this Confederate flag and a Black woman standing by this candle near a curtain, and how subtle the message is in that quilt, but the title really tells it all.
JLI read an interpretation of your work that used the phrase "loss of ancestry." But I see in your work the conjunction of varied African aesthetics and thought that over time, via numerous transcultural processes, have come to be called Blackness.
STDefinitely, because I felt like my coming to terms with my Blackness was during the neo-soul movement of the early 2000s; during that period of time was when there was an embrace of Africanness and Egyptology. And so those were early influences on my work, and I see how some of those earlier influences in the continual embracing of African art have influenced my work. I remember always going to the library and getting books on African masks, or getting books on patterns and what patterns mean. That always comes up; it is a part of our history. But then actually visiting Ghana and going there for the first time in 2016, I felt like sort of an orphan. I saw people that look like me; I saw people that look like relatives and friends; but there was a culture, and a lot of parts of the culture are lost.
JLYou often speak of taking a leap from various and sundry jobs into fulltime work as an artist. How do you connect with the stories you find in the archive and decide to quilt or paint?
STI've had a person ask me, "What would I be doing if I were not an artist?" And I don't know. I might be working at Walmart; I might be working at Target; I might be a teacher. I've never had those defined paths; it was always what will help support me at that moment. And so when I see those images in the archives of people working, of people working in steel mills, of people working in fields, I think about that. A lot of us have not had the pleasure of picking out what we want to do. There are options, and you sort of have to choose from the options, and so I draw upon that because so much of my life was that. I try to look at those things with beauty and fondness. There were moments of glory and good things that happened during those time periods. I appreciate the people that I experienced that time with.
JLCould you explain the process of garlanding your subjects in gold and why that technique is important to this body of work?
STI use reflective material because it's my newfound idea of God; God is sort of reflective, sparkling, and shining off every aspect of life. I feel like if you're seeing this person with this halo behind them, it's hard to tell this person that they're bad or that they're evil. They have this golden ring of spirituality behind them. I grew up Jehovah's Witnesses. There is an emphasis on the goodness of God but not the goodness of people. As a Witness, people are just sinners. I wanted to transform my subjects from sinners to saints and to affirm that in people that I see in everyday life.
JLDo you feel as if American renditions of Christianity, Jehovah's Witnesses being a conservative offshoot of that, dabble in metaphors of Blackness to explain evil or badness?
STJust the language of evil being dark is a way to say that Black people are that way. I remember looking at the books and the pamphlets we received, and there was rarely a Black person that was portrayed in those books. I don't know how they do them now, but any time you see a figure, a spiritual figure, they're always white. And so I think that by nature this perpetuates anti-Blackness. I don't know if it's corrected itself. I don't think it has, because I think that religion is still used to hide racism today. People hide behind God and wanting to do God's will, but in reality they're just practicing racism.
Stephen Towns, Ona Judge and Her Family, 2021, natural and synthetic fabric, polyester and cotton thread, crystal glass beads, metal and resin buttons, 43.5 × 54.5 inches. Courtesy of the artist and Westmoreland Museum of American Art.
JLWhat do such intricate creative processes do for you psychologically, especially quilting?
STIt calms my mind. I have a lot of ideas I'm thinking of all of the time, and I have to do work that is very labor-intensive and process-oriented in order to quiet my mind. I don't know any other way to calm the thoughts. That's why I have decided that it is a medium that I have to continue to do. And that's why I make the artwork that I do. If I were to just sort of make very quick things, it wouldn't satisfy me as much as these works that I make now. They are very difficult to make, very meticulous. It's a way of calming my mind.
Stephen Towns: Declaration & Resistance is on view at the Westmoreland Museum of American Art in Greensburg, Pennsylvania, until May 8.
Jessica Lanay is an art writer, poet, librettist, and short fiction writer. She is a frequent contributor to BOMB where she has interviewed artists such as Howardena Pindell, El Anatsui, Shikeith, Rirkrit Tiravanija, and others. Her debut poetry collection, amphibian, won the 2020 Naomi Long Madgett Poetry Prize from Broadside Lotus Press. Lanay is the co-writer of the catalogue for the Warhol Museum's exhibition Fantasy America. She is also the current Literary Curator for the August Wilson African American Cultural Center and the host of the digital program LIT Friday where she has interviewed artists such as Dr. Fahamou Pecou, Vanessa German, and others. For more information visit lanay.me.