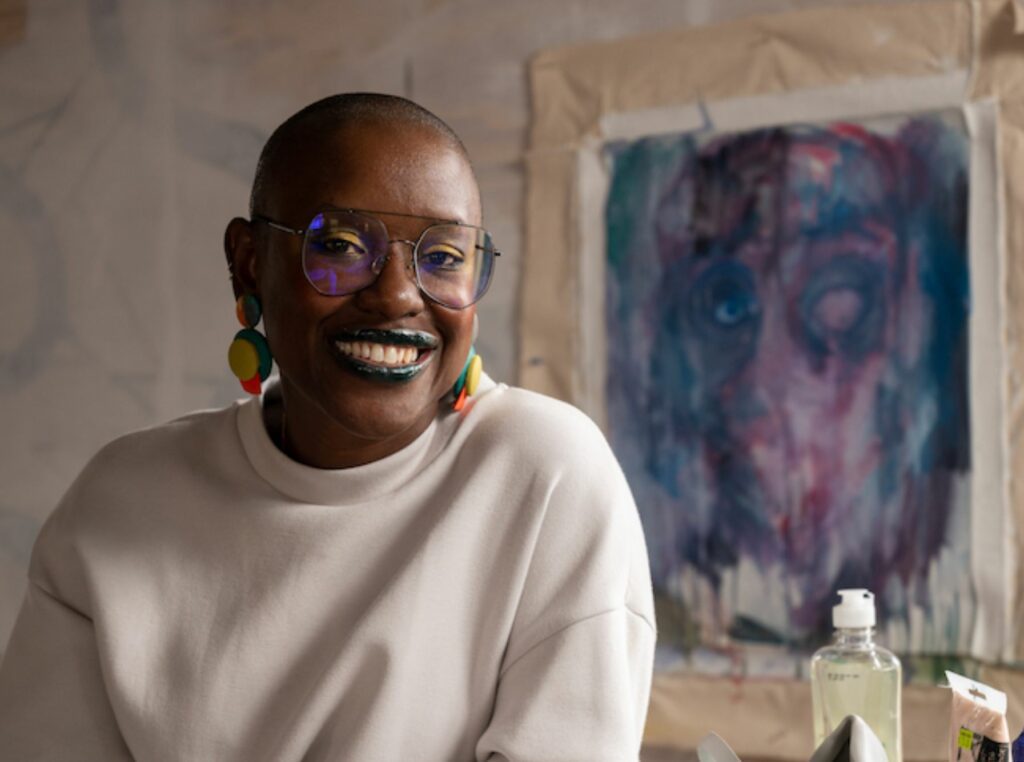 Timed with the launch of Spotlight: Sheena Rose, multi-disciplinary artist Sheena Rose's (b. 1985, Barbados) debut presentation with De Buck Gallery, we take a look back at a profile on the artist, Sheena Rose: Dramatically Removing the Landscape, by Heike Dempster in Whitewall.
Rose creates hand-drawn animations, drawings, paintings, performance art, and new media. She is a Fulbright scholar with an MFA from the University of North Carolina at Greensboro. She has performed at the Royal Academy of Arts in London and MoCADA and her murals have been featured at the Pérez Art Museum Miami and at the Inter-American Development Bank Headquarters in D.C. Read on to get a closer look at the artist.
---
Excerpt from Sheena Rose: Dramatically Removing the Landscape
Sheena Rose's work is initially rooted in her Caribbean heritage as she creates work that is deeply connected to herself, her experiences, and her observations. Many of the characters are based on the self, and her performance pieces, which became an integral part of her practice in 2010, are deeply personal with scripts often derived from past journal entries.
As much as the point of departure lies with the artist herself, it is followed by a clear moving away into a poetic space full of imagination. Like a stream of consciousness her scripts, paintings, and drawings swerve off into the depth of her creative mind that leaves the shores of Barbados and the wider Caribbean far behind. Rose's art exists beyond the obvious and in the negative spaces, the in-betweens, and beyond what is anticipated. Her work does not firmly live within the confines of the island and its cultural and historical context that has for centuries been controlled by imperialism, colonial powers, and then post-colonial structures and systems. In a post-colonial society and African Diaspora, the narrative is still in the process of being reclaimed and rewritten. But do we even want a narrative? If so, maybe European literary conventions are not enough to contain it, and to adequately capture and communicate what needs to be said.
Artists like Rose are finding ways to question and challenge. As Rose herself explains, "Barbados is more than slavery, crop over and beaches." The lush landscapes and images of paradise of today's tourism brochures continue a legacy started during colonization, when the idea was first perpetuated to lure adventurous Englishmen in search of riches to the island. In this current version, things have changed but we are not past the post-colonial and the shifts may need some radical removal of conceptual understandings of "landscape."
Rose as an artist is not scared to challenge any ideas or conventions. She studies and explores a wide range of topics and fields such as mathematics, minerals, flora and music. The power of timing in musical composition is something she applies when creating her own art. She hopes that her works "can change someone's heartrate like music," says the artist who plays steel pan, piano, and bass clarinet. When composing her own works, she adds that she "likes to agitate people sometimes" to "trap them" first and then get ready for a conversation. Informed by her studies of English literature, which is still imbedded in the Barbadian education system, Rose questions how cultural content defines art, and the implications of such definitions.