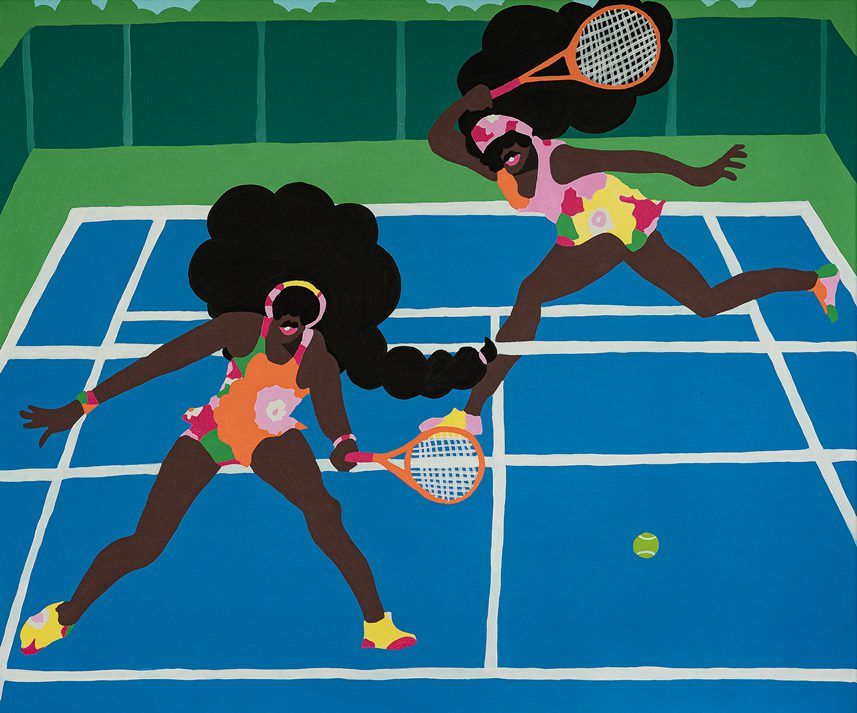 Visual artist Sheena Rose will be featured in the Zoe Lukov's 'Skin in the Game' exhibition during EXPO Chicago 2022. Produced by Abby Pucker, the show, which is in its second iteration, explores touch, transmission, and skin and features an international roster of artists.
The exhibition includes two works by the Barbados-based Rose, Cross Court, and Badminton, Timing and Rhythm, both of which continue her exploration of sports themes, which she began in 2021 with her series Match Point. While her earlier works were inspired by a desire to see herself as victorious in the face of the challenges of dealing with Lupus, for her latest works she was interested in the idea of "pleasing yourself and making yourself happy. This sense of wish-fulfillment, the idea of being sassy and being a boss and taking your titles."
Cross Court depicts a match between tennis icon Venus Williams and rising star Coco Gauff. "I focused on the beauty of how [Coco] wanted to play with Venus," said Rose.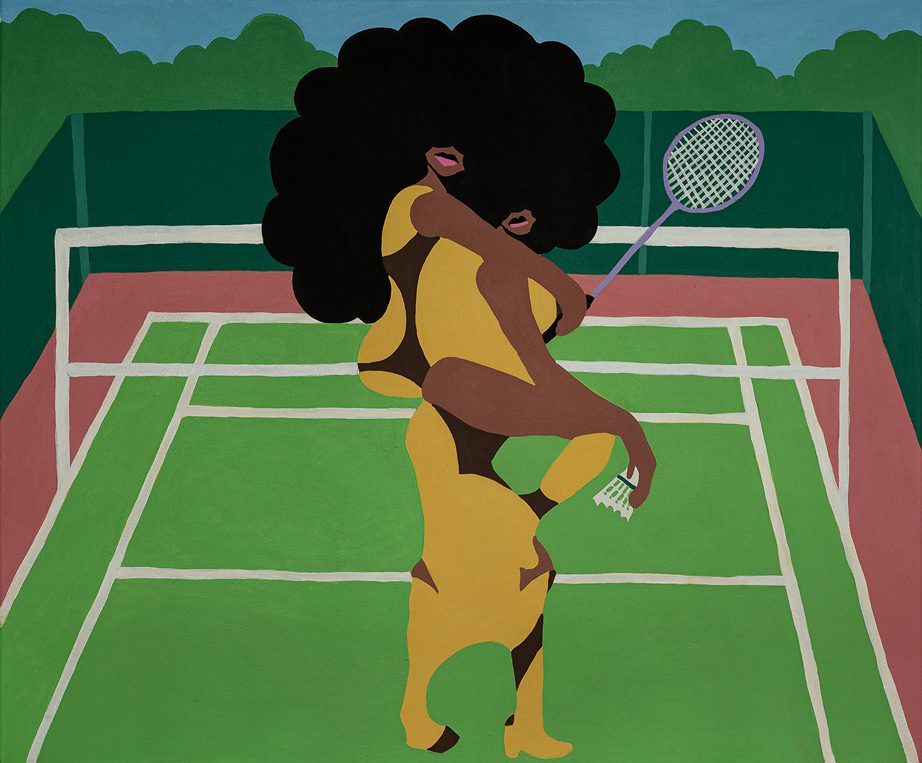 Badminton, Timing and Rhythm is a poetic work featuring two players seemingly melded together as one form, referencing themes of symmetry. "I was trying to think sculpturally," said Rose about the work. "There's only one racquet, the net is rectangular, and everything is more symmetrical."
The Chicago iteration of Lukov's exhibition features site-specific commissioned works by several local artists juxtaposed beside works by Derrick Adams, Nick Cave, Gabriela Ruiz, and Kerry James Marshall. The vibrant public program is located in the Fulton Market area of the city.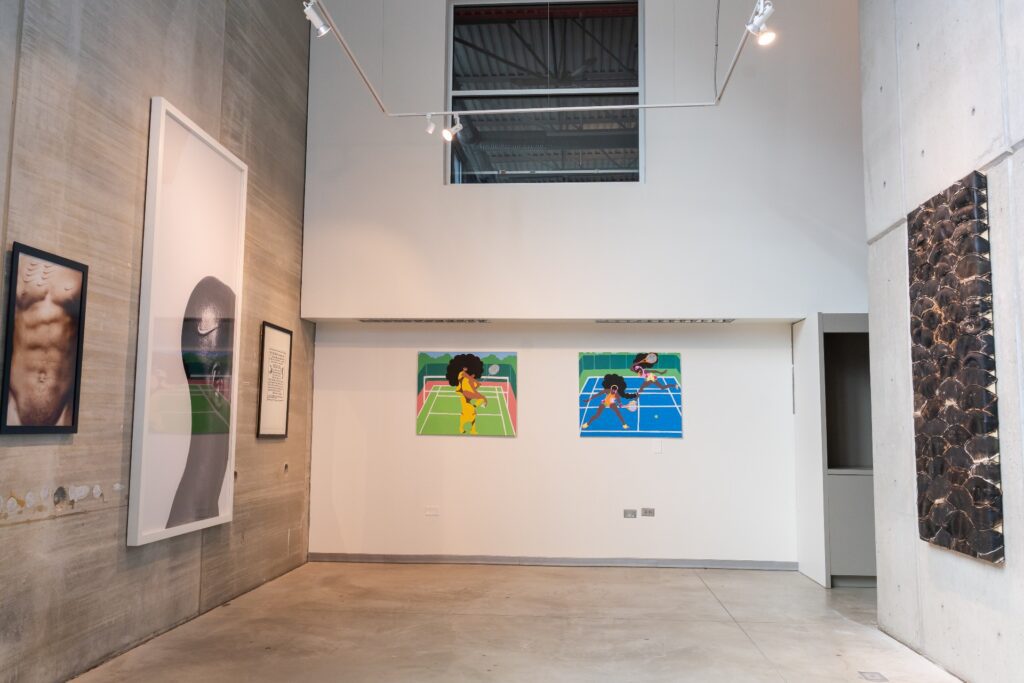 The group show instills a powerful visual narrative. It explores various themes including game, color, race, the hunt, sport, religious iconography, and competition. The immersive works on display harness the experience of touch in each artist's practice.
Excerpts From the Press Release:
"Having skin in the game is about power, danger, currency, play, joy, and indulgence as well as the taboo, the voyeuristic, and the hedonistic. There is inherent violence and vulnerability, as well as a promise of pleasure, that comes with being in one's skin," said Lukov, an independent curator based in Los Angeles on her inspiration for the exhibition. "Reimagining the show for Chicago has provided me the opportunity to explore the multi-layered landscape of the city through the eyes of its artists and their creative processes." 
…
Abby Pucker, an early supporter of the exhibition and the producer spearheading the presentation in Chicago said, "My mission in bringing the exhibition to Chicago is to create space for convening across multiple communities that may not always interact. I believe that it is vital to make arts and culture a key part of our civic engagement and to highlight this diverse ecosystem by bringing together community groups, small businesses, artists, important private collections, and arts patrons."
Featured Artists in the Show: Derrick Adams, Isabelle Albuquerque, Tosh Basco, Carlos Betancourt, Lynda Benglis, Rashayla Marie Brown, Zoë Buckman, Nick Cave, Raúl de Nieves, Jen DeNike, Jane Dickson, Amir H. Fallah, Brendan Fernandes, Gonzalo Fuenmayor, Nicholas Galanin X Merritt Johnson, Theaster Gates, Clarity Haynes, Micol Hebron, Camille Henrot, Zhang Huan, Rashid Johnson, Samuel Levi Jones, Jesse Krimes, Kerry James Marshall, Yvette Mayorga, Marilyn Minter, Maynard Monrow, Carlos Motta, Ebony Patterson, Paul Pfeiffer, Cheryl Pope, Erin M. Riley, Florencia Rodriguez Giles, Sheena Rose, Gabriela Ruiz, Kathleen Ryan, Moises Salazar, Soo Shin, Hank Willis Thomas, Jake Troyli, Juana Valdes, David Wojnarowicz, Agustina Woodgate, Kennedy Yanko, and Jwan Yosef.
Skin in the Game runs from April 7 through April 24, 2022 at 400 N. Peoria Street, Chicago.