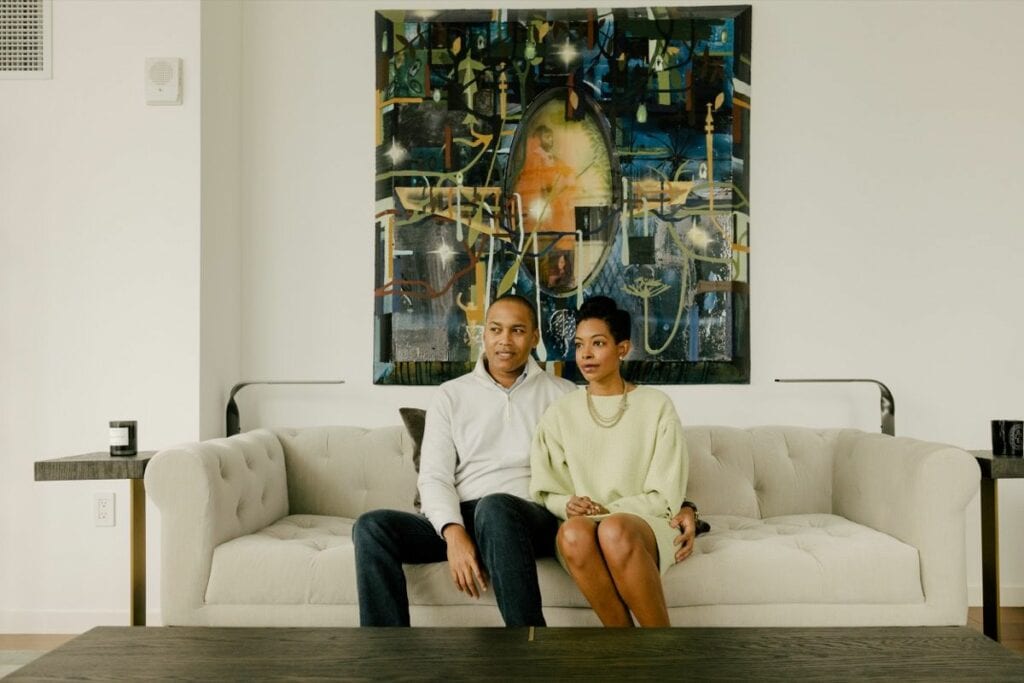 Artist Devan Shimoyama has been featured in a profile on Artsy about collectors Chris and Nyssa Lee, "Inside My Collection: Chris Lee and Nyssa Fajardo Lee." Over the past decade, the couple, who live on the Upper West Side of Manhattan with their two young children, have been building an astute collection of works by artists of African and Latin American descent including Kehinde Wiley, Stanley Whitney, and Derrick Adams, as well as emerging talents including Devan Shimoyama and Raelis Vasquez. And they think of collecting as a personal endeavor, one that the whole family is involved in. Here, we share some excerpts of the piece to lend insight into how they began collecting, the focus of their collection, and why the work of Devan Shimoyama spoke to them and their family.
How the Lees got started:
Chris, a real estate investor, and Nyssa, a health care attorney, began collecting in 2010, the year they got married. Around that time, Chris reached out to his mentor, Ray McGuire, who is the chairman of the board of the Studio Museum in Harlem, to ask McGuire how he began collecting. In turn, McGuire invited the couple, then in their early thirties, to join the museum's acquisition committee—the panel of experts who decide which works the museum will add to its collection.
"Being on that committee, we had access to some very astute collectors, plus Thelma Golden, one of the top curators and museum directors in the world and, I would say, the preeminent one for artists of African descent," Chris said. "Thelma is a powerhouse," Nyssa added. "The extent of her knowledge, her passion. Especially for the type of art that we're collecting, she's kind of the guru. She's been really important in the way we look at collecting."
The experience exposed them to the work of exceptional artists, but also instilled in them a passion for collecting, which accelerated in 2017, when they moved into their current home. In the past three years, they've thoughtfully crafted a dazzling yet meaningful collection of 20 pieces that speaks to their own lived experiences, as well as those of their two young children. They now own works by esteemed artists both emerging and established, including Kehinde Wiley, Derrick Adams, Naudline Pierre, Devan Shimoyama, Stanley Whitney, Radcliffe Bailey, Marcus Jansen, Hebru Brantley, Tiffany Alfonseca, and Raelis Vasquez, among others.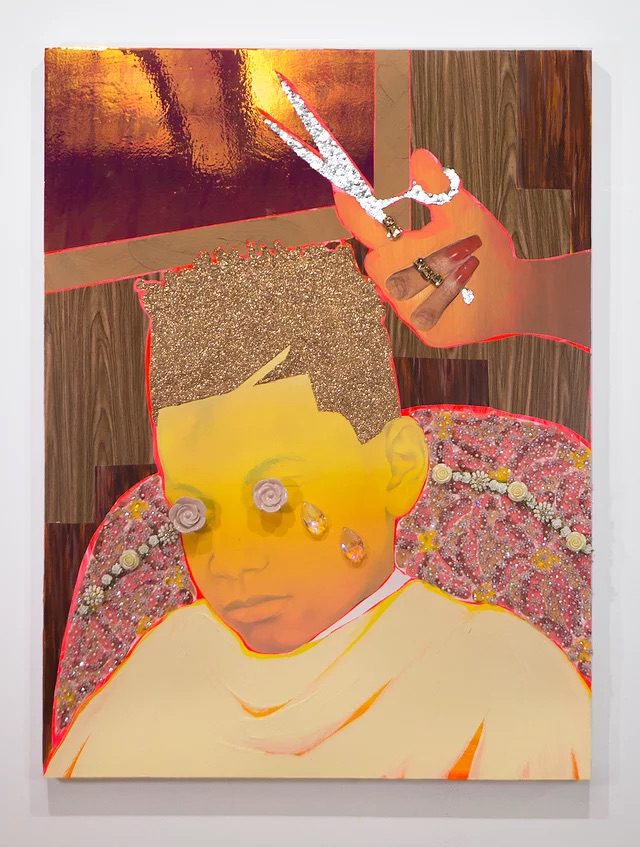 Devan Shimoyama, Hush, 2017
On collecting Devan Shimoyama:
Chris Lee: Artists are storytellers, and you think about what they do and how important art has been in the history of mankind, in telling stories. We're collecting artists of African and Latinx descent, and they're telling an important story, and that story is also our story. So we can show this to our children, and we have a very diverse group of friends—we can show them that there are other storytellers out there who are not just represented at the MoMA or the Met. There were already a lot of artists that we were tracking that fit that mold, and so it was pretty easy to start adding them.
Nyssa Fajardo Lee: For instance, we have a barber shop piece by Devan Shimoyama. Chris was really interested in Devan, and we found this piece of a child crying as he's getting his hair cut. That was my son's experience, and he's six, and he sees it and says, "Oh, I know why he's feeling that way." He relates. Our kids find those connections. It's a very cool piece because there are jewels and it's multimedia, but they're also attracted to it because it actually speaks to a personal experience. We try to find works that have connections to our personal lives.