Timed with the solo exhibition Stephen Towns: Declaration & Resistance at the Westmoreland Museum of American Art, artist Stephen Towns was invited for a conversation with the exhibition curator, Kilolo Luckett.
In the dialogue, Virtual In Conversation: Stephen Towns & Kilolo Luckett, Towns and Luckett engage in conversation about the artist's art-making process and the exhibition's preparation. Below are a few excerpts from the talk that shed some insight into the artist's work. You can watch the video of the talk at the end of this article.
On Theoretical Foundations:
Stephen Towns: A lot of this work is about labor and when I first began making artwork about slavery and enslaved labor…I wanted to take sort of a turn and talk about labor post slavery, post the Civil War.
In a lot of the paintings I've been using the American flag, because for Black people…it has been weaponized, it's dangerous. A lot of the work in this show is about me embracing it, and embracing the Americanness of me, and who I am, sort of a 'take back of the flag' and say, 'this flag belongs to me, too.'
On Before the Dust Settles (2020) and Black and Gold (2020):
ST: One of the first jobs that we talked about was Coal Miners. I knew nothing about coal miners. I'm from South Carolina. Since we were doing this show in Pennsylvania, I studied coal mining…especially in Pennsylvania and Appalachia…. There are a lot of people I didn't know about, like Mother Jones who [created] unions…. [Many] in her life, [including her children] died, and she devoted herself after that to help coal miners gain rights, so I wanted to do a series of works honoring coal miners.
Part of it was going into these archival images and using the people in these images to create these six paintings…. These are really mixed media works so the foreground is painted and I've mixed in mica flakes, which is a sparkly rock material. I've also mixed in glitter in the background, to give that look of coal. The flag is just painted onto the wood. The faces are painted and the clothes are actually fabric…. The lanterns that are on top of their hats, that's paper. I've incorporated metal leaf on it.
Each of them has these paintings of canaries around them…. There's a whole idea of the canary and the coal mine. Canaries were used in coal mines in the beginning to warn miners of poisonous gasses that could kill them, and so you have these canaries in these six Coal Miners paintings, overlooking these people, and protecting them.
Kilolo Luckett: Some of the time that I spent with you was just going and seeing how you visualize and capture different objects and do little sketches or take photographs in Baltimore, and in Pittsburgh, [when] we went to the Rivers of Steel [National Heritage Area]. Getting to hear some of the visitors [say], 'Oh my gosh…my great uncle,' or 'That looks like my grandfather.' It's just really endearing and powerful to hear people you know respond so enthusiastically to your work.
On Dressing Up (2021):
KL: I was just thinking how you were sketching this, your process of this work in particular, and the different fabrics: The wallpaper in the background is exquisite, that chandelier, and the backdrop of the city. There's so much rich texture and surface that you [are] bringing together and it's just spectacular.
ST: Thank you.
KL: [Also], you were switching out the different types of fabric for the dress. I remember you were like, 'Oh I really like this sequence,' and how everything else grew around that. Even putting on these lace gloves…
ST: A lot of this was based on antiques that I would find online and figuring out what [those] colors were [at that time]…. I'm really happy with how this piece came out, and the tenderness in it…. I was definitely thinking of this person in this painting and showing her reverence too so I just wanted to make make it as beautiful as possible.
KL: And you did that and more.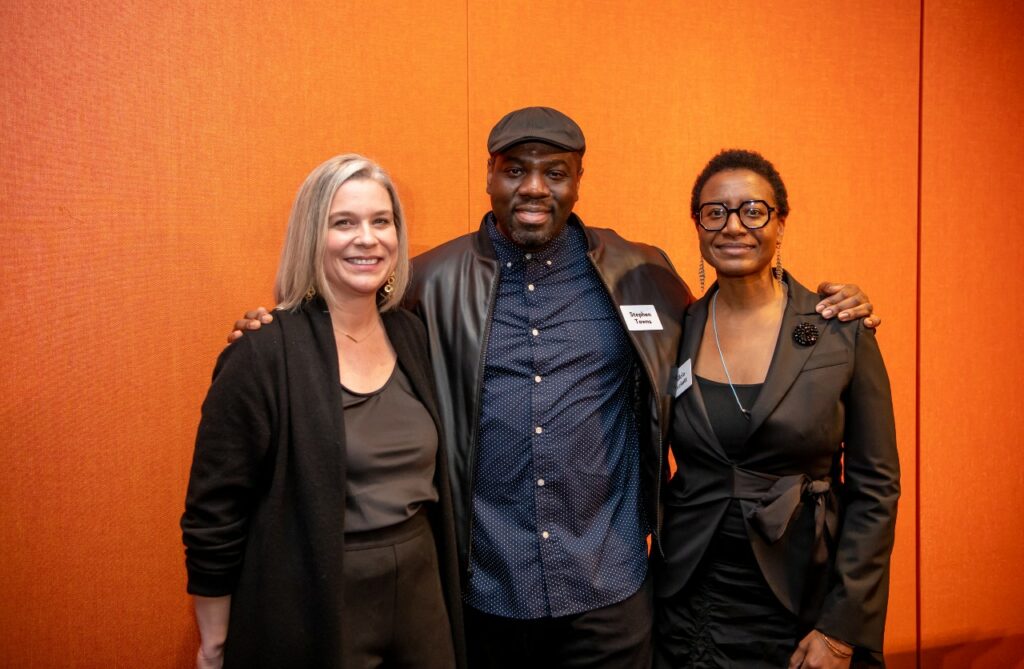 On Elsie Henderson (2021):
ST: Kilolo actually introduced me to the idea of making a work of art about Elsie Henderson. [She] was a cook and the overall person [who] watched the house at Fallingwater. She lived until she was 107. She was very much beloved by the Kauffmans, who owned the home. Learning about her history, learning about the history of Fallingwater, was an amazing thing.
In a lot of these paintings I'm painting people that may be alive or not alive. I'm trying to put myself in the mind of that person [so] there's a conversation between me, the person being photographed, and the photographer…. I hope that I do these people justice. This has been one of the most challenging exhibitions and bodies of work that I've worked on.
Also, I wanted to call attention to the butterflies and [I] tend to have three…. I think about the trinity…the divine.
KL: I've noticed that in your paintings I tend to count the butterflies or the birds..and see where they're situated, where they're resting.
ST: If you look at this work, the photograph was a triangle and so I tried to emphasize that triangle with the bottom of her feet, to the tip of the rose bush, to the bottom portion of the seat.
KL: Stephen you are phenomenal, and there's just so much to see at Declaration and Resistance…. The richness of Stephen's work and [his] talents are just sublime.
Stephen Towns: Declaration & Resistance is on view at the Westmoreland Museum of American Art through May 8, 2022.