Turning the gaze around.
On a muggy Sunday on the last weekend of July, Hiba Schahbaz greeted me at the entry of her studio complex in Bushwick where she's worked for the past seven years. We both wore masks, hers dyed a navy blue, and she provided encouragement while we plodded up three flights of stairs before reaching the door of her studio.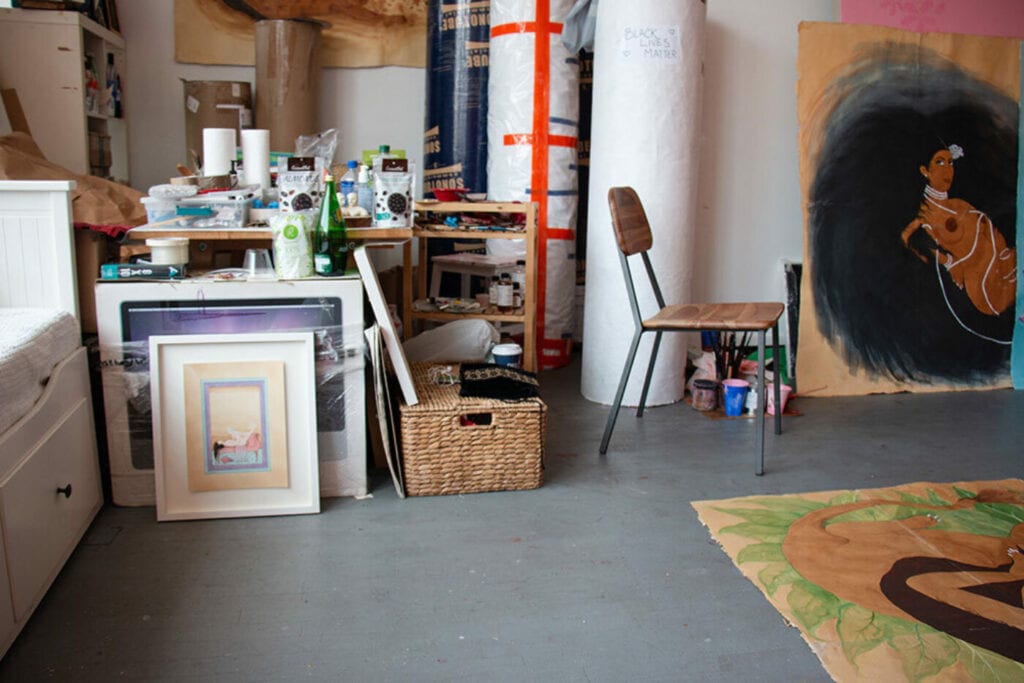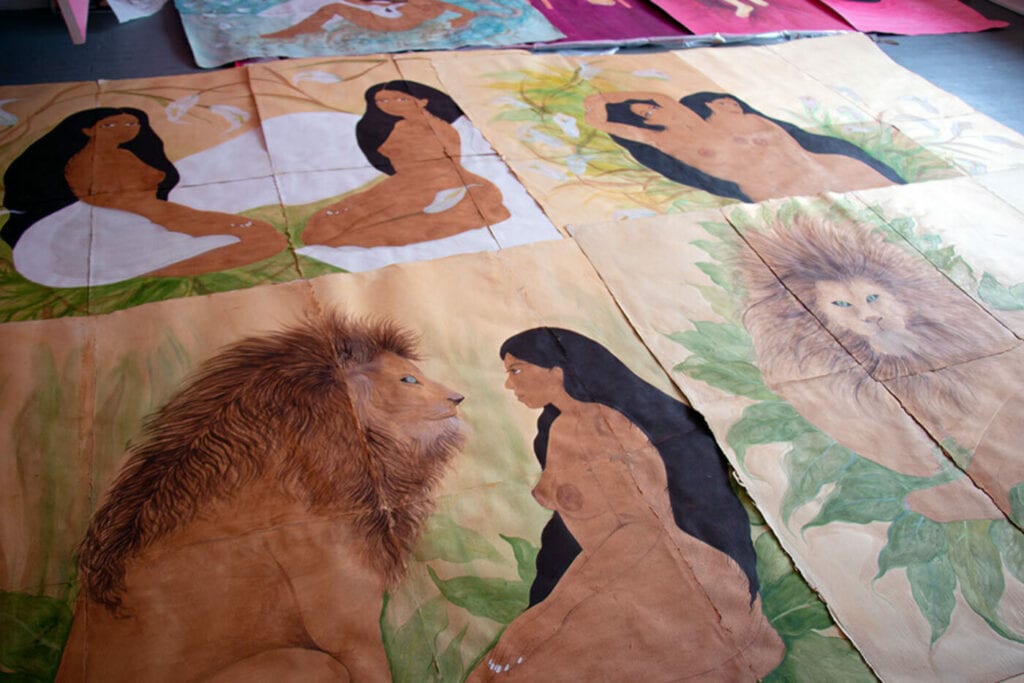 Inside, a wall of windows poured light onto a half dozen oil paintings on large canvases that she was prepping for her solo exhibition at De Buck Gallery. The works leaned against the walls, expansive and stretching nearly halfway up to the twenty-foot ceilings. Hiba makes large figurative paintings, beguiling and singing. Usually she works with tea on paper. But for the first time, she's painting with oil on canvas. And newly with red.
Born in Karachi, Pakistan, Hiba trained in Indo-Persian miniature painting at Lahore's National College of Arts, and later earned her MFA in painting from Pratt Institute in New York City. From the beginning of her career, and really since she first started drawing herself as a teenager, Hiba has inverted an ancient Pakistani visual narrative by centering the nude female figure as the anchor of her work, not as an object to be viewed passively. There is nothing miniature about this.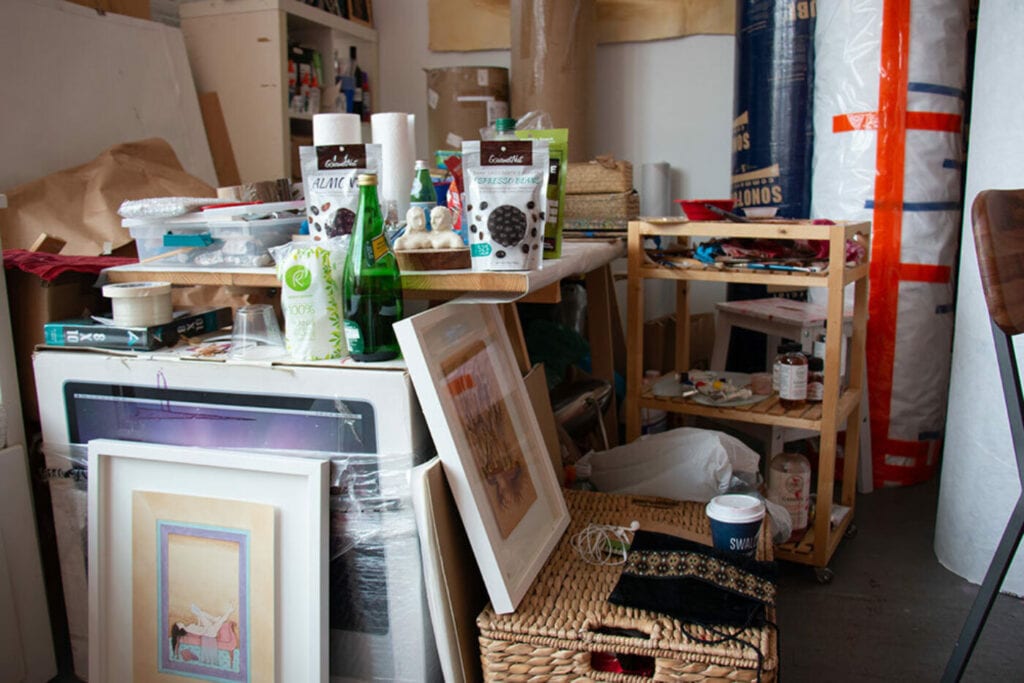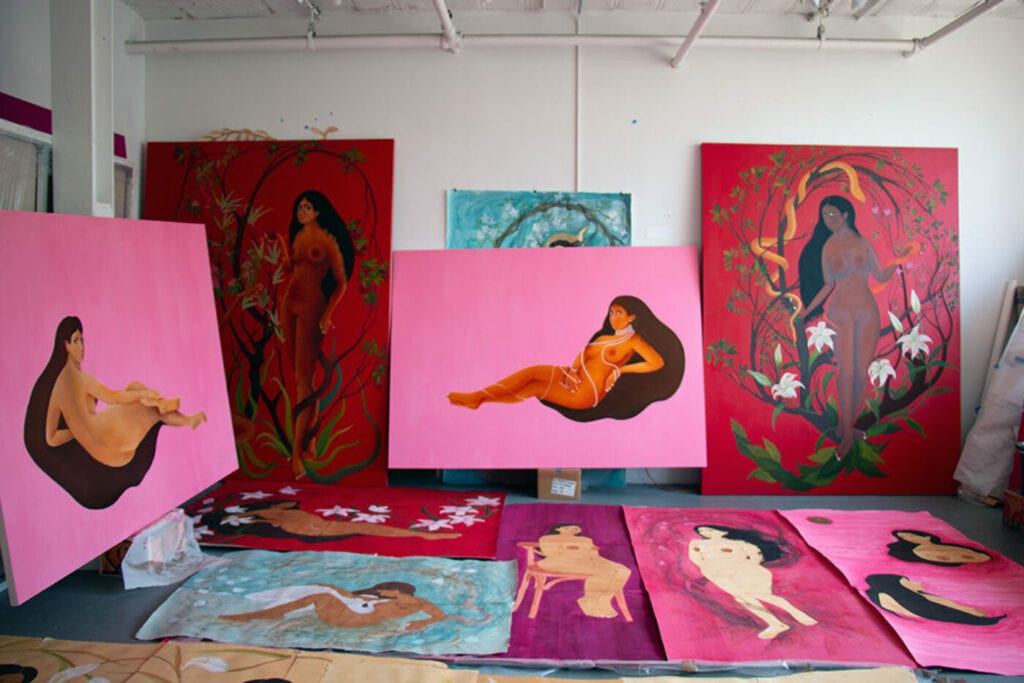 This is what drew me to her work a few years ago when I first saw a painting of hers. Though Hiba's art has an illusory quality—the show is called Dreaming—it is evident that she is concerned with constructions and realities of femaleness that are not imaginary at all. Her work addresses issues of personal freedom, destruction, sexuality, and censorship.
In the corner of her studio, fresh roses and baby's breath were propped in a vase, their faces dipped toward the afternoon sun. A Black Lives Matter sign was tacked to a roll of paper. Hiba's window AC unit was dialed up. It buzzed, steady and disciplined. Animated, she recited a horror story of confronting the task of cleaning the unit's dirty filter for the first time.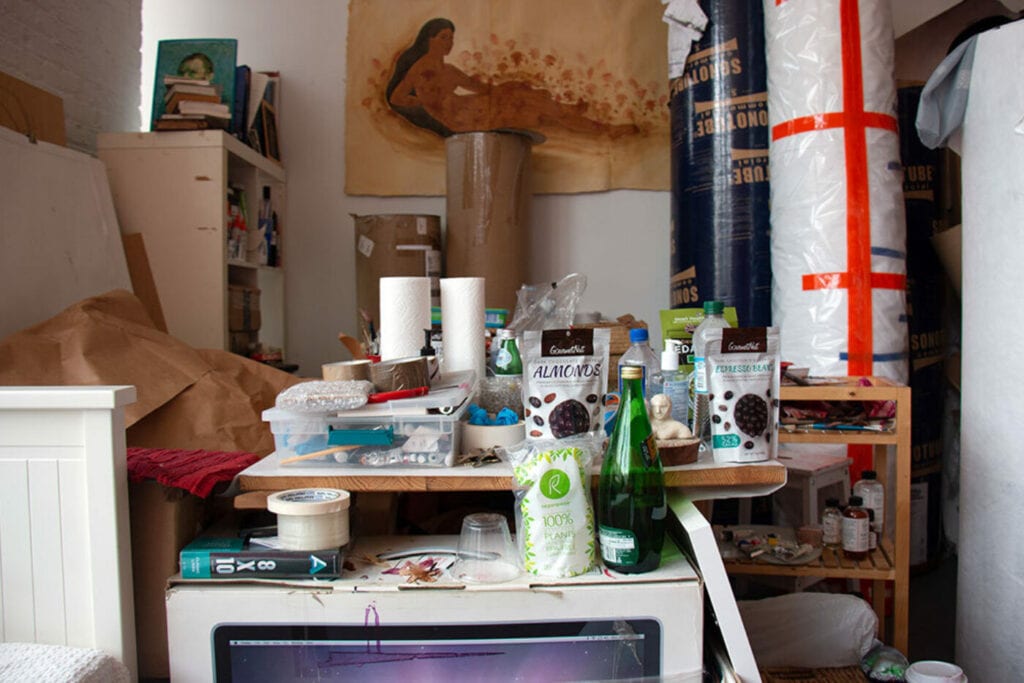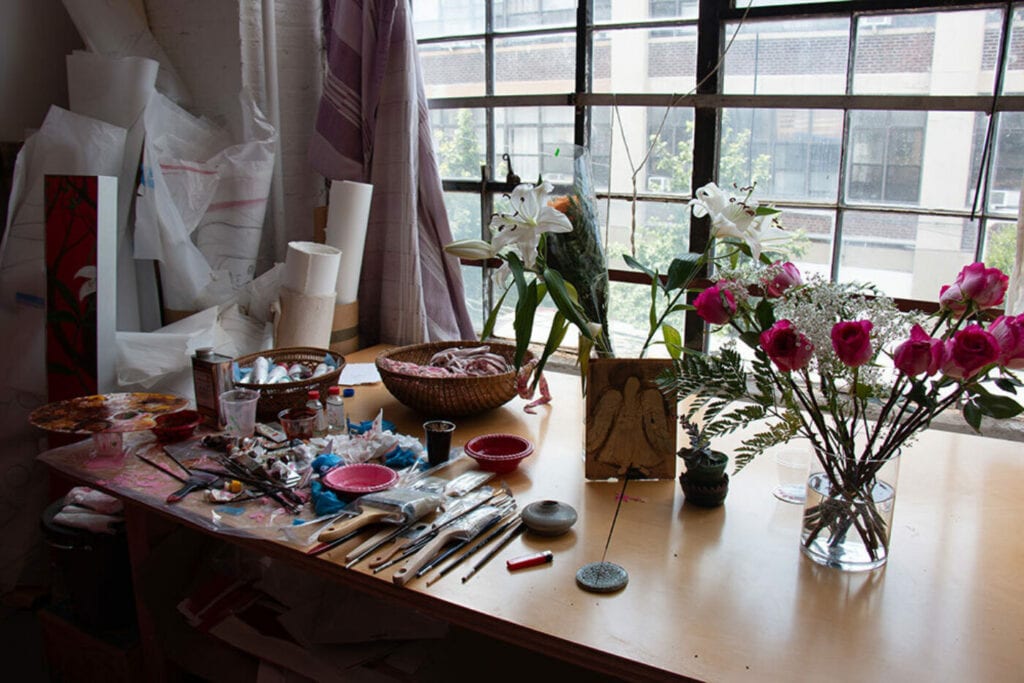 Paints in various plastic and glass containers dotted the periphery of the stocky table under the window. She recently transitioned to working with simpler, organic materials after discovering a severe allergy. "I was treating the paint like watercolors, so it was all over me, and it turns out that it's toxic," Hiba said. "I had to give up all fancy solvents and just strip it down to lavender, walnut, and oil paint." Her studio indeed smells lovely.
She's spent much of the past year tackling this new combination of oils, reds, and canvas. "I needed a different kind of energy," Hiba said. "I felt like the paper couldn't take it. I needed something stronger."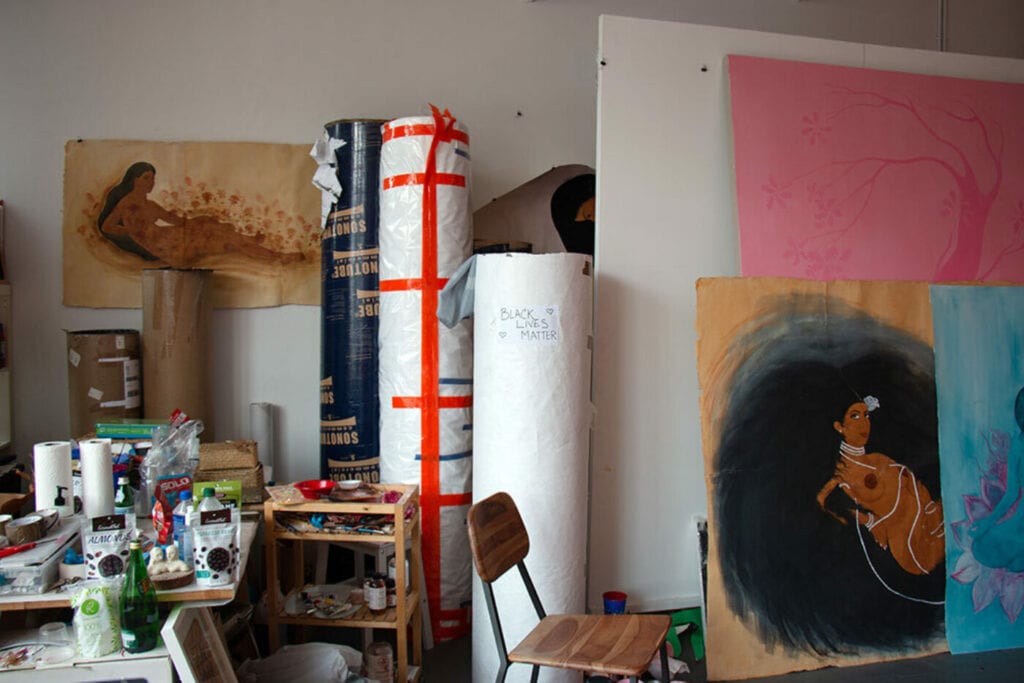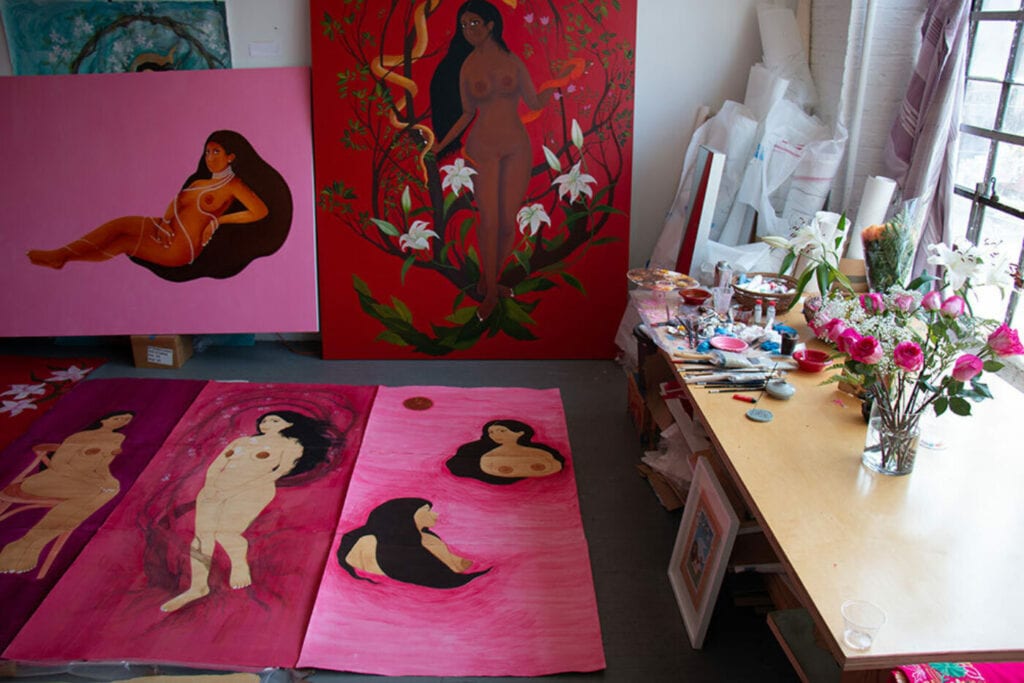 I asked her whether the pandemic has changed her relationship to her studio. She didn't commute to her studio for a few months at the beginning of New York City's lockdown. "When I came back and I put on my music and I put my flowers in and I was just in my own space, my body took a sigh of relief," Hiba said. "Maybe I've become more connected to the space because it's my sanctuary."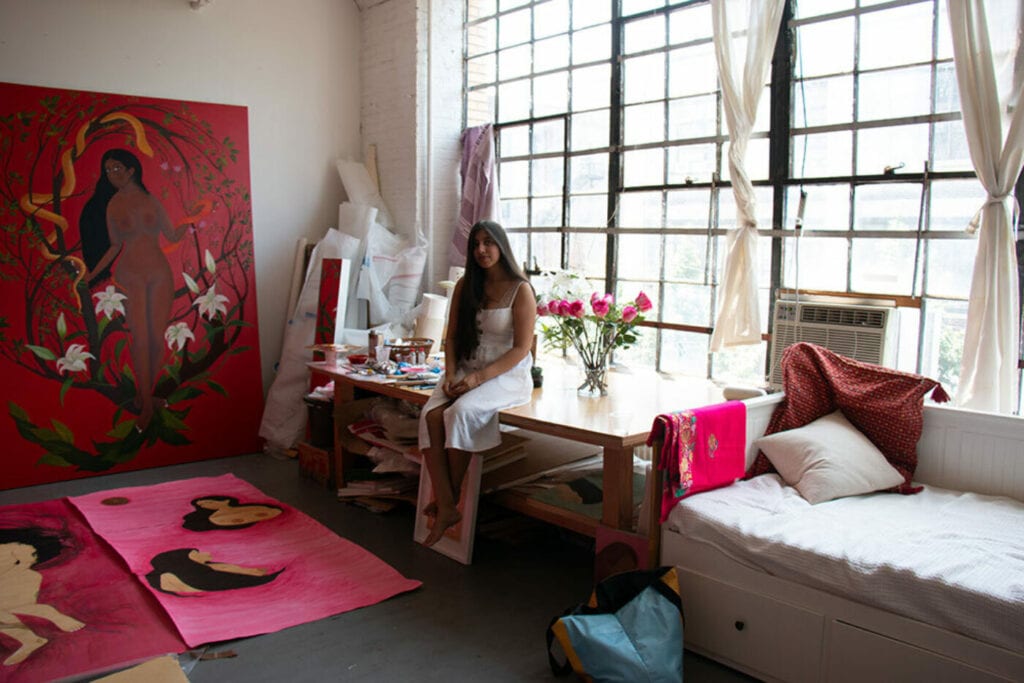 ---
Christina D. Bartson is a writer and documentary filmmaker. She grew up in Ann Arbor, Michigan, and lives in Brooklyn, New York. Her work is published in Ms. Magazine, The Rumpus, Bayou Magazine, International Journal of Health and Media Research, Antigonish Review, and more.
SOURCE: Bomb Magazine