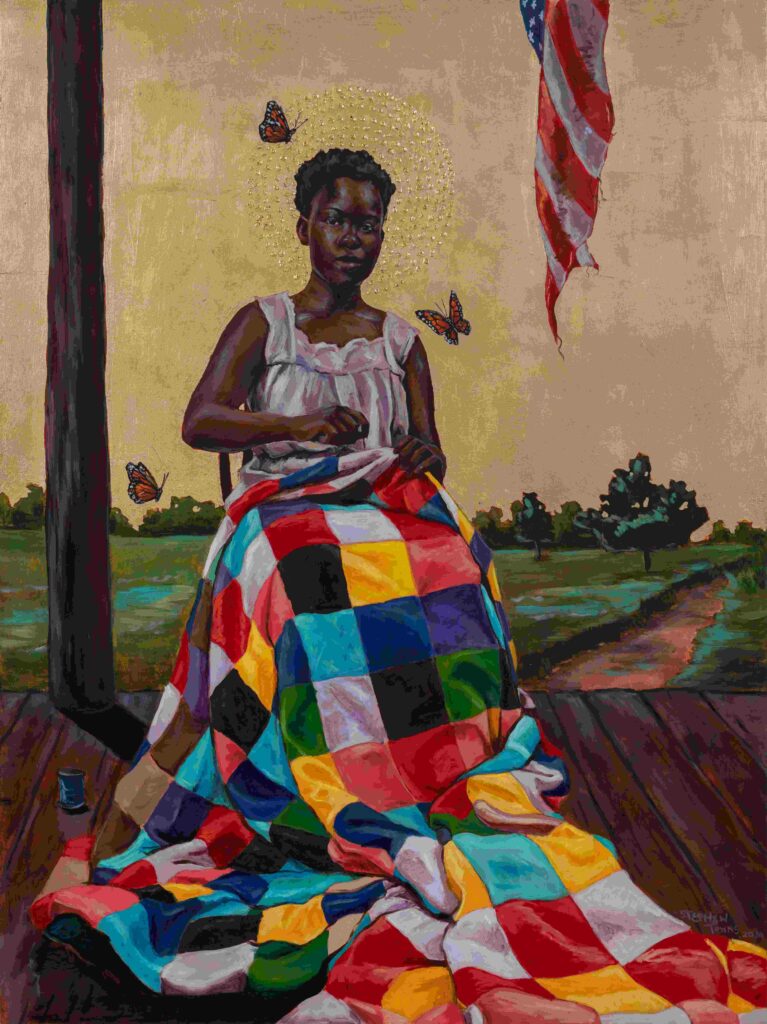 The exhibition Stephen Towns: Declaration & Resistance, organized and traveled by the Westmoreland Museum of American Art, has opened at the Boise Art Museum, the second of four venues staging the exhibition. The exhibition is running at the Boise Art Museum from June 11 to September 18, 2022. It will continue to De Buck Gallery's New York space with a selection of works from the museum show, running from October 11 – November 13, 2022.
Stephen Towns: Declaration & Resistance examines the American dream through the lives of Black Americans from the late 18th century to the present time. Using labor as a backdrop, Towns highlights the role African Americans have played in shaping the economy, and explores their resilience, resistance, and endurance that have challenged the United States to truly embrace the tenets of its Declaration of Independence.
Towns created a body of 35 newly created works including 27 figurative paintings and eight story quilts that along with existing work expand the historical narratives of enslaved and free people who toiled under the most extreme hardships yet persevered through acts of rebellion, skillful guile and self-willed determination. The exhibition is grounded in several existing works including his installation quilt, Birth of a Nation, 2014, providing the foundation for Town's new quilts that give voice to textile, culinary and agricultural workers.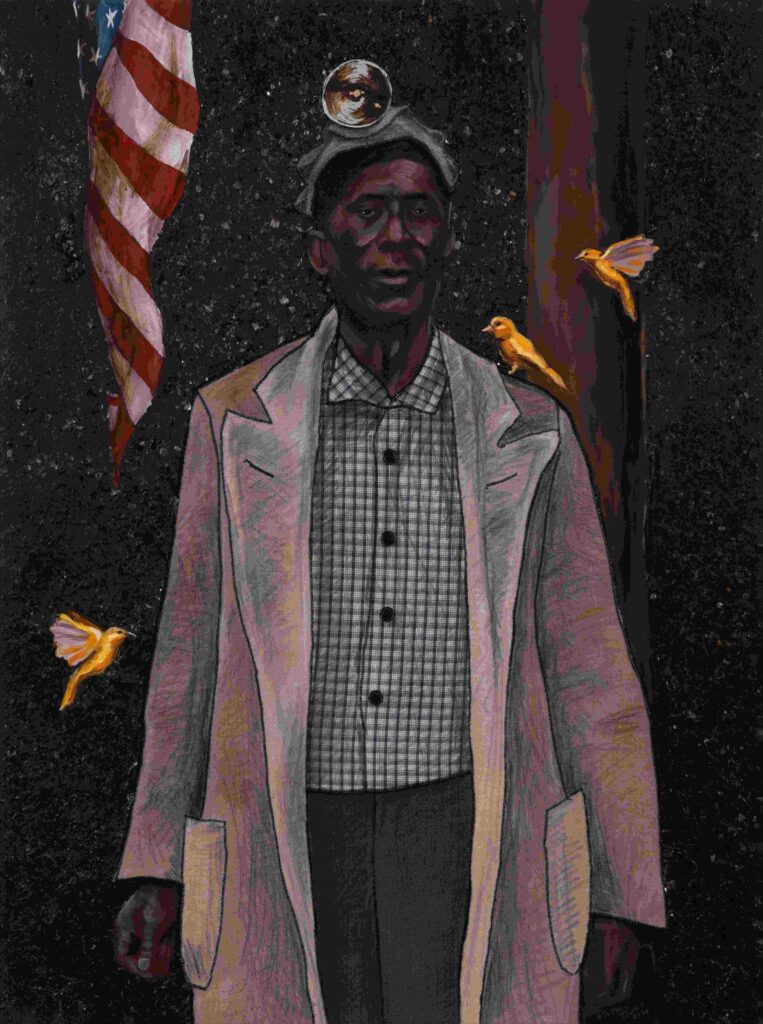 For the special series entitled The Coal Miners, six distinctive mixed-media paintings feature Black miners of West Virginia who were relegated to the most difficult, underpaid, most dangerous and insecure jobs. Towns also foregrounds the stories of Black military workers, often frontline service people, who put their country first, which is the ultimate form of patriotism. A few works in the exhibition shine light on the history of convict leasing (commonly known as chain gangs) by the criminal justice system in which the Black community was made to serve the economic interests of white southern elites via forced labor.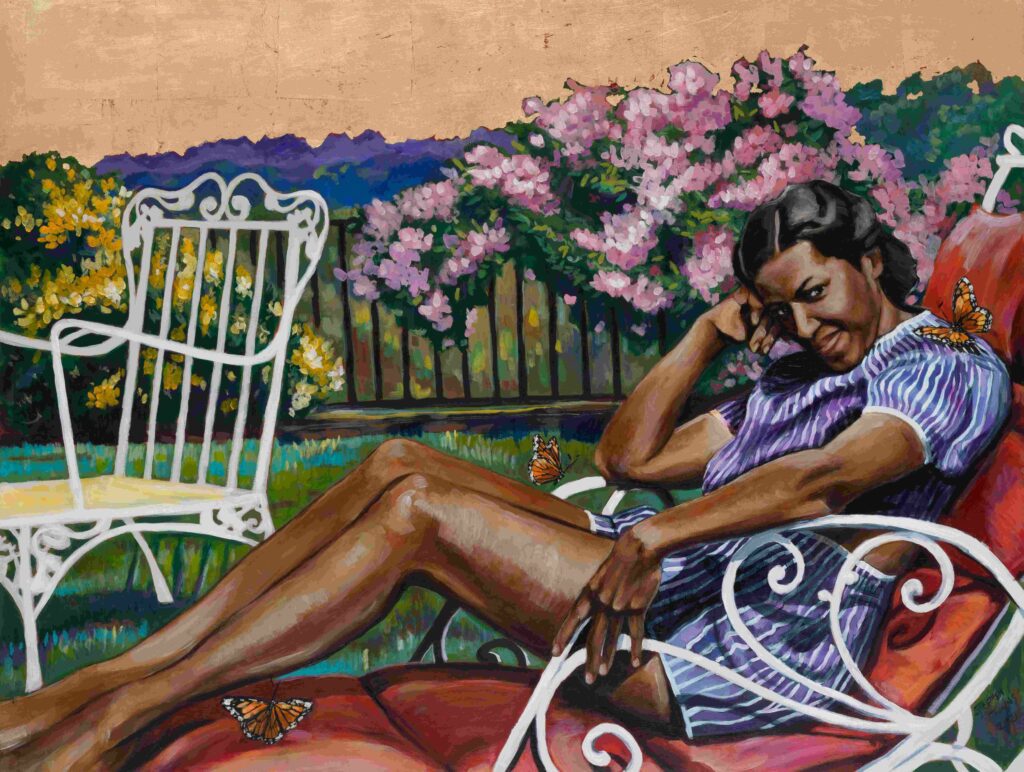 Towns calls attention to the hidden figures who helped shape American cuisine. Among these works the artist honors Ms. Elsie Henderson, who recently passed away at the incredible age of 107. Over the course of her life, Ms. Henderson used her culinary skills to nourish the appetites of several wealthy Pittsburgh families including the Kaufmans, owners of the Frank Lloyd Wright-designed Fallingwater in Mill Run, Pennsylvania. Towns participated in an artist residency program at Fallingwater in June 2021 to create new fiber works.
Lastly, Towns pays tribute to Ona Judge, a formerly enslaved servant and escapee from President George Washington's plantation. Judge was an invaluable seamstress and body servant to Martha Washington, who as a teenager escaped Mount Vernon and fled to New England.
An Inside Look at Stephen Towns: Declaration & Resistance
The exhibition will be on view at its final venue, Reynolda House Museum of Art, Winston-Salem, NC, from February 17, 2023 through May 14, 2023.
Stephen Towns was born in 1980 in Lincolnville, South Carolina and lives and works in Baltimore. He received a Bachelor of Fine Art in painting from the University of South Carolina and has also developed a rigorous, self-taught quilting practice. In 2018, The Baltimore Museum of Art presented his first museum exhibition, Stephen Towns: Rumination and a Reckoning. His work has been exhibited locally and nationally, including solo exhibitions at the Baltimore Museum of Art, Goucher College, Galerie Myrtis, as well as group exhibitions at Arlington Art Center, Montpelier Arts Center, Star-Spangled Banner Flag House and Museum. His work has been featured in publications such as The New York Times, The Washington Post, Hyperallergic, Cultured, AFROPUNK, HYPEBEAST, American Craft Council Magazine, and The Baltimore Sun. Towns was honored as the inaugural recipient of the 2016 Municipal Art Society of Baltimore Travel Prize and received a Greater Baltimore Cultural Alliance Rubys Artist Grant in 2015. In 2018, Towns was a semi-finalist for Sondheim Artscape Prize and awarded a Maryland State Arts Council's Individual Artist Award.
Towns's work is in the collections of the Smithsonian National Museum of African American History and Culture, Washington, D.C., The Huntington Museum of Art, Huntington, West Virginia, The Rockwell Museum, Corning, New York, The Baltimore Museum of Art, Baltimore, MD, The Westmoreland Museum of American Art, Greensburg, PA, The Petrucci Family Foundation Collection of African-American Art, Asbury, New Jersey, The City of Charleston, South Carolina, The Nelson Atkins Museum, St. Louis, Missouri, the private collection of Art + Practice, artist Mark Bradford's nonprofit based in Leimert Park, Los Angeles, as well as other private collections nationally and abroad.
Stephen Towns: Declaration & Resistance is organized by The Westmoreland with guest curator Kilolo Luckett, founding executive director and chief curator of Alma|Lewis (named after abstract artists Alma Thomas and Norman Lewis), an experimental, contemporary art platform for critical thinking, dialogue, and creative expression dedicated to Black culture.
Stephen Towns: Declaration & Resistance is generously supported by Eden Hall Foundation; The Heinz Endowments; the Hillman Exhibition Fund of The Westmoreland Museum of American Art; Arts, Equity, & Education Fund; the National Endowment for the Arts, and De Buck Gallery. Additional funding provided in part by a grant from the Pennsylvania Department of Conservation and Natural Resources, Bureau of Recreation and Conservation, Environmental Stewardship Fund, administered by the Rivers of Steel Heritage Corporation.
Location
Boise Art Museum
Boise, Idaho
Date
June 11, 2022 - September 18, 2022
Artist(s)