NEW YORK—De Buck Gallery is pleased to announce A Songbook Remembered, Stephen Towns' second solo exhibition with the gallery. A Songbook Remembered will feature a collection of new quilt work and will be on display at 507 West 27th Street from October 15th to November 28th, as well as in De Buck's virtual viewing room from October 22nd, as part of the gallery's digital programming.
Ancestral music is at the heart of Towns' new work, a quilted collection of imagined historical narratives with imagery drawn directly from the poetry of African American spirituals. This powerful work represents a deeply personal and emotional evolution within Towns' quilting practice, as he turned to both spiritual music and back to the process of quilting as acts of comfort during the uncertainty of COVID-19. Towns' intricate stitch work is guided by songs of joy, hope, resilience, and protest and the creative process itself functioned, for the artist, as an act of remaining present in a time of chaos.
A Songbook Remembered began with Towns' experience of listening to spirituals and a continued interest in the links between past and present. The quilts, though reflective of the contemporary struggles of both a global pandemic and the nation's confrontation with racial violence and inequality, simultaneously allude to and mirror the legacy of African American history through his imagery and choice of materials. In order to capture the feeling of history, Towns set his narratives between the late 1800s and early 1900s and sourced historical patterns and fabric to create a textural sense of time for his viewers. The work is both healing and revolutionary, with compositions that depict jubilant declarations of faith, quiet moments of solace, and vibrant imagery of resistance. As part of the gallery's digital programming, the accompanying online exhibition will feature a playlist of African American spirituals curated by Stephen Towns, as well as a series of 'De Buck Gallery Voices,' the gallery's intimate new audio project that allows visitors to listen to the artists themselves as they discuss pieces from their studios.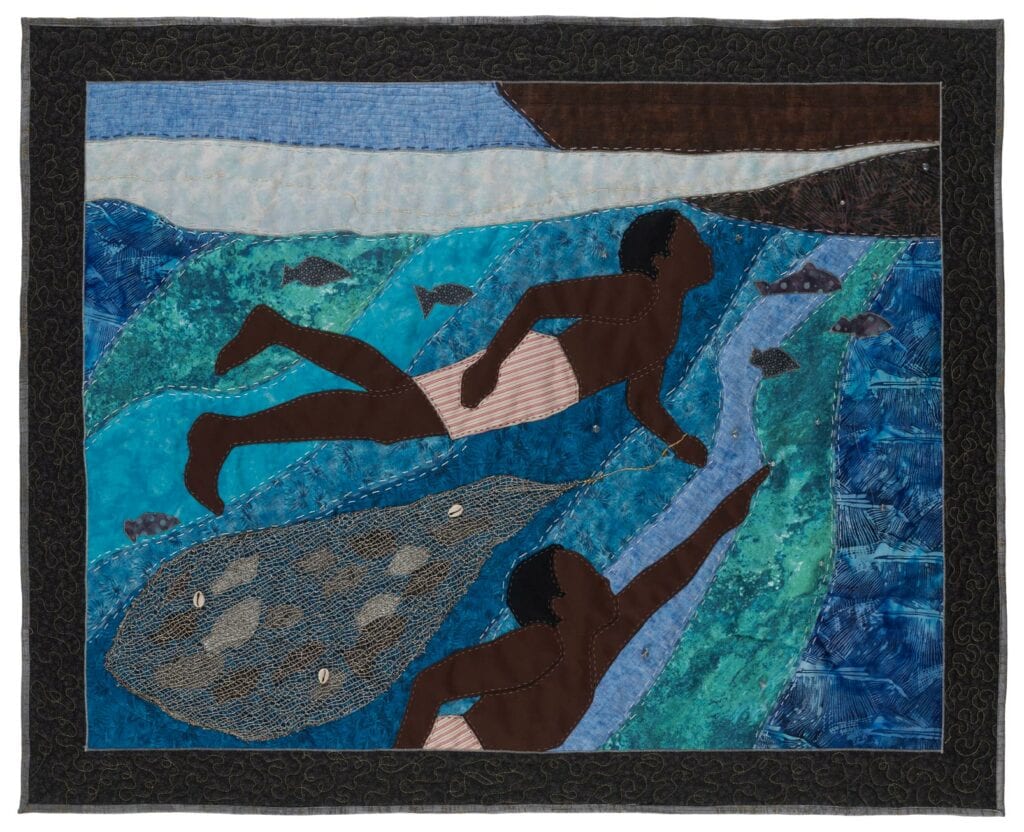 Image: Stephen Towns, Deep River (2020), 39 x 48.5 inches., Natural and synthetic fabric, polyester and cotton thread, crystal glass beads, cowrie shells. Image courtesy of the artist and De Buck Gallery.
Stephen Towns is a painter and fiber artist working primarily in oil, acrylic and quilting. His work explores the African Diaspora and examines how American history influences contemporary society. Towns draws much of his visual inspiration from Medieval altarpieces, impressionist paintings, and wax cloth prints. The work he creates is deeply rooted in the constructs of race and its effects on society. It is developed in direct response to issues that have affected African-American culture–issues such as loss of ancestral roots, slavery, class, education, skin tone and religion. The subjects in Towns's works are not only glimpses of the sitters; they are also a reflection of himself and mirror his struggle to attain a sense of self-knowledge, self-worth and spirituality. His practice provides an avenue for him to process all that he has learned about the violence of American history and imparted a framework on how to navigate and articulate the current anger and frustration that exists throughout the world today. Towns' ongoing quilt series celebrates the aesthetic traditions of African American women while exploring America's history of slavery and labor. The quilts speak to how fabric preserves memory, both in Towns' often deeply personal connection to his materials as well as through the narratives he depicts of historical African Americans, including repeated references to Harriet Tubman.
Stephen Towns was born in 1980 in Lincolnville, South Carolina, and received a Bachelor of Fine Art in painting from the University of South Carolina. His work has been exhibited nationally, including solo exhibitions at the Baltimore Museum of Art, Galerie Myrtis, York College, Goucher College, as well as group exhibitions at Jack Shainman Gallery: The School, August Wilson Cultural Center, Arlington Art Center, The David C. Driskell Center, Montpelier Arts Center, Star- Spangled Banner Flag House and Museum. His work has been featured in publications such as the New York Times, Artforum, the Washington Post, Hyperallergic, Cultured Magazine, AfroPunk, Hype Beast and the American Craft Council Magazine. Towns was honored as the inaugural recipient of the 2016 Municipal Art Society of Baltimore Travel Prize and received a Greater Baltimore Cultural Alliance Rubys Artist Grant in 2015. In 2018, Towns was a semi-finalist for the Sondheim Artscape Prize and awarded a MD State Arts Council's Individual Artist Award. Towns's work is in the private collections of The National Museum of African American History and Culture (NMAAHC), Art + Practice, artist Mark Bradford's nonprofit based in Leimert Park, Los Angeles, The Petrucci Family Foundation, The Baltimore Museum of Art, the City of Charleston, South Carolina, The Nelson Atkins Museum, St. Louis, Missouri, and is held in private collections nationally and abroad. In 2022, Towns will exhibit Declaration and Resistance, a solo exhibition of paintings and quilts at the Westmoreland Museum of American Art, Pennsylvania. Towns currently lives and works in Baltimore, MD.
Visit www.debuckgallery.com and join in the conversation on Instagram @debuckgallery #ASongbookRemembered #StephenTowns
For more information please contact De Buck Gallery at collect@debuckgallery.com / +1 212 255 5735.
Date
October 15, 2020 - November 28, 2020
Artist(s)