De Buck Gallery is pleased to announce Spotlight: Sheena Rose, a selection from artist Sheena Rose's newest body of sports-themed work, on view October 11 through November 20 online. The works will also be on view in De Buck Gallery's private viewing room in Chelsea beginning October 21.
Rose's newest paintings explode with motion and celebration. Athletic figures pose, leap and dive through colorful courts and arenas in images that explore themes of victory, play and hope. Created in her studio in Barbados during 2021, Rose's practice shifted in response to what she perceived as the heaviness of the pandemic as well as her own difficult experience living with the disease Lupus. Rose explains, "my journey through Lupus has shaped and navigated my art in new directions and dimensions, further pushing me to discover more about myself."
The works feature celebratory imagery centered around prominent Black figures in sports, including Serena Williams and Naomi Osaka, who function for Rose as both symbols of personal affirmation as well as inspiration for her viewers. The works reflect her desire to see herself as victorious, hopeful and joyous in the midst of hardship and pain and allowed her a way to reconnect to the physicality she has often lost due to her Lupus.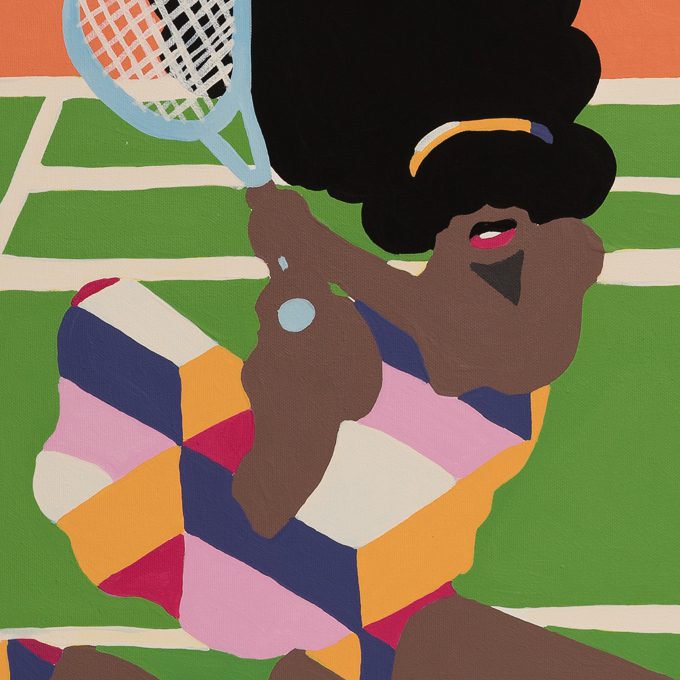 Rose, who has a vibrant multidisciplinary practice, took on the challenge of creating a series of paintings within the limitations of Covid's travel restrictions. Using only paints that were locally accessible to her in Barbados, Rose unlocked a sense of imagination and freedom working within a palette of mainly primary colors. Lifting geometric patterns from historical research into the aesthetics of disco and 1970s design, Rose created an intentionally flattened visual language that evokes a sense of lightness and humor.
About her painting, Rose states, "I see myself and the world with lots of layers and overlaps. Politics, stereotypes, historical and contemporary contexts." Ultimately for Rose, the process of making these works also became a process of reaffirming the beauty of her own skin and creating positive representations of Black figures. Each title references terminology from sports that relates to techniques of winning so that Rose could imagine herself making history through determination and hard work.
Sheena Rose (b. 1985) is a Barbados-based visual artist set on brightening the contemporary art world. She received her MFA in Studio Art from the University of North Carolina at Greensboro in 2016 and is a Fulbright Scholar. Rose has exhibited her works globally and continuously takes part in biennials, as well as museum and gallery exhibitions. Her varied practice encompasses painting, drawing, performance art, new media, and mixed media.
Sheena Rose was the recipient of the 2020–2021 UNC Greensboro Distinguished Alumni Award in the College of Visual and Performing Arts. In 2019, she designed a two-story mural at the Inter-American Development Bank Headquarters in D.C. This past summer, the Weatherspoon Art Museum at UNC Greensboro debuted a vibrant mural commission by Rose in its atrium. Her works have also made appearances on high-profile television shows, such as season six of Empire. Most recently, Rose's work was featured in "A Force for Change," a group exhibition in New York this past summer presented by UN Women, which showcased the work of 26 black women artists.
Walk through a virtual installation of her works below.
Date
October 11, 2021 - November 20, 2021
Artist(s)