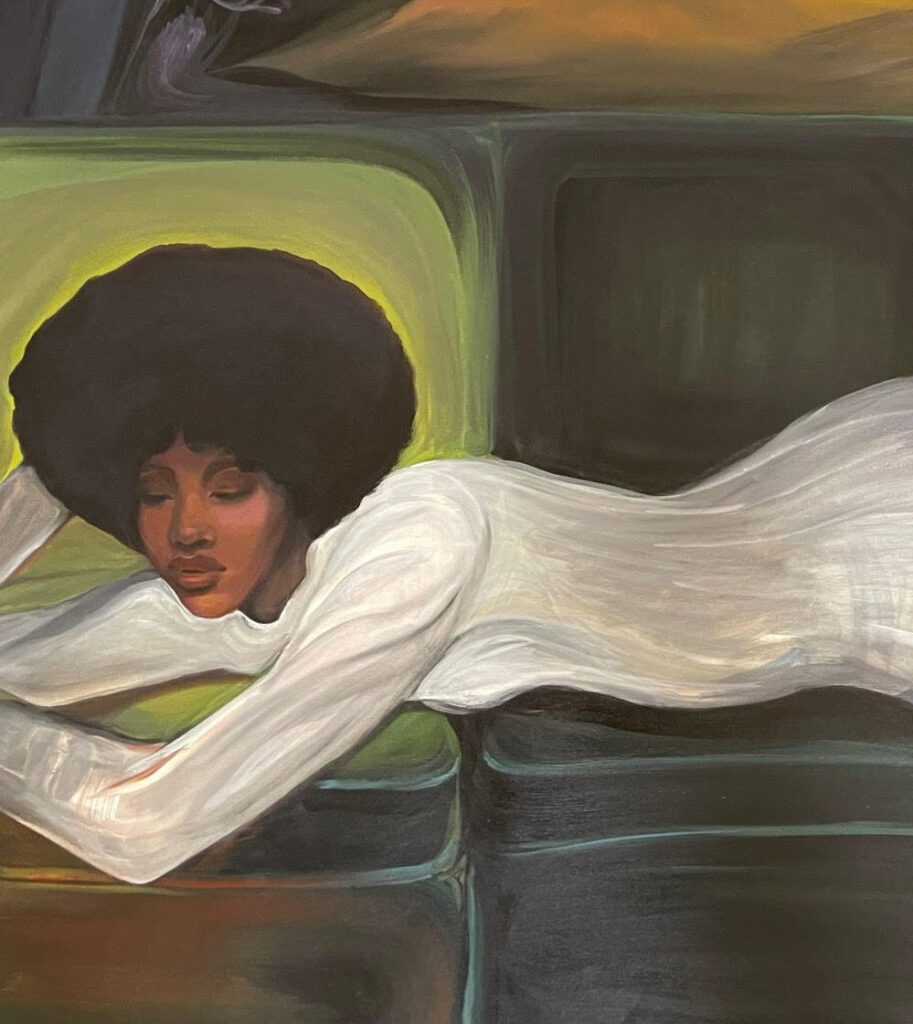 De Buck Gallery is thrilled to announce artist Megan Gabrielle Harris' latest works in "Spotlight: Megan Gabrielle Harris." This online exhibition expands on her current series featuring women of color in repose, embodying the coveted state of leisure.
The exhibition, which will run from February 17 through March 17, 2022, showcases two new works, each reaching new levels of introspection and self-awareness. Megan Gabrielle Harris combines exotic landscapes inspired by her travels with composed figures taken in turn from life and from her imagination to create her large-scale surrealistic canvases.
Her work typically features women of color depicted in states of quiet and thoughtful relaxation set against a backdrop of a natural setting featuring mountains, palm trees, or the desert. The artist's latest series of works touch on her own aspirations for the calmness and peace associated with the idea of leisure. Gabrielle Harris stresses the importance in her subjects' poses and environments as something she does not often see in media; a Black woman in a calm and drama-free state.
Gabrielle Harris' work, Day Dream, evokes just what the title suggests — a private reverie within one's own tranquil space. Warm light floods the dreamer, who is stretched along a velvety green sofa on her side, head in hand. The light, which matches the exterior beyond the window, seems to only encompass her head. The rolling hills are a familiar and realistic scene. Yet, they are countered with a bright red sun, hinting that the world beyond the curtain is less real than one first believes. The curtains, themselves, act as a boundary between the resting woman and the dreamscape, serving much like a theater curtain that separates the audience from a stage. The scene, overall, suggests a sense of simplicity in focusing on the joy and calmness in the moment.
A Blue Moon, the larger canvas of the two, compels viewers to dive deeper into the mind of the lone woman sitting along the edge of a man-made pond, and deeper into one's most inner thoughts and desires. Megan Gabrielle Harris notes that this painting is much darker than her previous pieces– both literally and figuratively. Gabrielle Harris stretches beyond her comfort zone to create a beautifully serene nightscape. Within this scene, two figures stand in conversation. A woman in a slim, draping gown sits listlessly, barely holding the dandelion weed in her hand. She stares thoughtfully out towards a classical sculpture standing in contrapposto across the pond. This piece expands on her theme of women of color in relaxed and leisurely states. In this work, Megan Gabrielle Harris has captured the importance of isolating oneself in order to reflect inwards.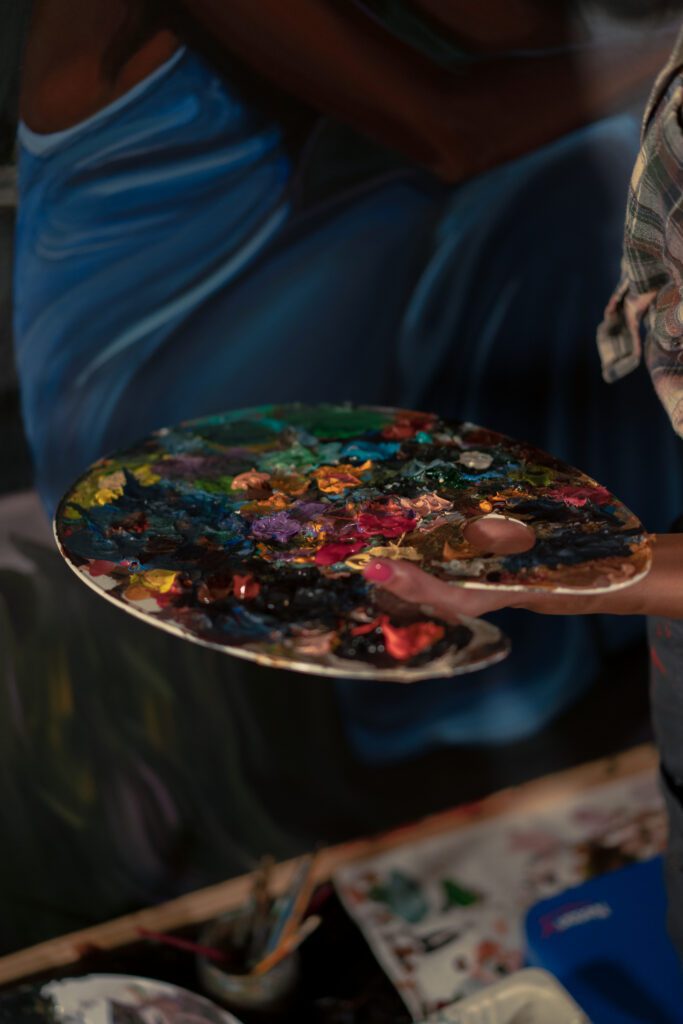 Megan Gabrielle Harris (American, b. 1990) is a multi-disciplinary artist who divides her time between her Brooklyn, New York studio and Sacramento, California where she lives and works. Working in drawing, painting, and photography, Gabrielle Harris' work is influenced by travel, exotic landscapes, and nature.
Date
February 17, 2022 - March 17, 2022
Artist(s)