De Buck Gallery is pleased to present Spotlight: Koen van den Broek, an online presentation of works on paper by Belgian artist Koen van den Broek. Created during the artist's recent travels to the United Arab Emirates, this focused series draws on the artist's interest in pavement, curb stones and the small, often-overlooked details of urban landscapes. The online exhibition runs from March 17 through April 14, 2022.
Koen van den Broek is known for his paintings of subjects such as pavements, curbs, and cracks that he creates from his own photographs. The artist, who studied architecture before turning to painting, is at heart an architect. His paintings often begin with observations, almost meditations, on architectural features of urban environments. Thus, for Van den Broek, his process begins with him looking down and photographing what he sees. From there, he takes his Polaroids and digital photographs and translates them into his seemingly abstract works.
His new series of works on paper are the fruits of Van den Broek's travels to the United Arab Emirates, the artist's first stint of international travel since the pandemic began. As a result, these works evoke a sense of delight in the artist's reclaimed freedom.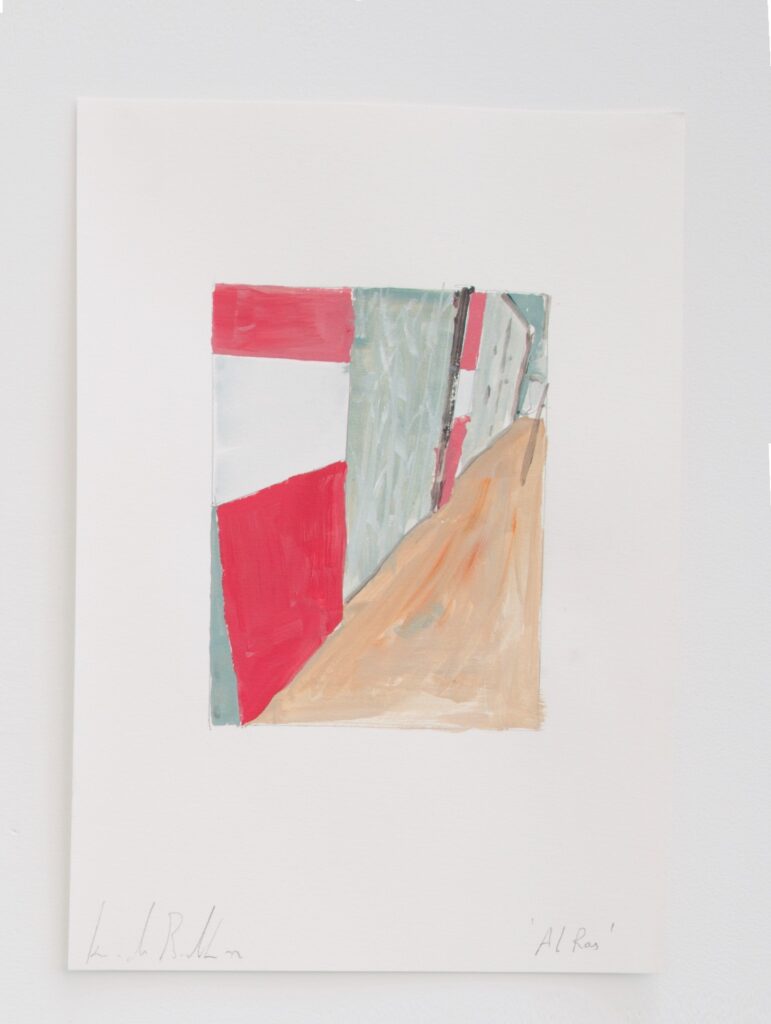 As with his large-scale paintings, for this series, Van den Broek photographed architectural elements on his journeys through the neighborhoods of Al Hamriya and Al Ras in Dubai, before bringing them to life on paper. Whether a lone acacia tree in the desert, a view of boats in the water near Dubai Festival City, or a blue ramp on the street at the Louvre Abu Dhabi, Van den Broek reduces these architectural forms to their fundamental geometry bringing forth hidden symmetries, light, and color. If the works can sometimes seem cool for all their distillation of structure, they are not devoid of personal underpinnings. The work Kandinsky, for example, was done in response to a note from a friend sharing a detail of a work by Wassily Kandinsky.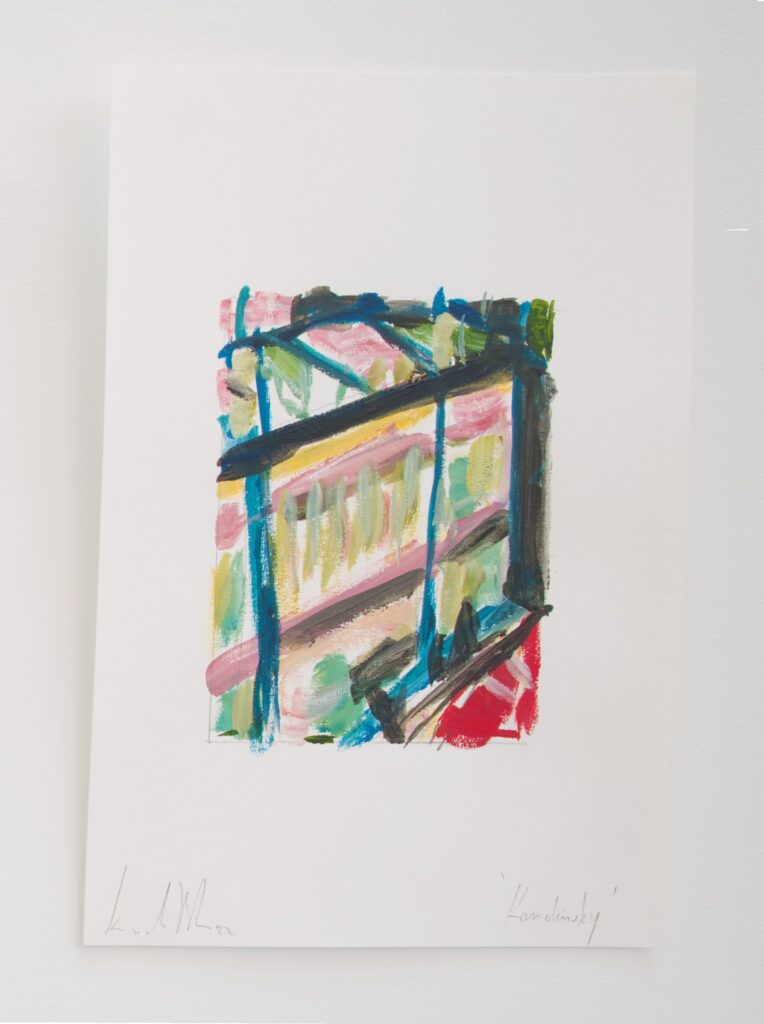 While his works often appear abstract, the artist does not consider them to be. To him, they are a direct reflection of what he sees, stating that everything he does "comes from the world." On this particular trip, the artist had three cameras with him and film. The works on paper were from images he shot with an iPhone.
"In the Desert, like all hot places on earth," says Van den Broek, "the cracks are falling apart, and there's no way of fixing it." In this way, he uses natural elements "to get at something artificial," and to make something new, a human intervention into the world. "I'm controlling the frame, but I do not control the cracks on the road."
Koen van den Broek (b. 1973) is a Belgian artist known for his depictions of urban landscape. He studied at the Royal Academy of Antwerp and the Academy of Visual Arts of Breda in the late 1990s. Van den Broek lives and works in Antwerp, Belgium.
Works by Koen van den Broek are featured in private and institutional collections around the world, including the Los Angeles County Museum of Art; the Pizzuti Collection of the Columbus Museum of Art; The Hall Art Foundation, Reading, Vermont; S.M.A.K., the Municipal Museum of Contemporary Art, Ghent, Belgium; The Stoffel Collection of The Munich Pinakothek der Moderne, Munich; Museum Voorlinden, Wassenaar, The Netherlands; The Museum of Contemporary Art (MuHKA), Antwerp; Leeum Collection, Seoul; Busan Museum of Art, South Korea; and Astrup Fearnley Museum of Modern Art, Oslo. Private collections include those of Elton John, Jeremy Lewison, and Dean Valentine.
Date
March 17, 2022 - April 14, 2022
Artist(s)