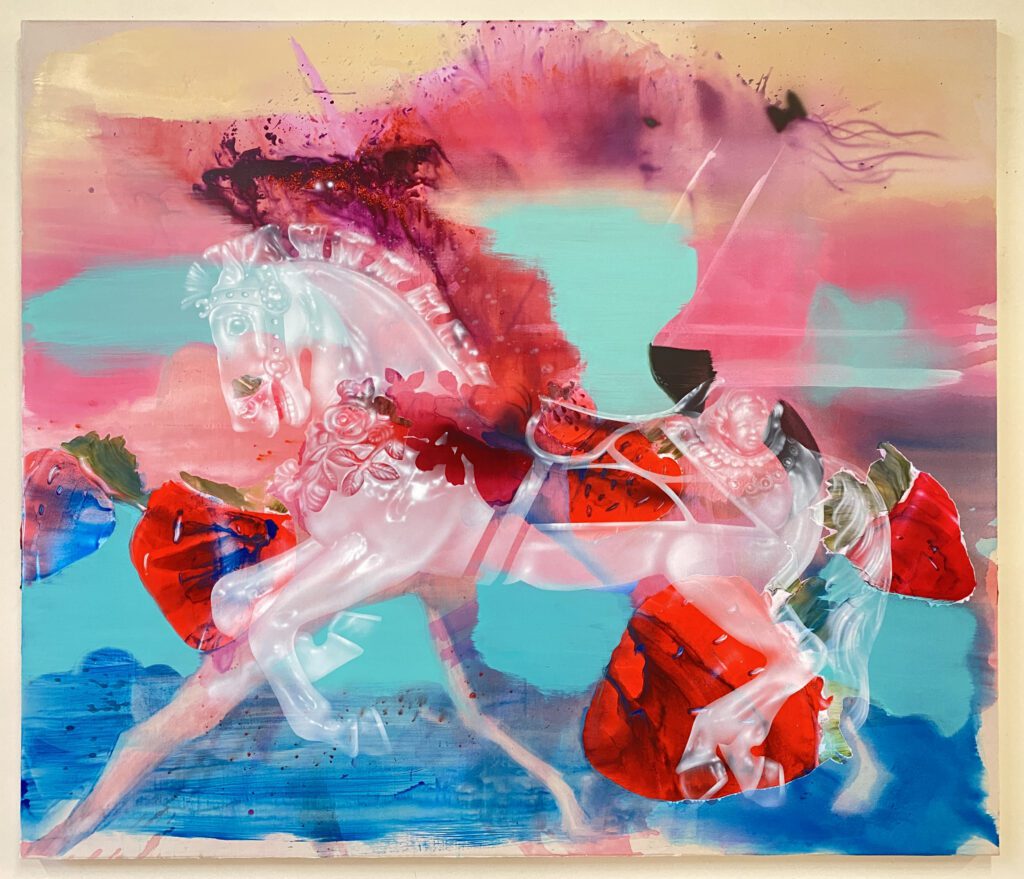 De Buck Gallery is pleased to present "Spotlight: Emilie Stark-Menneg," an online presentation of the artist's latest series of paintings. The works will be on view January 15 through February 13, 2022.
Emilie Stark-Menneg's newest body of work is an explosion of color and movement. She combines performance and figurative painting into fluid storytelling that draws as much on the performative works of artists Ana Mendieta and Pipilotti Rist as it does on pop culture and classical theater.
​​A starting point for the series was the idea of metamorphosis as embodied by the subject of her painting Primavera, with her arms becoming branches. "This kind of possibility of a magical transformation—and how that happens," said Stark-Menneg, "is a thing that I continually want to investigate. I'm constantly thinking about: how do we become?"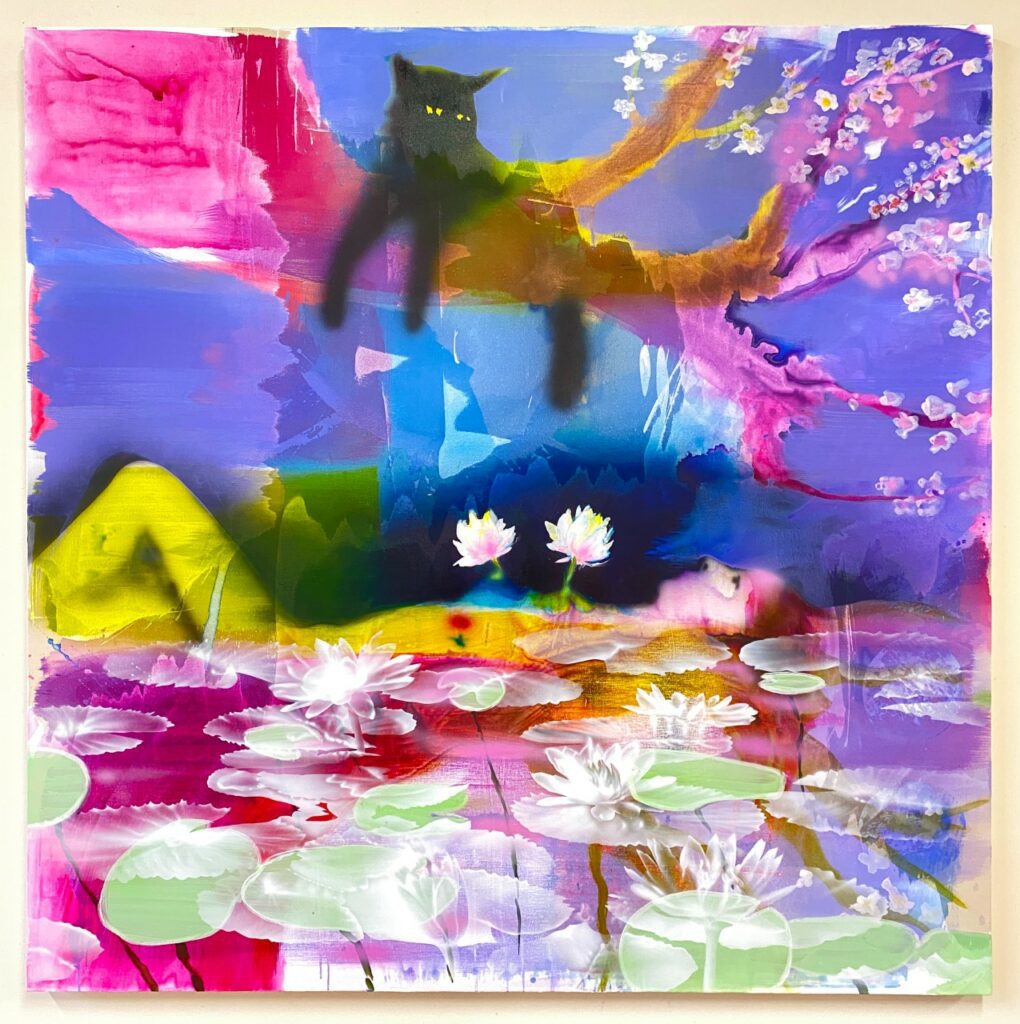 In a practical sense, these works, through their careful layering, are an attempt to "shatter" the painterly language. The works combat and consume ideas of impressionism and the plein air painting that is common in Stark-Menneg's home state of Maine. Her 2022 work, Cat Nap, re-imagines Claude Monet's beloved Water Lilies as something hyper-realistic. On a conceptual level, these X-ray-like layers of flowers and lily pads act as a delicate saving factor for Ophelia, the betrothed of Shakespeare's Hamlet who drowns herself in a state of despair. The cat within the painting refers to this reconfiguration, much like the Cheshire cat from Alice in Wonderland appears and disappears at will within a world of fantasy.
With Wild Blueberries, 2022, a portrait of a nude woman seated in a fantastical blueberry-filled setting grotesquely plunging her hand into an oversized blueberry, Stark-Menneg begs the question, "What would it be like to turn into the thing that you are eating?" Stark-Menneg was referring in part to the character of Violet Beauregarde from Charlie and the Chocolate Factory, who eats a stick of gum and turns into a giant blueberry. As a child, the change was morbidly fascinating to the artist. Within her work, it represents mortality and the cyclical nature of life and death, of decomposing and composing.
Stark-Menneg describes these works as performances in themselves, from the foundational conversations she'll have with artists and poets who sit for her, to the pouring of the paint on canvases placed on the floor, to the additional translucent painterly layers, or "screens," she builds for the final stage of the production. Her performance begins when she enters her studio: pouring, painting, and airbrushing until she finds the balance between separation and connection of painterly language. Oftentimes, it is a performance completed in one act.
Emilie Stark-Menneg (American, b. 1984) works in painting, video, and sculpture. She received her MFA from RISD in painting in 2019 and her BFA in combined media from Cornell in 2007. Stark-Menneg collaborated with the American poet Lyrae Van Clief-Stefanon on a performance for the Cornell Council for the Arts Biennial 2019 at Cornell University and presented a painting and video installation in collaboration with Van Clief-Stefanon in the 2019 deCordova New England Biennial. She has had solo exhibitions at Steven Harvey Fine Art Projects and Morgan Lehman, NYC, Field Projects Gallery, NYC; Allouche Gallery, NYC; Makebish Gallery, NYC; Kijidome, Boston, MA; Nesto Gallery at Milton Academy, Milton, MA; Elizabeth Moss Gallery, Falmouth, ME; Leonard R. Craig Gallery, Unity, ME; and the Coleman Burke Gallery, Brunswick, ME. Stark-Menneg's installation "Sing Me to Another Sound" was included in the 2015 Portland Museum of Art Biennial. Recent group shows include Night Gallery, LA and Galleri Urbane, Dallas, TX. Forthcoming, she will have a residency at Surf Point Foundation and a solo show at De Buck Gallery Saint Paul de Vence.
Date
January 15, 2022 - February 13, 2022
Artist(s)