September 3 — October 1, 2022
50 Chemin des Trious
06570 Saint-Paul-de-Vence
France
Saint-Paul de Vence — De Buck Gallery is pleased to announce "Rob and Nick Carter: Robot Paintings, Sud de la France," an exhibition of recent robot paintings inspired by the artists' residency at De Buck Gallery in the South of France earlier this summer. The exhibition, which takes place in the gallery's Saint-Paul de Vence location, will run from September 3, 2022 through October 1, 2022.
Artists have always used the tools at their disposal and Rob and Nick Carter have a unique talent for employing new technologies while preserving artisanal traditions and techniques. This exhibition continues their fascination with AI and robotics, showcasing groundbreaking new works made with their two robots. Using these unique and innovative methods, the artists pay homage to the works of modern masters associated with the area around the gallery.
Rob and Nick have created a series of full-colour Robot Paintings presented as mirror-image diptychs. These works are inspired by their explorations of the Saint-Paul de Vence area and reflect the practice of artists such as Marc Chagall (1887–1985) who created editioned prints from etchings.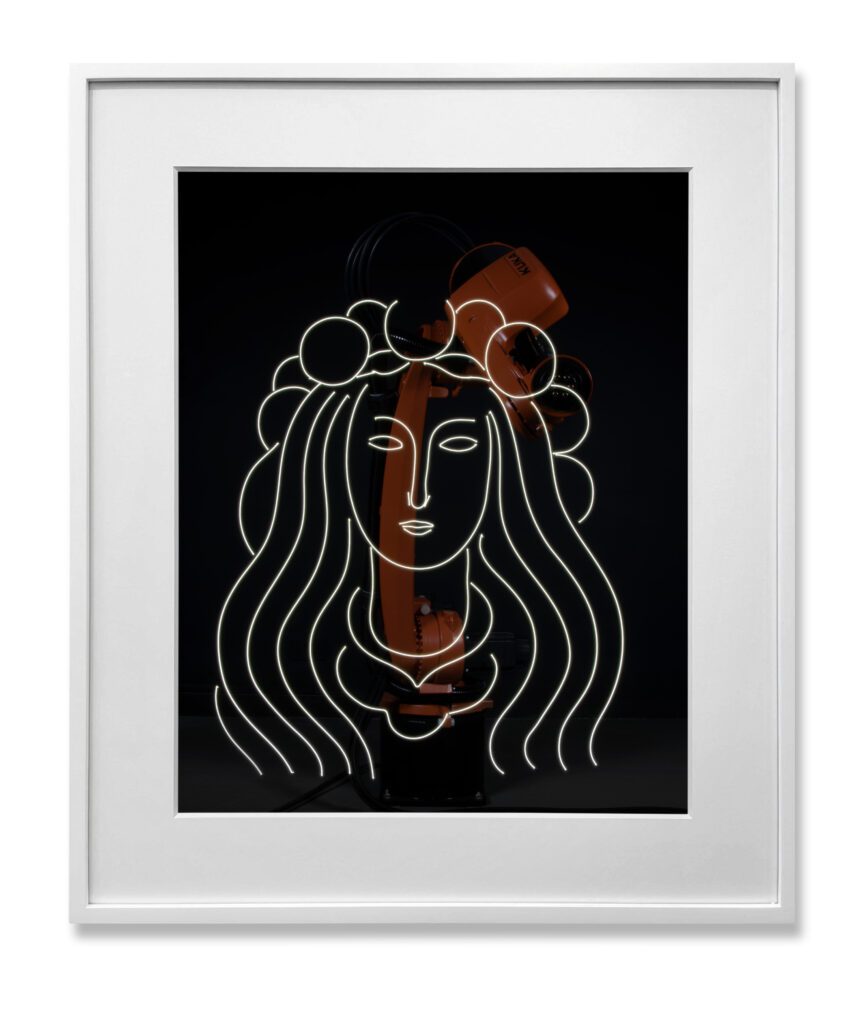 For their research they revisited The Matisse Chapel, The Picasso Museum in Antibes, The Chagall Museum and the infamous Colombe d'Or, as well as further locations where the modern masters painted and frequented. Following in their footsteps, Rob and Nick Carter consciously chose to paint still lifes and landscapes inspired by their visit, taking photographs as source material. In the unique method they have originated, these photographic images are processed into a coded sequence of brushstrokes to be executed by their specially-equipped robot using conventional paints and brushes. The results are loosely-painted acrylics on board, entirely untouched by human hand from blank board to finished work. With this body of work Rob and Nick Carter have skilfully brought nature and technology together.
Also, on show are five, almost identical robot paintings after Van Gogh's (1853-1890) Sunflowers (from the National Gallery, London). Each transcription of this masterpiece was executed in 49 hours, 3 minutes, and 3 seconds of continuous autonomous painting by the robot — 9,153 brushstrokes from start to finish. On close examination very small differences are apparent which add to the appeal for the viewer, making each painting unique.
Rob and Nick's second robot has been employed to create works by 'drawing with light' in their darkroom, referencing photographs taken by Gjon Mili (1904-84) and Pablo Picasso (1881-1973), Man Ray's Space Writing series (1935) and Bruce Nauman's Light Trap for Henry Moore (1941).
All these new light works are a continuation of the artists' 25-year fascination with 'painting with light'. Following the artists' visit to the Matisse Chapel Rob and Nick were inspired by Matisse's very simple line drawings and embarked on recreating these in light. The resulting films and still photographs are taken with a long exposure from a fixed camera position, capturing the robot drawing in space with light. These works will be presented as limited edition prints and as unique NFTs.
The Artists
​Rob and Nick Carter were born in the UK in 1968 and 1969, respectively, and have been working together for 25 years. They are a married couple who live and work in London. As contemporary artists their work revolves around Light, Color and Form in many different mediums including, painting, photography, light installations, film, sculpture and robotics. Works by Rob and Nick are found in private and institutional collections around the world, including Dulwich Picture Gallery,London, UK, The Frick, Pittsburgh, United States, The Mauritshuis Museum, The Hague, Netherlands, The Victoria and Albert Museum, London, UK, Frans Hals Museum, Harleem, Netherlands, Fondation Custodia, Frits Lugt Collection, Paris, France, Museum of Neon Art, Los Angeles, United States, Städel Museum, Frankfurt, Germany, and David Roberts Foundation, London, UK. Private collections include Elton John, Berkshire, UK.
Location
De Buck Gallery
Saint-Paul de Vence
Date
September 3, 2022 - September 29, 2022
Artist(s)