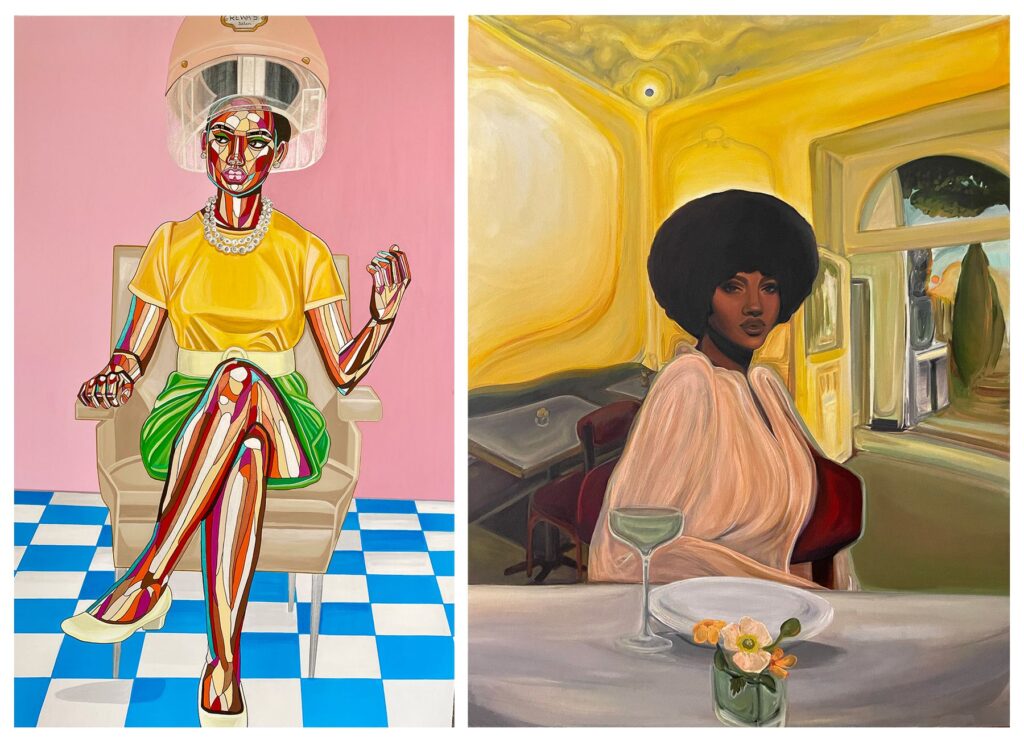 De Buck Gallery is thrilled to present "Ladies of Leisure," a joint exhibition with artists REWA and Megan Gabrielle Harris. The exhibition will feature large scale figurative portraits of women in the signature styles of the artists. Showing at the gallery's New York location, the exhibition will run from May 5 through May 28, 2022.
"Ladies of Leisure" features nine figurative paintings by two exciting young artists whose works invite interpretations of the female experience as it relates to culture, societal expectations, and self-exploration.
For her works in the show, Nigerian artist REWA offers a sampling of her latest series, Renascenting Africa, which portrays the modern African woman as "fashionable, intrepid, and unbothered by the external gaze," according to the artist. REWA states, "The paintings that comprise this series are for us, by us and starring us."
Staying true to her signature style, the portraiture is done in a technique redolent of stained-glass that depicts her subjects' skin tones in a variety of colors, from various shades of cream and brown, to more vibrant blues and purples. This method was also partly influenced by the artist's anatomy studies while getting her degree in Physiology & Pharmacology.
While the portraits have a sense of light-hearted solitude on the surface, they hold significant meaning for the artist related to the particular subjects she paints. REWA draws parallels to her own Igbo culture and uses stories of the individuals to connect the rich history of Nigerian culture with the modern Afropolitan woman.
In the sister works Please Be Quiet and Call Me, REWA combines modern scenarios with traditional culture. The paintings tell the story of Nwabundo, a modern woman in the thick of the dating scene. In Please, Be Quiet, Nwabundo has grown bored on the phone with her current love interest. Unlike traditional Igbo courting where a relationship has more external influence and is more firmly bound, the sitter's relationship is self-determined, and thus she will hang up the phone soon. In juxtaposition, Call Me depicts Nwabundo on the receiving end of unrequited love. While in traditional courtship, she could possibly speak with her lover's family. Here, she must see how their relationship unfolds.
Megan Gabrielle Harris presents several new works for "Ladies of Leisure." Continuing on her theme of women in repose, Harris' latest contribution is influenced by the artist's transition from New York City to Sacramento. Upon her move, she began taking small trips to the coast, Los Angeles, and Mexico. Lunch at Blanco Colima, for example, is inspired by a café around the corner from Harris' hotel in Mexico City. While in awe of the beauty of the space, it was the artist's contented solitude in dining alone that influenced the work.
A common perspective in Megan Gabrielle Harris' works is the importance of prioritizing rest in a world where hustling results in neglecting ourselves, and this series is no different when manifesting leisure. Similar to previous works, Harris' female figures are relaxed and peaceful. The surrounding environment is depicted in a painterly fashion, which mimics the chaos of the world outside one's respite. In works like Reverie, the landscape is influenced by train rides to and from the Bay Area. Here, the outside world seems to sweep by the lounging woman. 
Megan Gabrielle Harris (American, b. 1990) divides her time between New York City and Sacramento, where she lives and works. She received her B.A. in Art History from California State University, Sacramento.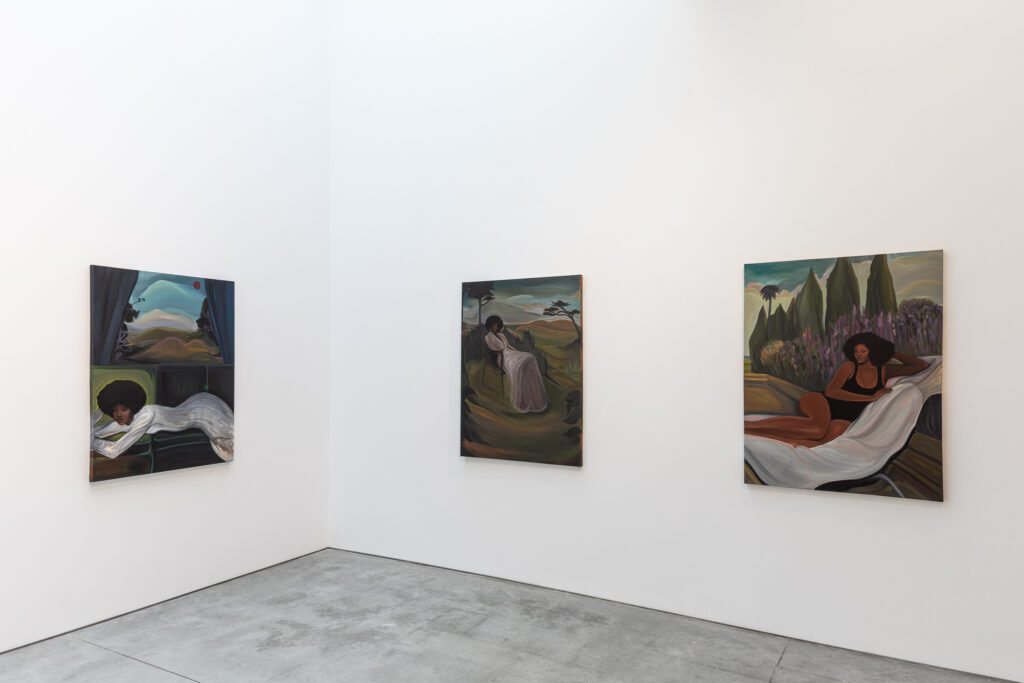 REWA (Nigerian, b. 1987) considers herself a native of Nigeria, London, and Johannesburg. She has a B.Sc. in Physiology & Pharmacology from University College London (UCL) and works in Financial Services. Entirely self-taught, REWA focuses on a female-centric narrative that often explores aspects of Igbo culture.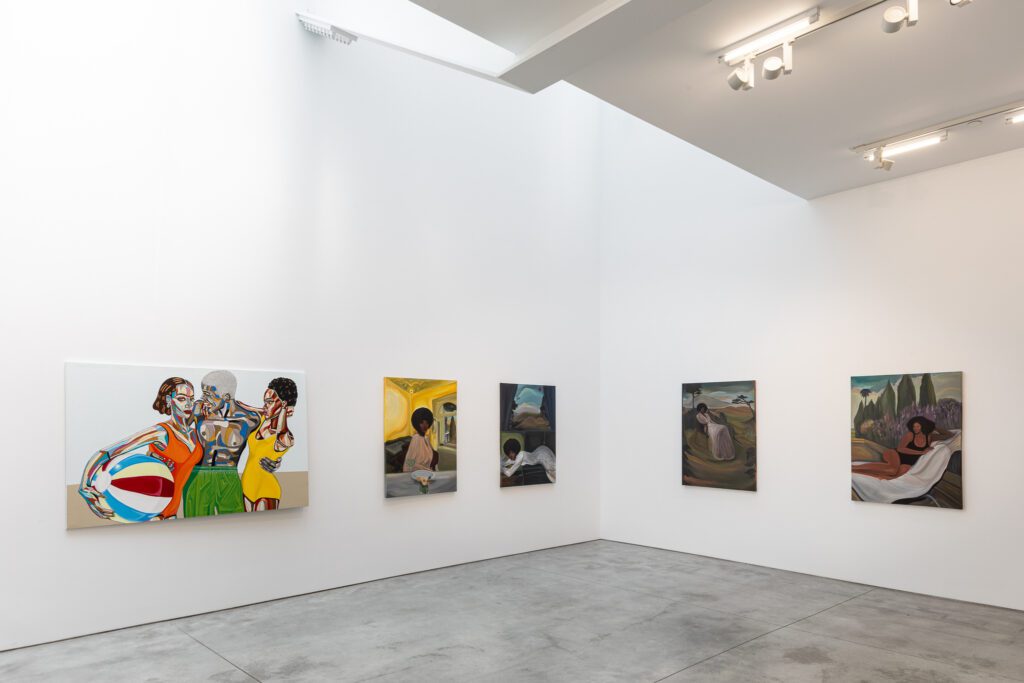 Date
May 5, 2022 - May 28, 2022
Artist(s)