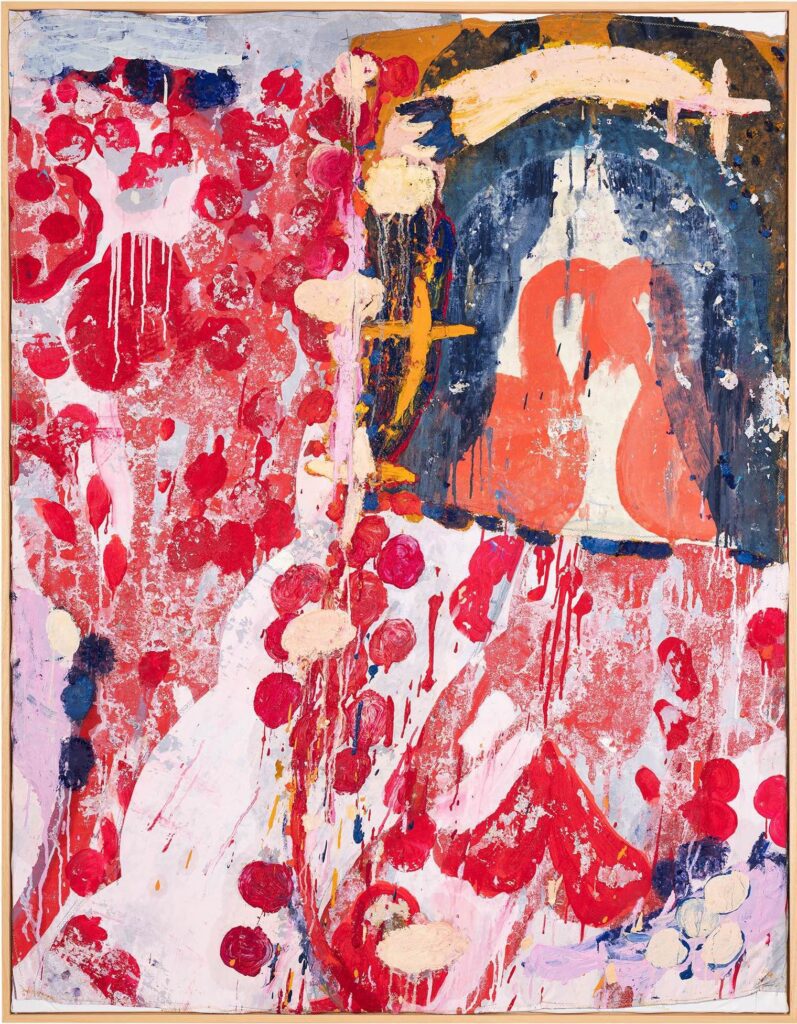 De Buck Gallery is delighted to present Gommaar Gilliams' Eight Lullabies. A collection of eight large-scale works, this new series is inspired by the poetry of W.H. Auden and explores the practice of storytelling. Eight Lullabies will run from June 8 through August 31, 2023. 
Gilliams had been reading Auden when he began transcribing words and phrases from the poems, deciding to use those as starting points for these works. The show's title was, in fact, taken from one of Auden's most recognized works, "Lullaby." Gilliams says the significance of the gentle lullaby song is that it's a soft way of storytelling but one that "always deals with an aspect of life."
Storytelling is a perennial interest to the artist. "From primitive signs to heraldic symbols to contemporary logos, we always try to tell stories," says Gilliams. "And what is important to me is the pictorial way of telling a story."
Another reference point for his narratives is early illuminated manuscripts, the hand-written books originating in monasteries in the middle ages that contain small figurative images set within decorative motifs such as flowers or vines. Similarly, Gilliams creates small figurative scenes featuring swans within a larger ground decorated with vines and florals. "I like the idea of having a story within a story," he says. 'I like the stories that surround the swan. I like the cultural and art historical references…. For a lot of people, this one is in their collective memory."
Gommaar Gilliams is a Belgian painter. He was born in 1982 in Lier, Belgium. Graduating in visual arts from LUCA School of Arts in Brussels and having a Masters degree in Painting from PXL College in Hasselt, his large-scale paintings and textural wall hangings fuse American Abstract Expressionism with figurative elements derived from Middle Eastern to European symbolism.
Gilliams has exhibited widely across Europe as well as in solo exhibitions such as The Cabin LA residency in Los Angeles. His work has also won numerous national awards in Belgium including the Ernest Albert Grand Prize (Grote Prijs Ernest Albert) in Mechelen and the Prize of the City of Harelbeke (Prijs van de stad Harelbeke). His work is included in many private and public collections.
Date
June 8, 2023 - August 31, 2023
Artist(s)