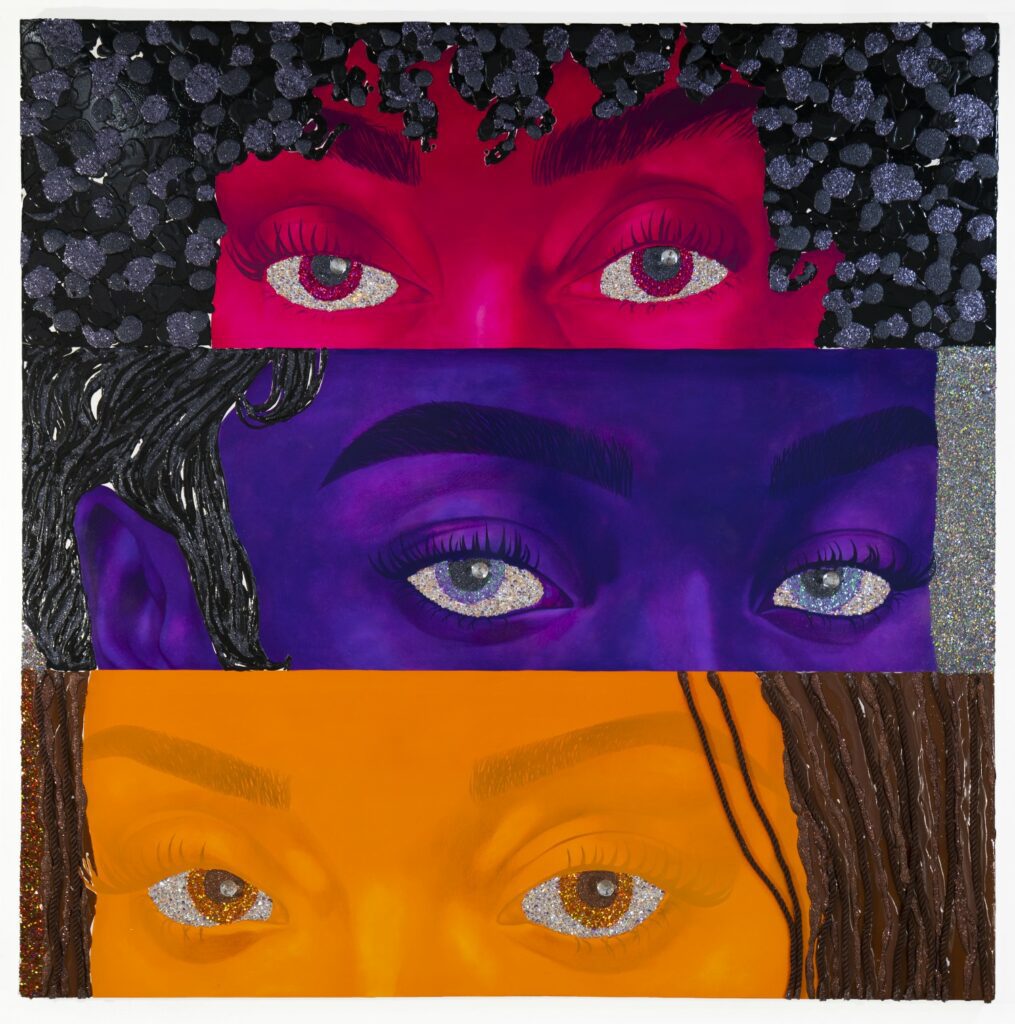 Devan Shimoyama: DIAMOND
September 9 – October 16, 2021
507 West 27th Street, New York
Opening Reception with Artist: September 9, 6-8pm
NEW YORK—De Buck Gallery is thrilled to announce DIAMOND, a solo show featuring new works by Devan Shimoyama. The exhibition will be on view at 507 West 27th Street from September 9 to October 16, as well accessible online as part of the gallery's digital programming. DIAMOND will be Shimoyama's third solo exhibition with De Buck Gallery and will include work created during the artist's summer residency at De Buck Gallery's Saint-Paul de Vence location.
DIAMOND is a unique, personal, and ongoing body of work, depicting imagery of an imagined all-female band. The work celebrates the kinship between queer male youth and the powerhouse female diva, drawn from Shimoyama's own connection to pop, hip hop, and R&B music of the 1990s and early 2000s. The work is both light-hearted and deeply self-reflective. In Shimoyama's own words, DIAMOND is "a return to my childhood," linking the sounds of his past to both his personal identity and contemporary art practice.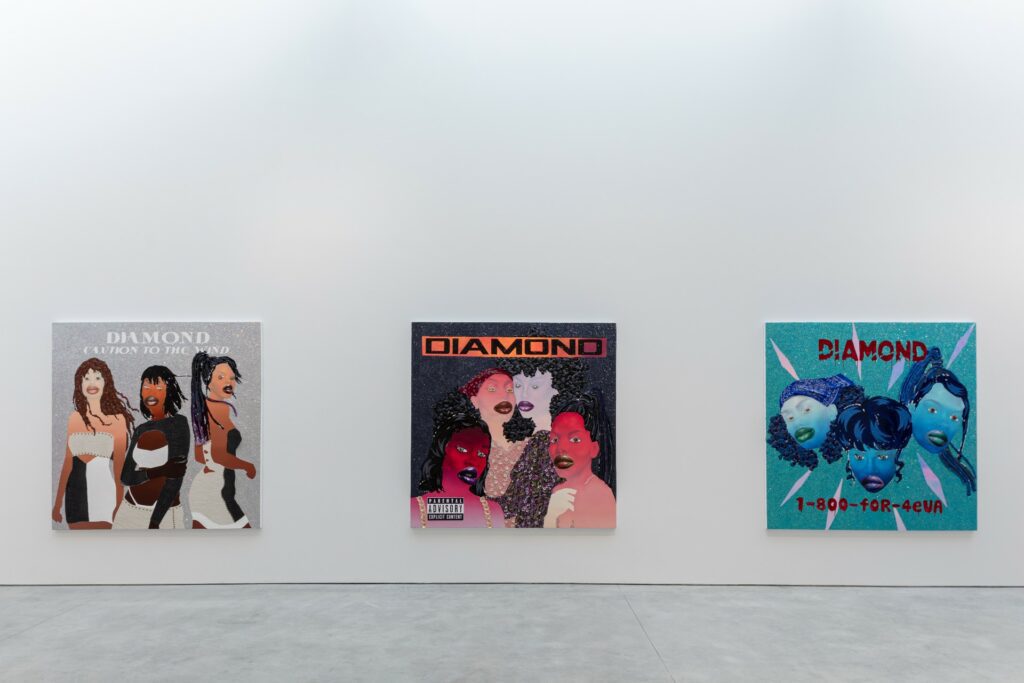 Shimoyama describes the developing process of DIAMOND as an "exercise in world-building." The band's striking name invokes style, power, and rarity. The paintings are some of Shimoyama's most imaginative and playful imagery yet, compositionally inspired by the square frames of album art. As an elevated riff on "fan-art," Shimoyama created a series of enlarged "album cover" paintings that carry the viewer into his musical world. The figurative imagery also hints at a hidden series of imagined narratives that place the fictional legacy of DIAMOND amongst the stories of stars like Aaliyah, Ashanti, Destiny's Child, and TLC. His protagonists are amalgams of found-imagery rendered in a dazzling array of his signature multimedia materials. DIAMOND also looks at the impact of Shimoyama's youthful celebrity worship. The paintings allowed the artist to reflect fondly on the music of his childhood, and delve into the pop culture that helped shape his identity.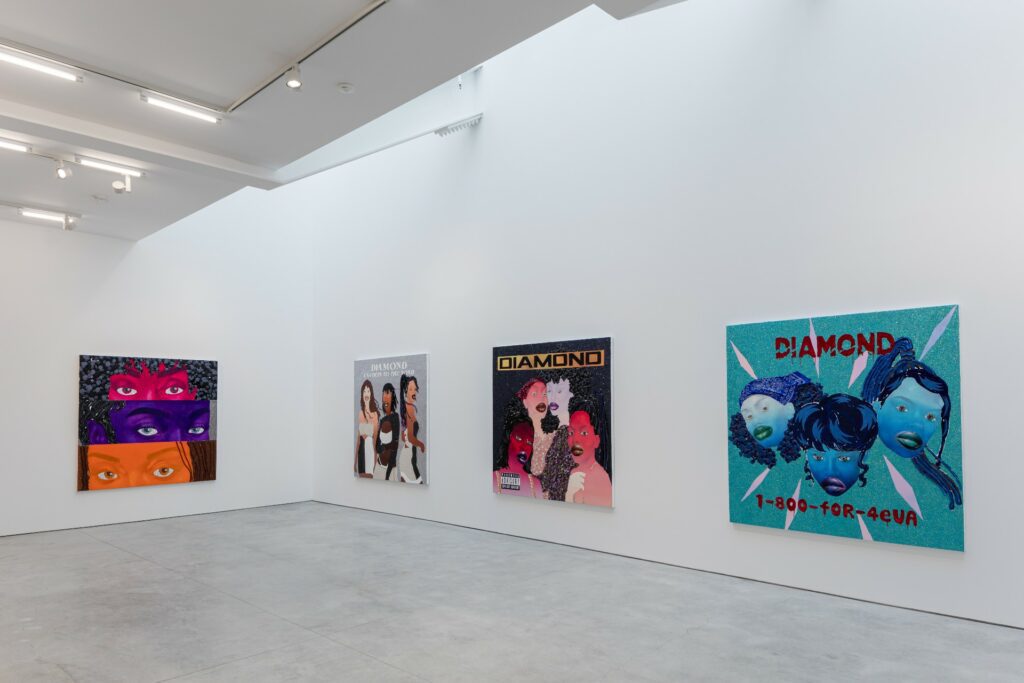 Shimoyama's previous shows at De Buck Gallery include "Sweet" in 2017 and "Shhh…" in 2019. His solo exhibition, "All The Rage," is currently on view at Kunstpalais, Erlangen through November 14. Shimoyama's work was recently added to the permanent collection of the Columbus Museum of Art and is featured in "Present Generations," an exhibition showcasing the Columbus Museum of Art's Scantland Collection. This fall, Shimoyama's site-specific work, The Grove, will be unveiled at the Smithsonian Institution for its 175th anniversary show, "FUTURES." He is among five artists invited to create a new commission along with Beatriz Cortez, Nettrice Gaskins, Soo Sunny Park, and Tamiko Thiel & /p. Looking forward to 2022, Shimoyama's work will be featured in a solo exhibition at El Centro de Arte Contemporáneo de Málaga opening in February.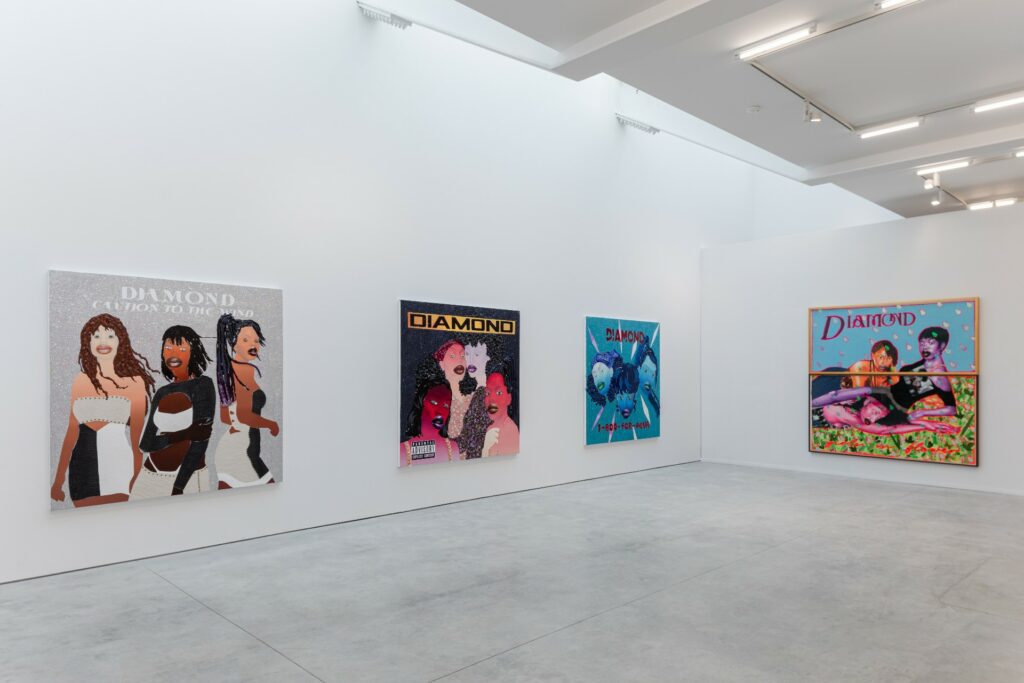 "He's working in a long history of painters that have come before him that have brought light to Black protagonists in painting into a canon that doesn't necessarily have the Black protagonist as the main figure in painting," said Jessica Beck, Milton Fine Curator of Art at The Andy Warhol Museum. "What Devan's doing now is creating a space to also embrace an alternative perspective on that race. Queering of that identity. Bringing in the feminine. Painting the flesh in different colors…. Challenging and complicating our ideas around race and identity in a really productive way."
Shimoyama was born in 1989 in Philadelphia, Pennsylvania and graduated from Penn State University in 2011 with a BFA in Drawing/Painting before obtaining his MFA at Yale University School of Art in 2014. He was awarded the Al Held Fellowship at the Yale School of Art in 2013 and has had a residency at the 2015 Fire Island Artist Residency. Shimoyama's work has been exhibited throughout America on numerous occasions. His exhibition Cry, Baby was on view at the Andy Warhol Museum, Pittsburgh from October 13, 2018 – March 17, 2019. Shimoyama's new and existing work was paired with a rotation of Warhol's Ladies and Gentlemen paintings from 1974, revealing new perspectives on Warhol's practice, embracing contemporary debates about identity politics, gender and sexuality in addition to issues of racial violence and tension in the United States.
For press inquiries, please contact meiying@debuckgallery.com or rozalia@debuckgallery.com.
For other inquiries, please contact collect@debuckgallery.com
Location
De Buck Gallery
New York, NY
Date
September 9, 2021 - October 16, 2021
Artist(s)