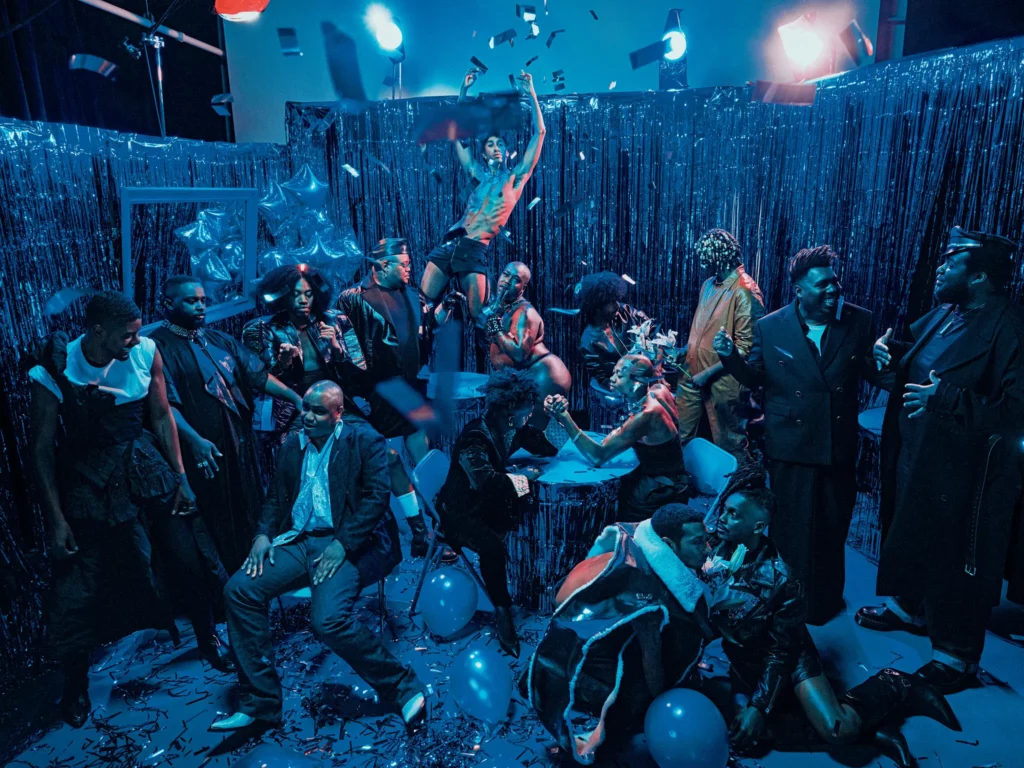 Artist Devan Shimoyama is among a group of young, black, queer artists showcased in T: The New York Times Style Magazine. The feature includes a lengthy roundtable interview with a variety of creators, filmmakers, and designers mediated by journalist, critic, and human rights activist Emil Wilbekin and styled by fashion editor, Ian Bradley. The photography and videography was conducted by filmmaker and director Shikeith, whose idea it was to bring together the community and discuss the realities and psychological landscape of black masculinity in today's world.
What Does It Mean to Be a Young, Black Queer Artist Right Now?
Interview by Emil Wilbekin
Photographs and Video by Shikeith
Styled by Ian Bradley
Sept. 16, 2022
From the New York Times:
"Black men loving Black men is the revolutionary act," says the filmmaker Marlon Riggs in his 1989 documentary, "Tongues Untied." For Riggs, who would die of complications from AIDS five years later, the film — made during the darkest days of the epidemic — had "a singular imperative: to shatter America's brutalizing silence around matters of sexual and racial difference."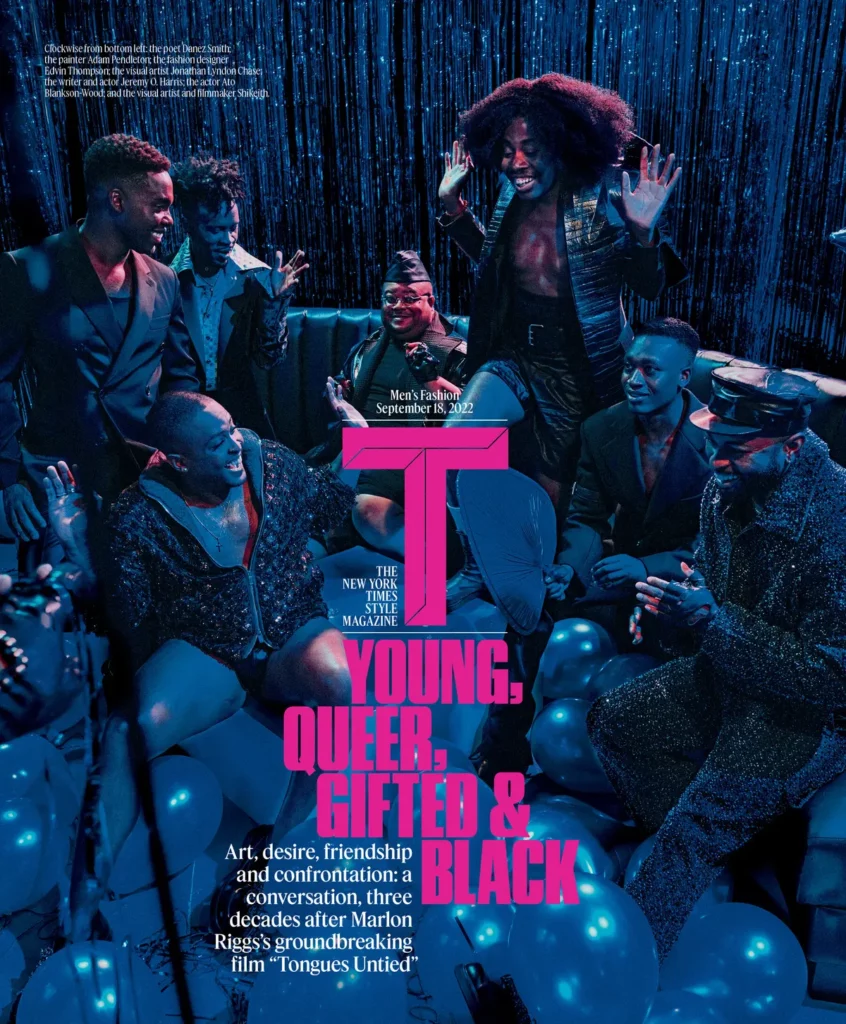 Just 55 minutes long, "Tongues Untied" is freewheeling yet frank, a mosaic of interviews and personal testimony by Riggs and readings of works by friends of his (the poet Essex Hemphill;¹ the writer Joseph Beam²) interspersed with other footage (of Eddie Murphy telling a homophobic joke;³ of Black gay men marching against AIDS). It's funny about sex and romance in New York, unflinching about the rise of H.I.V. — and when it aired on PBS in 1991, it inflamed the American culture wars, as then-presidential candidate Pat Buchanan soon seized on the project (and on the $5,000 grant from the National Endowment for the Arts that Riggs had used to help make it) to push for stricter content and cultural funding restrictions across the country. After Republican politicians accused Riggs of showing pornography on public television,⁴ he responded with his own Op-Ed in The New York Times: "In this mudslinging match, I along with other gay and lesbian Americans, particularly those of color, have again become the mud," he wrote. "Because my film, 'Tongues Untied,' affirms the lives and dignity of Black gay men, conservatives have found it a convenient target, despite the awards and popular and critical acclaim it received."
More than three decades later, Riggs's everyday portrayal of queer Black lives feels just as potent, particularly among a generation of young, multidisciplinary creatives who view the director and his crew as ancestors: "It's been a key inspiration to my journey in film and visual art," says the 33-year-old artist Shikeith,⁵ who first gained notice as a photographer, although he works across many media. "It was a huge lesson in how I approach community and collaboration."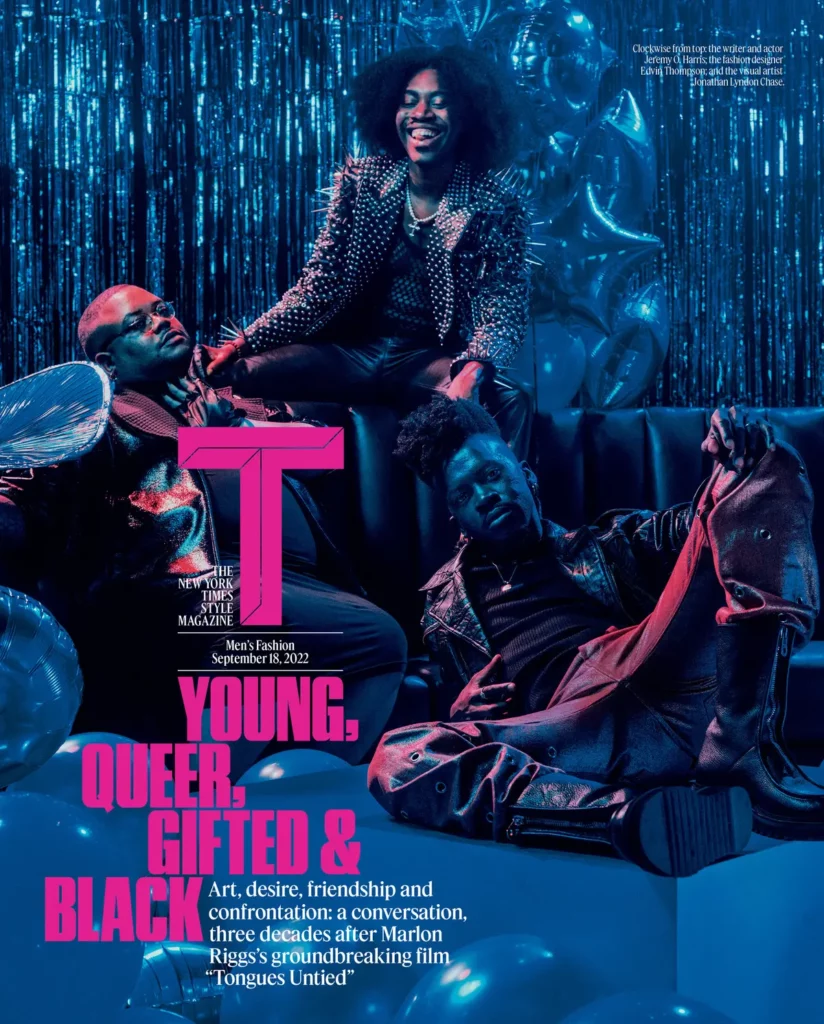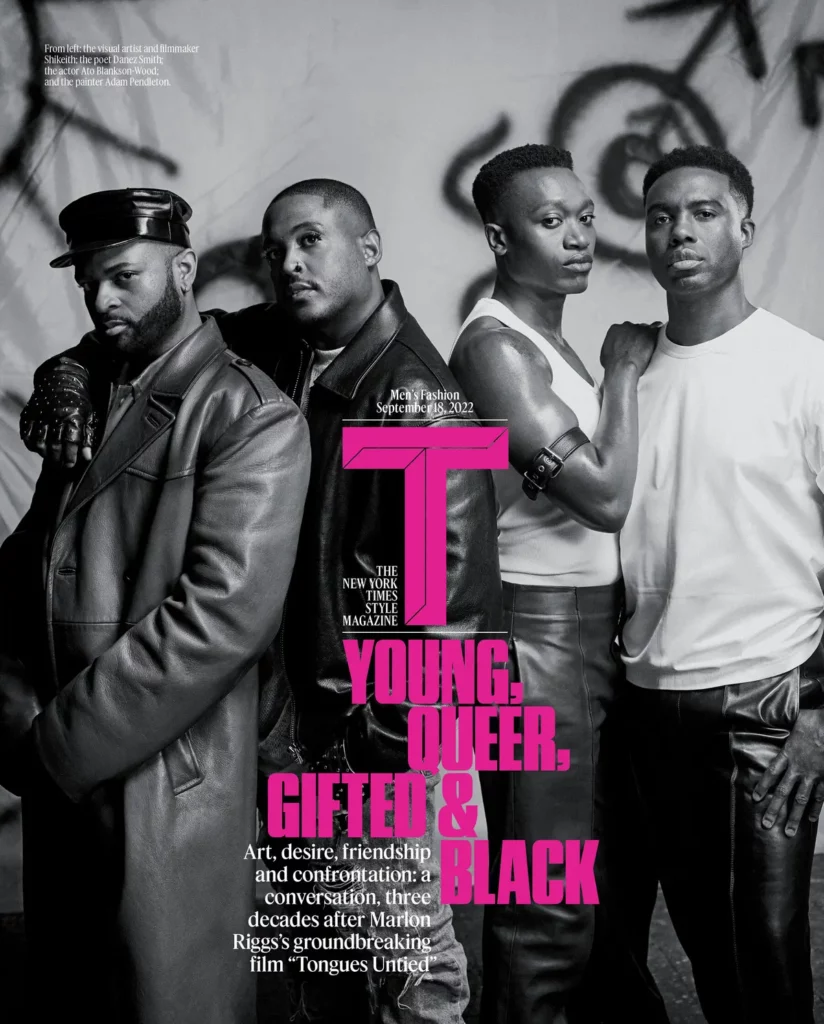 Last year, he proposed creating a portfolio for this magazine that brought his own cohort of rising queer Black male and nonbinary artists into one room, something he felt "hadn't happened before," while paying homage to Riggs and his pioneering work. Some of the 24 people featured on this issue's cover and the following pages had previously met — the playwright Jeremy O. Harris⁶ and Shikeith overlapped at Yale during their M.F.A. programs — while the rest had mostly known and respected one another from afar: The poet Danez Smith⁷ used one of Shikeith's pictures for the cover of their 2017 book, "Don't Call Us Dead";⁸ when Shikeith was a student, he recalls, he bookmarked paintings by Adam Pendleton⁹ that he found online. As soon as the group arrived on set in Brooklyn, the camaraderie was electric: As Smith put it, "Just to get to dance with [the writer and musician] Brontez [Purnell]¹⁰ or sit with [the visual artist] Jonathan [Lyndon Chase]¹¹ and their partner, it felt so right."
The following day — Aug. 2, which, coincidentally, would have been James Baldwin's 98th birthday — Shikeith, Harris, Pendleton, Smith and the actor Ato Blankson-Wood¹² (best-known for starring as Gary in Harris's "Slave Play") gathered in a New York Times conference room with Emil Wilbekin,¹³ a noted Black gay journalist and writer a generation above theirs, to discuss the shoot, its inspirations, how it feels to be a young, queer artist of color working right now — and, with that, what it means to participate in a project like this in an era when one's own identity can feel so easily marketed, consumed, erased and, much like Riggs's art, legislated against. "You think about how communities are formed but also how they're nourished or not nourished," Pendleton says. "The mere fact that [many of us] hadn't met — this speaks to a lack of nourishment."
---
What follows are edited and condensed excerpts from that conversation.
Shikeith: I pitched this idea in May 2021, [after] the 30th anniversary of Marlon Riggs's "Tongues Untied." I wanted to bring in this specific community of people that I felt were intersecting and collaborating — or had known of each other or influenced each other — who all happen to occupy these identities, very much like the community that Riggs and Essex Hemphill and Joseph Beam had. And even back before that: Think about the Harlem Renaissance and Langston Hughes¹⁴ and Richard Bruce Nugent¹⁵ — all these people who'd been marking their time through collaboration. I felt like that hadn't really happened with our community yet, and I wanted to celebrate one another, in the midst of all of our individual successes.
Emil Wilbekin: When was the first time that you saw "Tongues Untied," and how did that affect you?
S.: I made a documentary called "#Blackmendream" in 2014, and I was using Tumblr to get people to see my film when I stumbled upon "Tongues Untied." It always goes back to Tumblr —
Danez Smith: It was the way!
S.: First I was like, "Damn, somebody beat me to the punch, like, who is this?" And then you see the date, right? It's one of those moments when you realize there's a lineage before you. Seeing the film, I had an immediate reaction because I hadn't really seen anything like that. It's probably the most-watched film in my life: Every time, I discover something new.