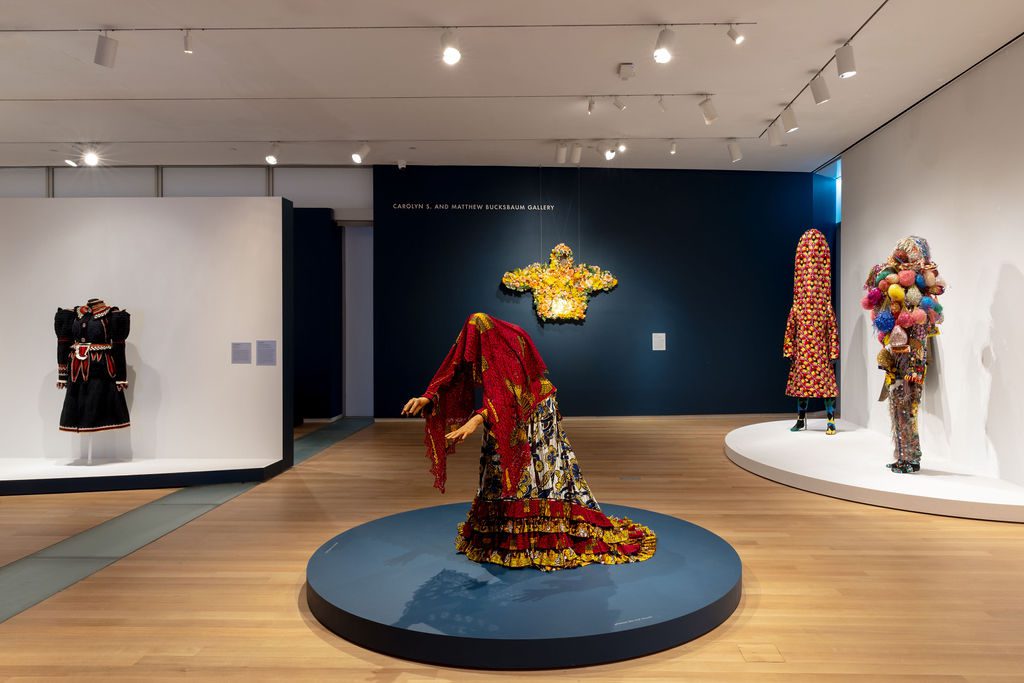 In 'Garmenting: Costume As Contemporary Art' Review: Dressing Up a Form, The Wall Street Journal takes a closer look at the recently-opened exhibition at the Museum of Arts and Design, in New York, which features the work of over 30 artists including Devan Shimoyama. The show, which was curated by Alexandra Schwartz, is an inviting spectacle of fashion-related  creations by artists. And according to its site, it is the first global survey exhibition dedicated to the use of clothing as a medium of visual art.
Shimoyama's contribution to the show, "February II" (2019),  is a sculptural hoodie adorned with a mosaic of flowers and embellished with rhinestones. The work, which serves as a tribute to Trayvon Martin, is installed high on a wall seemingly floating above the other works, as if guarding them. As the WSJ piece notes, Shimoyama, at 33, is one of the youngest artists in the show. His work also graces the cover of the exhibition catalog.
The exhibition, which runs through August 14, spans two floors of the museum, with works organized around five categories: "Functionality," "Cultural Difference," ''Gender," "Activism," and a video section called "Performance."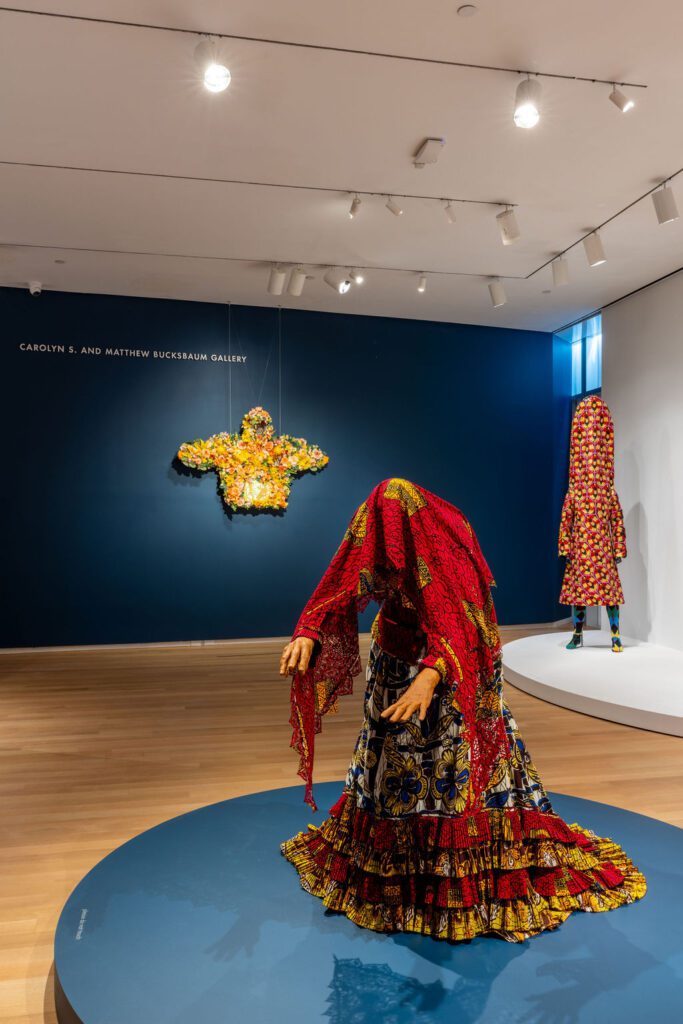 Excerpts From the Article:
Citing the traditional hierarchical divide between the fine and applied arts, Ms. Schwartz writes that "Garmenting offers a critique of this division by questioning what makes a garment 'functional' (i.e., wearable in everyday life) versus 'art' (i.e., for exhibition or performance)." There's a lot of wiggle room in that sentence, but all is simplified by the first piece in this section, "Untitled" (2000), a miniskirt made by the Brazilian artist Nazareth Pacheco. This latticework of glass pearls is beautiful and seemingly wearable— it recalls the diamanté headdress on Diana Vreeland's Vogue cover of December 1965— until you notice that the hem is fringed with the blades of scalpels. Contemplating the zone between knees and waist, Ms. Pacheco creates a glittering cage that holds both pleasure and pain, the complexity of sex.
…
With works by Karina Bisch, Sanford Biggers, Raúl de Nieves, Jacolby Satterwhite and Jeffrey Gibson in the show, "Garmenting" brings us up to speed on names we should know. Devan Shimoyama, at age 33 one of the youngest artists here, created the sculpture that graces the exhibition catalog. Floating high on a wall, it's a hoodie with arms outspread so that it resembles a crucifix. Completely covered with silk roses, lilies and daisies in yellows, peaches and pinks, it's like the pelt of flowers on a coffin. The hood is empty except for a tumble of rhinestones glinting within. Titled "February II" (2019), it is Mr. Shimoyama's tribute to Trayvon Martin —risen.
To read the article in full, click here.
Garmenting: Costume as Contemporary Art runs through August 14 at the Museum of Arts and Design.