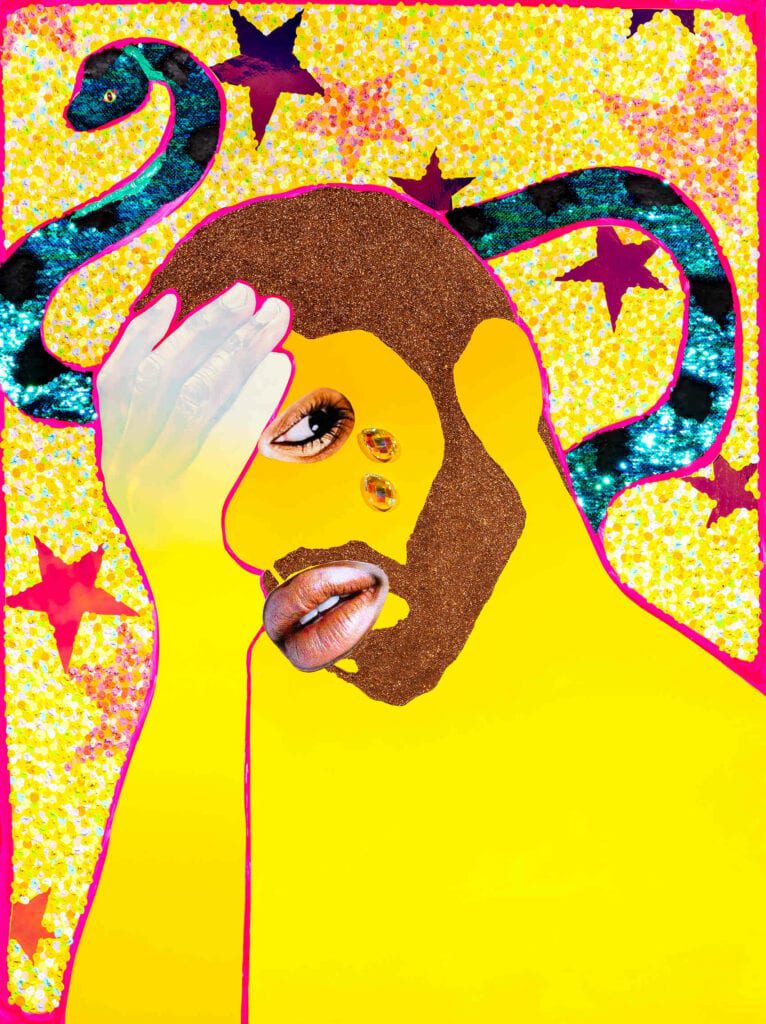 Baltimore-based artist Devan Shimoyama's limited-edition print release, Dizzy Spell (2021), has been acquired by the Brooklyn Museum. All editions in this series have been sold out.
In collaboration with ART FOR CHANGE, the hand-embellished print is a beautiful representation of the artist's work, evocatively intertwining brilliant color tones with serious considerations of the body politic in pop culture.
Devan Shimoyama is a visual artist working primarily in self-portraiture and narratives inspired by classical mythology and allegory. He depicts the black queer male body as something that is both desirable and desirous and explores the mystery and magic in the process of understanding his origins, and investigating the politics of queer culture.
His recent exhibitions include a commission by the Smithsonian Institution's Art to create installations for FUTURES. Shimoyama's site-specific installation The Grove was made in celebration of the Smithsonian's 175th Birthday exhibition, 'FUTURES', which asks audiences to consider how art and technology continue to shape our world. Shimoyama was also included in the Columbus Museum of Art's Scantland Collection. A private collection considered to be one of the most dynamic young collections of contemporary visual art in North America. 
Devan Shimoyama was born in 1989 in Philadelphia, Pennsylvania and graduated from Penn State University in 2011 with a BFA in Drawing/Painting. He received his MFA from Yale University School of Art in Painting/Printmaking in 2014. While there, in 2013, he was awarded the Al Held Fellowship.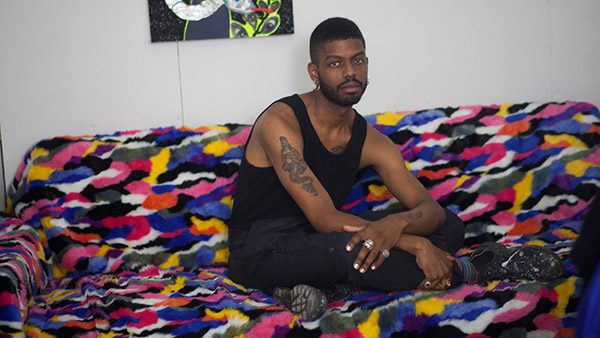 Issued by ART FOR CHANGE, this museum-quality print is signed and hand-embellished in the artist's signature style.

ART FOR CHANGE connects socially conscious art collectors with accomplished contemporary artists and their work. We offer exceptionally high quality artwork created exclusively for ART FOR CHANGE at manageable price points. ART FOR CHANGE donates a percentage of the net proceeds of your print or painting purchase to relevant non-profits to affect positive change in the world. We also encourage artists to maintain a significant portion of proceeds under the belief that direct investment in individuals is vital to a thriving cultural ecosystem.