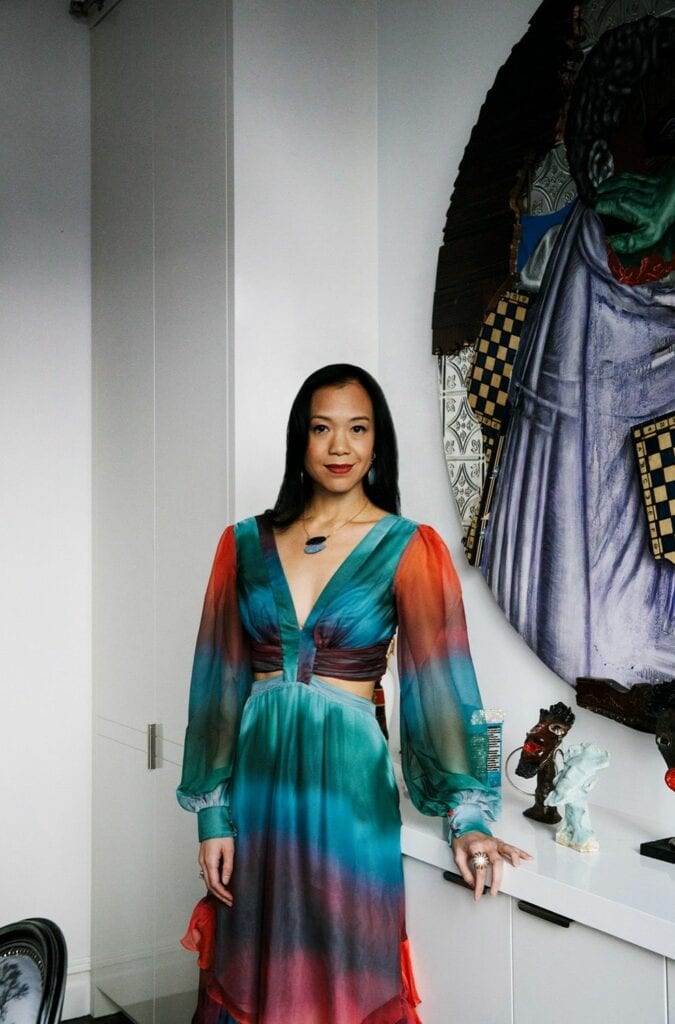 Artist Stephen Towns has been featured in a profile on Artsy about collector Carla Shen, "Inside My Collection: Carla Shen." Living in Brooklyn Heights with her husband and daughter, her house is now filled with her dazzling and eclectic art collection. Here, we share some excerpts of the piece to lend insight into how Shen got started and why the work of Towns is well-suited to her collection.
How Carla Shen Got Started:
Shen grew up with two parents who were both avid art lovers and were involved in the arts. Shen's father served on the Board of the Brooklyn Museum and her mother also worked there for 35 years. Thus, her appreciation of the arts was encouraged and developed from an early age.
"As an only child, my parents brought me along to everything that they did, whether it was visiting museums or galleries, or auction houses," Shen recalled. "From a very early age, I loved and appreciated the experience of being around art."
As Shen was growing up, her parents collected Pop art prints. This also later influenced some of her own acquisitions. While she is not dedicated to Pop as a movement, she was inspired by the bright colors and bold shapes that are synonymous with that period. Shen's mother also opened a pottery studio and shop in Brooklyn Heights in 1974. As a young girl she would spend time visiting her mother there, an experience that later influenced her choice to collect ceramics. Artists featured in her ceramics collection include Christopher Myers, Stephanie H. Shih, Leilah Babirye, and Jen Catron and Paul Outlaw.
Shen calls herself a diverse collector, noting that there is no one style or movement that she is distinctly drawn to. In her own words, she says, "I would say my collection is a bit eclectic, since my number-one rule is to buy pieces that I love, and the range of things that I love is broad."
On Collecting Stephen Towns:
"I realized I also have a number of works that have collage elements, including works by Mickalene Thomas, David Shrobe, and María Berrío. Even smaller pieces I have by Monica Kim Garza, Devin Troy Strother, Jane Hammond, Destiny Belgrave, Stephen Towns—they all involve collage. I like the way that different materials can be combined to create something unique; I think there's an added depth. I'm not intentionally looking for it, but I realized that a lot of the work I have does involve collage."
To read the full interview, click the link below.