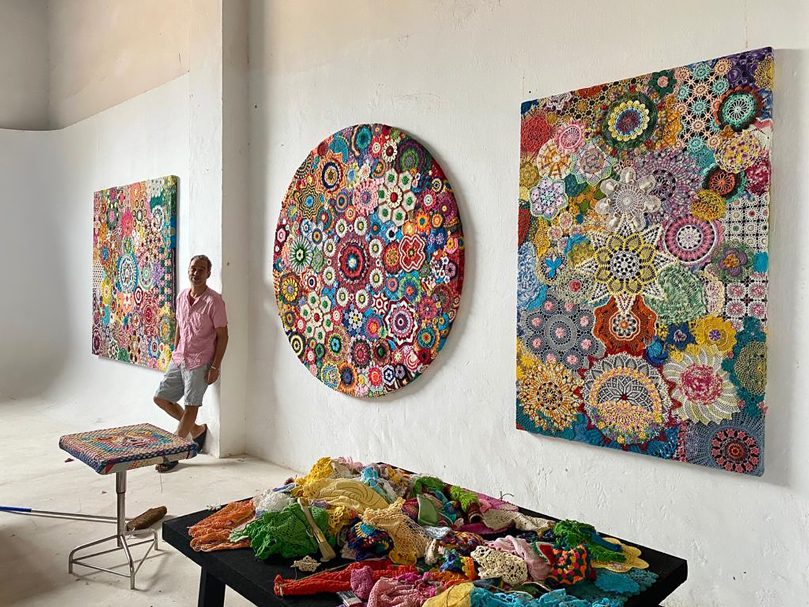 De Buck Gallery is delighted to announce the representation of artist Zak Ové.
"I'm fascinated by the narrative in Zak Ové's work, and the way he's able to weave elements of his cross-cultural upbringing in Trinidad and London into all of his work, whether it's a doily painting based on carnival or a monumental sculptural work made of car parts from a classic British car," said De Buck Gallery founder David De Buck. "The beauty of his artworks lies in their complex stories but also in Zak's brilliant facility with materials and color. He also has a great capacity to connect with so many people through his work, which is another of his many talents."
Ové's show Canboulay was a great success and marked the artist's first outing in New York with De Buck Gallery. The gallery will stage another exhibition of his work in our location in Saint-Paul de Vence.
Most recently his sculpture, Moko Jumbie, was commissioned by the Art Gallery of Ontario to coincide with the opening of the museum's exhibition Fragments of Epic Memory. Two works in the same series first made headlines when they were commissioned by the British Museum as they marked the first commission by the British Museum of a Caribbean artist.
About the Artist
British-Trinidadian artist Zak Ové was born in 1966 in London. He earned a BA in Film as Fine Art from St. Martin's School of Art (1984-1987). His multidisciplinary practice across sculpture, film and photography responds to his heritage and notions of identity through the lens of multiculturalism and dialogues between past and future.
Ové has presented solo sculpture installations in the Great Hall at the British Museum, London, UK; San Francisco Civic Centre, San Francisco, CA; Forecourt of Somerset House, London; The New Art Centre, Roche Court, Salisbury; Yorkshire Sculpture Park, Yorkshire, UK; The Ford Foundation, NY; The Royal Ontario Museum, Art Gallery of Ontario; Toronto; Los Angeles County Museum (LACMA), CA; The Slavery Museum, Liverpool; Frieze Sculpture Park, London; 3D Sculpture Park, Switzerland; Freies Museum, Berlin; Dapper Museum, Paris.
Ové's work is featured in a number of museum collections throughout the world, as well as in private foundations and collections such as the British Museum, London, UK (where it is the first work acquired from a Caribbean artist); Newark Museum, New Jersey, USA; Pérez Art Museum Miami, Florida, USA; Modern Forms, London, UK; David Roberts Art Foundation, London, UK; Jameel Collection, Saudi Arabia; Facebook Corporate Collection, London, UK; 21C Museum, Louisville, Kentucky, USA; Beth Rudin De Woody Collection, New York, USA; Walid Kamhawi Collection, Dubai, UAE; Frédéric de Goldschmidt, Brussels, Belgium; Levett Collection, London, UK; Pizzuti Collection, Columbus, Ohio, USA; and the Salsali Private Museum, Dubai, UAE.
For additional information:
Visit www.debuckgallery.com and join in the conversation on Instagram and Twitter @debuckgallery #ZakOve #DeBuckGallery. 

For further information and to receive a checklist of the exhibition, Canboulay, please contact De Buck Gallery at collect@debuckgallery.com, or +1 212 255 5735.