"Artists on Our Radar" is a monthly series produced collaboratively by Artsy's Editorial and Curatorial teams. Utilizing our editors' art expertise and our Curatorial team's unique insights and access to Artsy data, each month, we highlight five artists who have our attention. To make our selections, we've determined which artists made an impact this past month through new gallery representation, exhibitions, auctions, art fairs, viewing rooms, or sale inquiries on Artsy.
Diane Dal-Pra
B. 1991, PÉRIGUEUX, FRANCE. LIVES AND WORKS IN PARIS.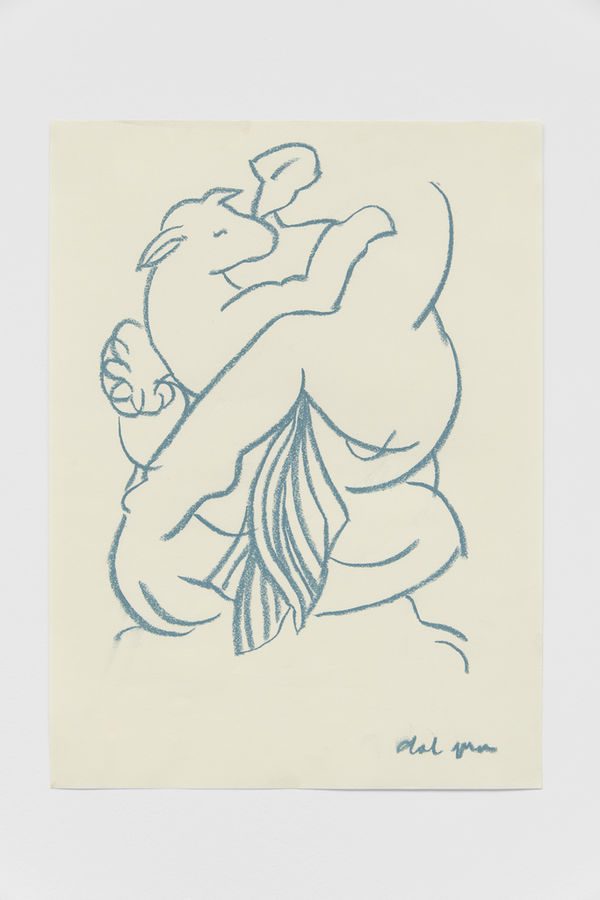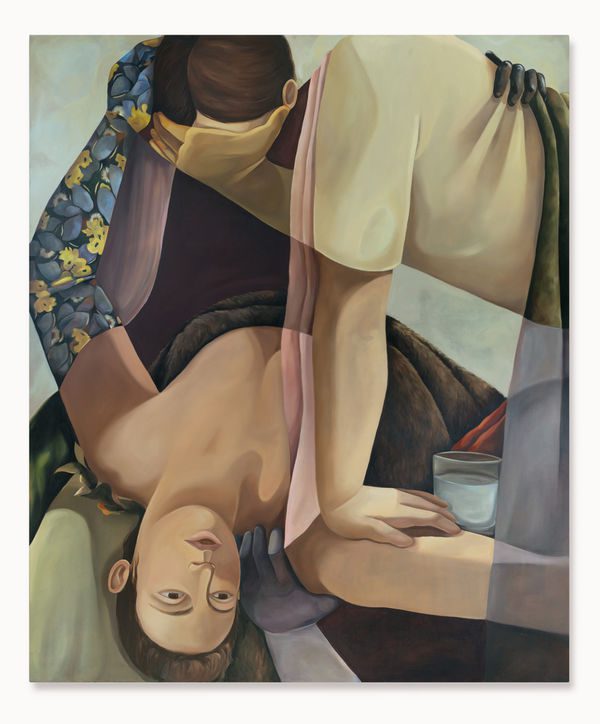 Diane Dal-Pra's work is currently on view at London's Cob Gallery for her debut solo show, "Of Course You Are." The show, which has been on view by appointment only since July, sold out in the days before it officially opened, securing the artist's position as a rising star of European art.
"Of Course You Are" presents a series of large-scale portraits rendered in a muted palette of oils that explore the relationship between the body and material objects. Masked and shrouded figures are contorted against the pressure of everyday objects, and disappear beneath layers of painted fabric. These morphed figures pose questions about identity, such as: Do our possessions define us? The uncanny nature of Dal-Pra's work is achieved through a combination of reality and fantasy, figuration and abstraction that recalls early Surrealism. Last month, she appeared in a curated collection of Contemporary Women Surrealists on Artsy.
Dal-Pra's work began to garner attention in early 2019, when she was commissioned to produce a series of paintings for Gucci Beauty; that attention carried into the following spring, when she was awarded the Laureate Prize from the Palazzo Monti Residency Program. Dal-Pra's first solo show in her hometown of Paris, "Acqua in Bocca," curated by Nicolas Poillot, opens on September 4th at Galerie Derouillon.
—Gemma Rolls-Bentley
Romuald Hazoumè
B. 1962, PORTO NOVO, BENIN. LIVES AND WORKS IN PORTO NOVO.
On August 13th, Romuald Hazoumè achieved a new auction record when one of the Yoruba artist's signature found-object masks, Chouchou (2013), sold for $69,000 through Loïc Gouzer's new auction app, Fair Warning. The news led to a surge in interest for Hazoumè on Artsy, where inquiries on the artist's photographs and sculptures grew 1,300 percent from July to August. Hazoumè is represented by three galleries around the world: October Gallery, Magnin-A, and Gagosian.
Hazoumè has been transforming petrol cans, telephones, toaster ovens, paintbrushes, rafia, feathers, and other salvaged materials into masks since 1986. Visually striking, simplistic, and strong, his works are deeply rooted in the daily life of his home country of Benin.
—Sarah Gottesman
Hiba Schahbaz
B. 1981, KARACHI, PAKISTAN. LIVES AND WORKS IN NEW YORK.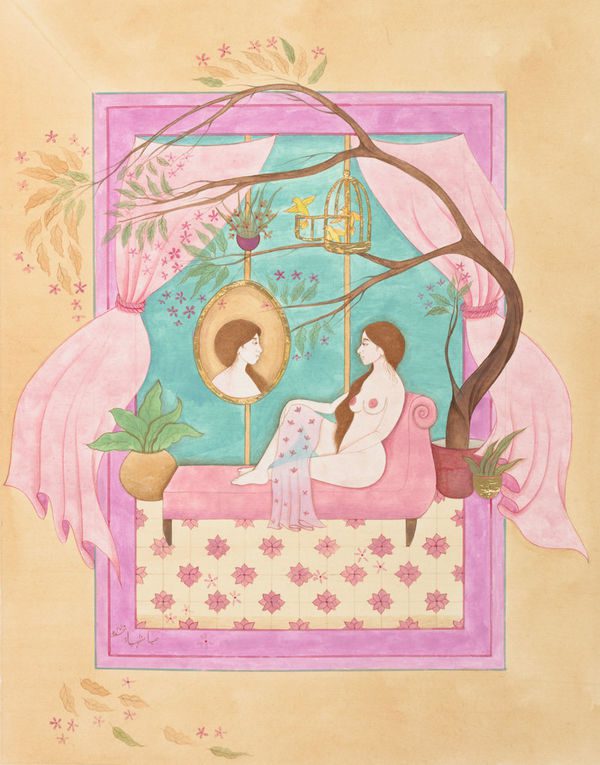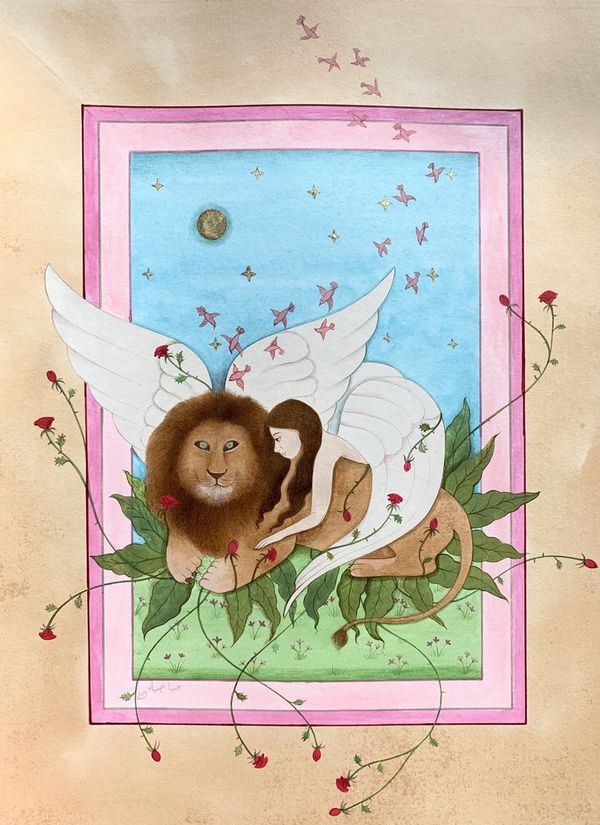 With a show opening online and in person this month at De Buck Gallery, Hiba Schahbaz has recently deviated from the works on paper for which she is known to create large-scale oil paintings. Schahbaz, who studied Indo-Persian miniature painting at Lahore's National College of Arts and later received an MFA in painting from the Pratt Institute, will continue exploring femininity, sexuality, and tradition in her new works.
"I speak an ancient language in a contemporary feminine voice," Schahbaz has said. By using ancient techniques and co-opting the aesthetics of Indo-Persian miniature painting, Schahbaz reclaims her history and rewrites it from a distinctly contemporary lens. Schahbaz's earlier works are small, often around the size of a piece of computer paper, and intricate—nearly imperceptible lines represent tree limbs and ornate decorations tile the floor. By inserting herself as the subject of her paintings—Schahbaz photographs her body and uses the images as references—she embraces a personal, female perspective to explore the centuries-old, male-dominated tradition of miniature painting.
In works like Birdcage (2020), Schahbaz depicts a female figure lounging on a dusty pink chaise and looking into a mirror. The image is breathy and calm, foliage abound, and a gentle breeze adds movement to the curtains. Despite its beauty, there is a sense that the protagonist isn't quite free—the work's title and composition suggest she is trapped. "I pursue the world of the beautiful in my work, resulting in visually appealing paintings," Schahbaz says in her artist statement. "This delicate allure is underscored, however, by an unsettling tension. Things are not quite what they seem."
—Sarah Dotson
Elijah Pierce
B. 1892, BALDWYN, MISSISSIPPI. D. 1984, COLUMBUS, OHIO.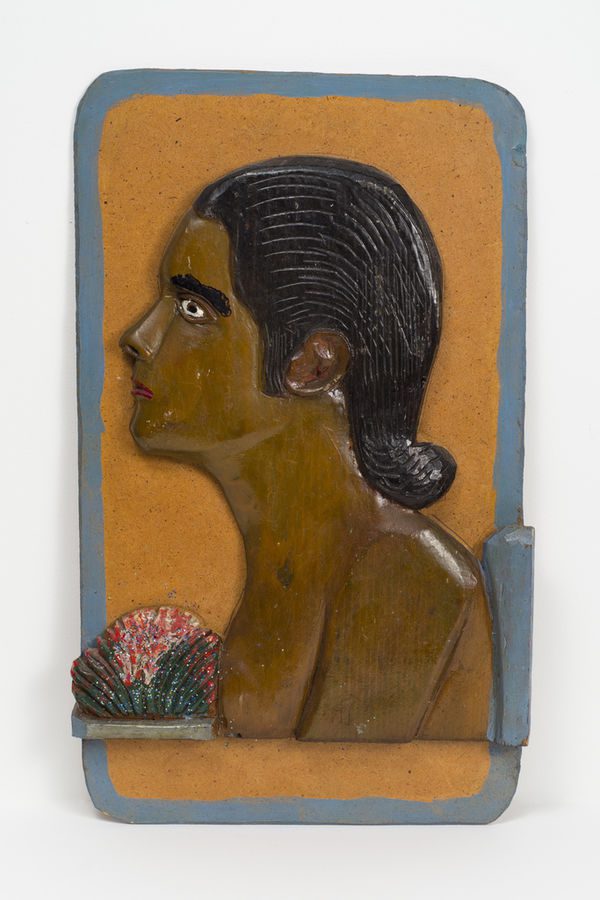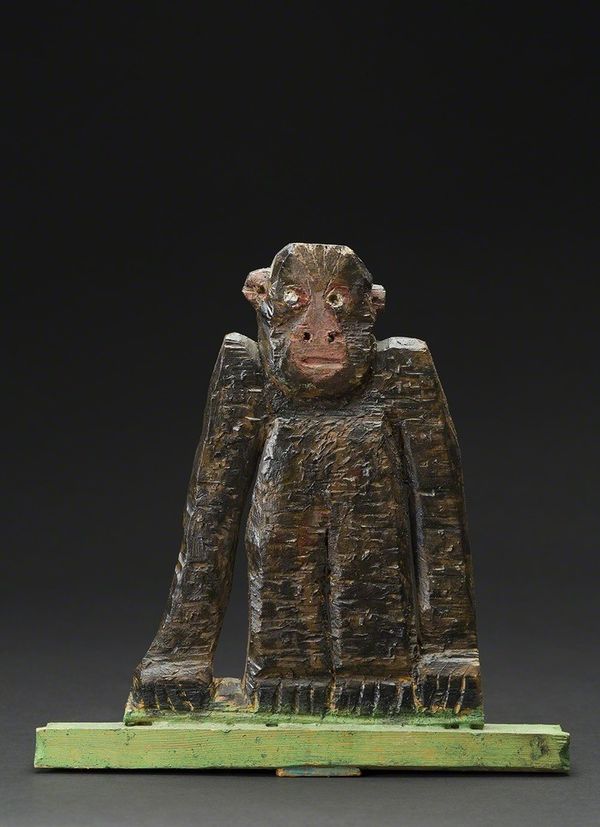 Elijah Pierce, who died in 1984 at the age of 92, was a barber, minister, and virtuoso woodcarver. Little known in the greater art world, Pierce's work has been recognized mostly in folk art communities and his home city of Columbus—until now. "Elijah Pierce's America," the first major retrospective of the late artist's work to be presented outside of Ohio in over 25 years, will open September 27th at the Barnes Foundation in Philadelphia. Co-curated by Nancy Ireson, deputy director for collections and exhibitions and chief curator at the Barnes Foundation, and Zoé Whitley, director of Chisenhale Gallery, London, the exhibition calls in to question why self-taught artists—especially those like Pierce who were denied access to formal training by circumstance—are automatically placed in the category of "outsider art." "In Elijah Pierce's America, we are looking at Pierce as the artist he was—not as a 'folk' or 'outsider' artist simply because he was self-taught," Whitley said in a statement.
Born on a farm in Mississippi to formerly enslaved parents, Pierce taught himself to carve at a young age, and would continue to hone his woodworking skills throughout his life. Later joining the Great Migration in the 1920s, he moved north to Columbus, Ohio, where he found work as a barber and preacher. In 1954, Pierce opened his own barbershop in Columbus, which contained a studio where he could make and exhibit his work. Between clients, Pierce would retreat to his studio and carve everything from biblical scenes and autobiographical stories to political scandals and pop cultural events.
Pierce had a remarkable ability to convey stories and experiences through carved wood. A devout Baptist, he often incorporated religious iconography. His most ambitious work, The Book of Wood (1932), consists of seven bas-relief carvings depicting 33 biblical scenes. Completed over a six-month period in 1932, each scene was individually carved and mounted on wood panels to form a book. As with all of his works, Pierce finished the piece with bold enamel paint, and embellished it with carefully placed glitter to make the scene shine in the light. The Book of Wood will be on view in "Elijah Pierce's America" at the Barnes, alongside more than 100 of Pierce's signature wood carvings.
—Juliana Lopez
Blitz Bazawule
B. 1982, ACCRA, GHANA. LIVES AND WORKS IN NEW YORK.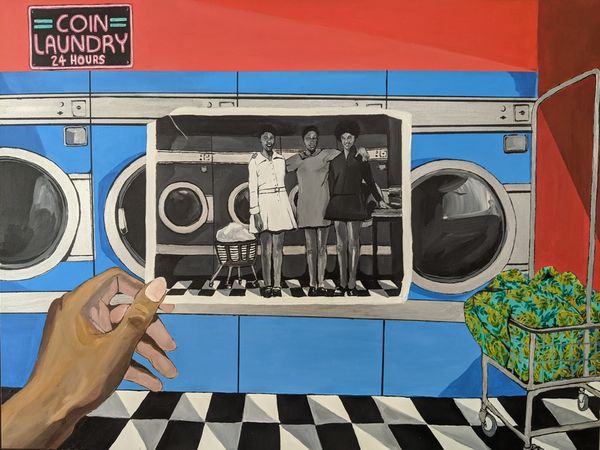 The multi-talented Blitz Bazawule (born Samuel Bazawule, he also goes by the stage name Blitz the Ambassador) made headlines this past August as he was revealed to be one of the co-directors of Beyoncé's new visual album Black Is King, as well as the director of the forthcoming musical film The Color Purple. The latter film's producers—Quincy Jones, Scott Sanders, Steven Spielberg, and Oprah Winfrey—were reportedly impressed by his debut feature, The Burial of Kojo (2018), a magical realist story that follows a girl in Ghana and her familial relationships. That film was released through Ava DuVernay's ARRAY label on Netflix, nominated for a Golden Globe, and featured in the 2019 Whitney Biennial. Yet filmmaking is hardly Bazawule's only forte.
An accomplished musician with several albums under his belt, Bazawule is also an adept painter. "For me, everything is art," Bazawule said in a 2017 article. "Literature is art, music is art, even culinary skills are art. I'm one of those artists who doesn't see the need for clear barriers between art forms." Through all of his work, he seeks to preserve and convey personal and ancestral memories.
Several of his latest paintings are currently featured in the exhibition "Young Artists: One," organized by OpenArt, in partnership with Fridman Gallery, New York. The paintings all come from the series "A MOMENT IN TIME," in which he paints a found black-and-white photograph being held up before the site where it was taken in the present. In a recent talk on Instagram, Bazawule explained that the series was inspired by photographs he found at a market in Rabat, Morocco. "I'm curious about the people in these photos, I'm also curious about the world in which this photo was taken, because that photograph represents a moment in time," he said. "But time doesn't stand still. We can hold up that photo…but that place has changed." He hopes to continue the series by visiting families and creating paintings based on their ancestors' photographs and the sites they portray as they exist today. "Really for me it is about creating a loop of memory," Bazawule said.
—Casey Lesser
---
SOURCE: Artsy