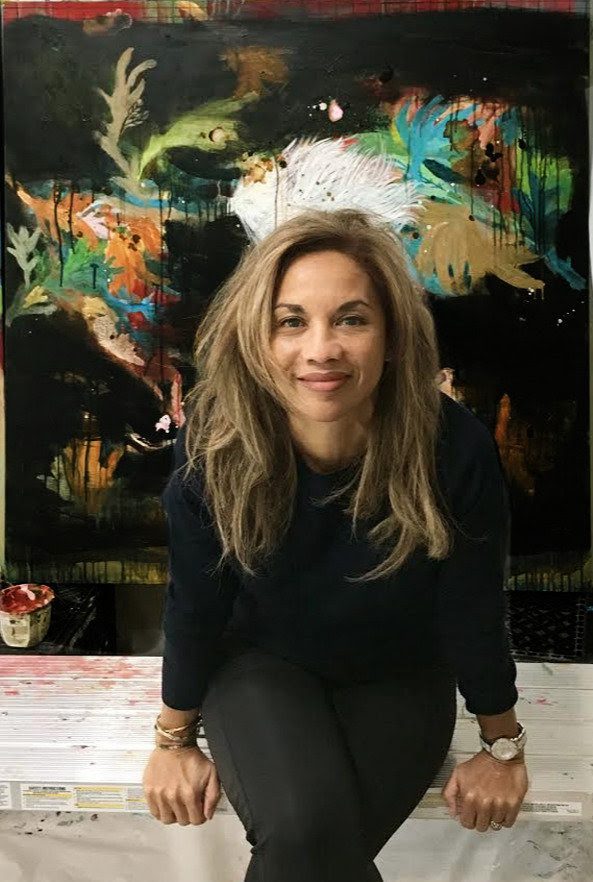 INTRO
Marielle Plaisir is a French-Caribbean multi-media artist currently living in Miami. She combines painting, drawing and performance to present intense visual experiences. Plaisir views herself as both an artist and an activist, who weaves history and imagination together into a visual language that is part-figurative narrative, part-symbolic and poetic abstraction.
The common thread throughout her work is a critique of prejudice, according to which political power is supposedly "a natural fact." Through her art, she declares that power is not a "natural fact" but, rather, a political one that emerges under specific conditions within specific socio-cultural and historical contexts. She engages in the deconstruction of those conditions and, in turn, in the reconstruction of a world in which no one "dominates" or "reigns"; instead, everyone moves freely between reality and imagination.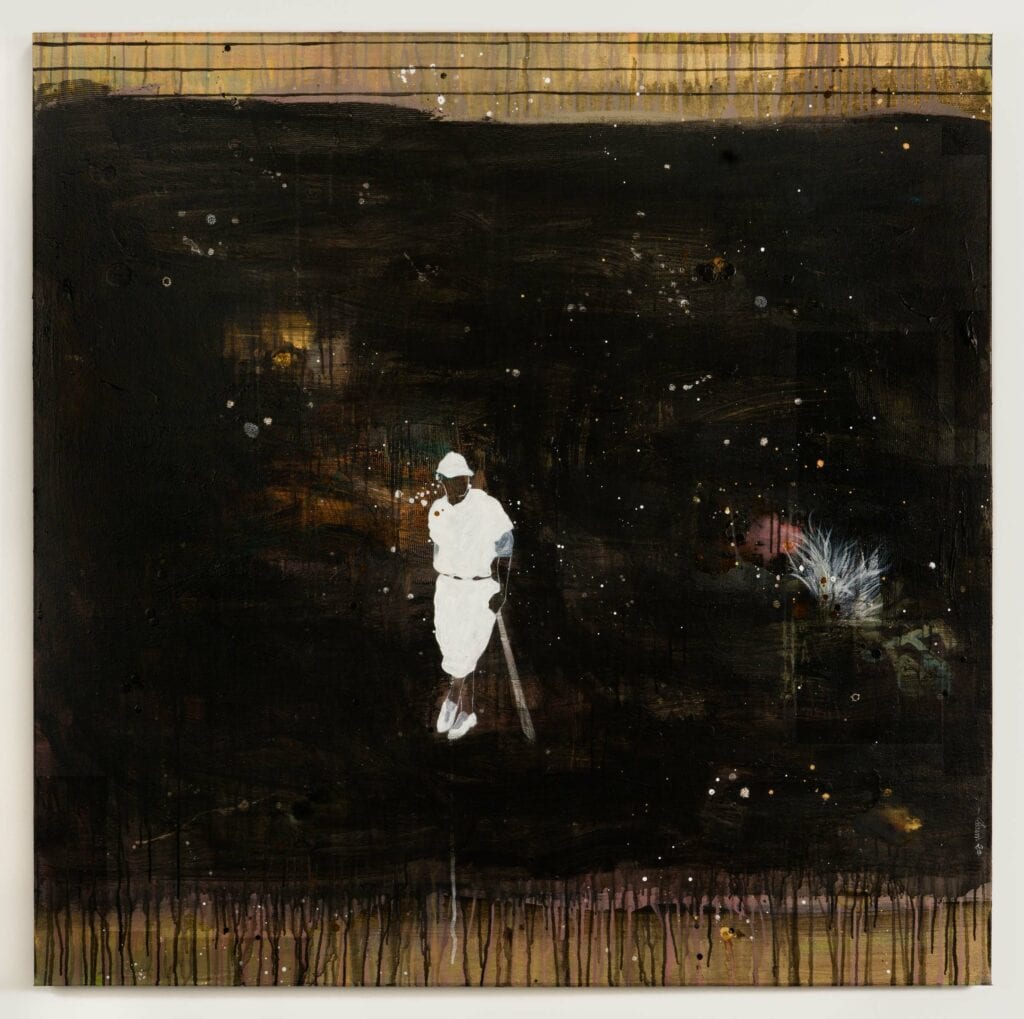 ON PROCESS
Marielle Plaisir's current work is a series titled, 'The Malediction of Cham.' Plaisir's process began in historical and philosophical research, in which she came across the "curse of Cham" or "curse of Ham," a misinterpretation of a Biblical story, which was ultimately used as a justification for anti-Black racism. Plaisir examines this myth, and the ways in which its deeply harmful legacy still influences anti-Black stereotypes and permeates today's culture. Through these new paintings, she counters the concept of anti-Blackness by presenting the color black, itself, as the subject of her paintings.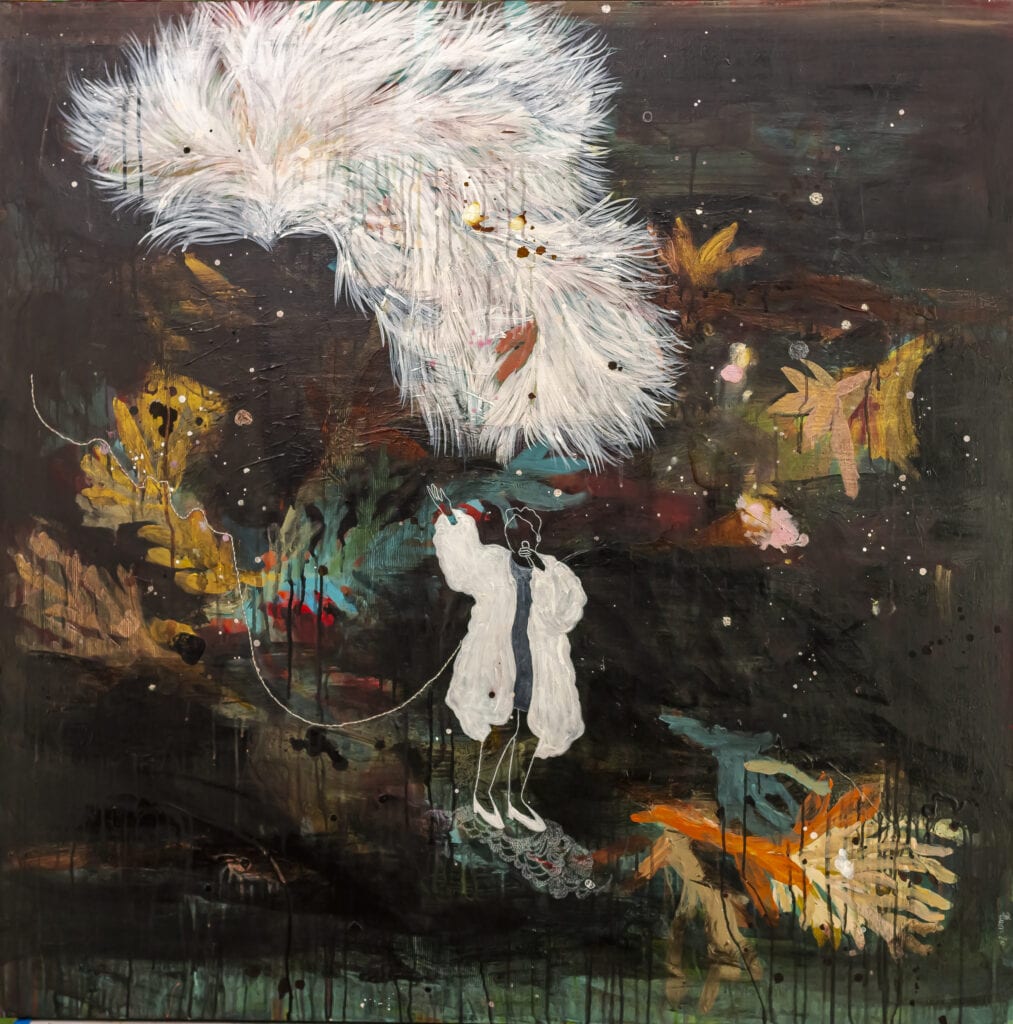 Rather than use a readymade black paint, Plaisir chose to create her own shade utilizing every color in her palette as a symbol for the beauty, power, and multitudes of blackness. Within this space, Plaisir populates her background with lush imagery drawn from nature: constellations, natural forms, and flowers inspired by both her Caribbean roots and her imagined ideal of a utopia without oppression.
"Working under the series, the Malediction of Cham, is a way for me to have a voice. To talk about how it could be difficult to be Black today."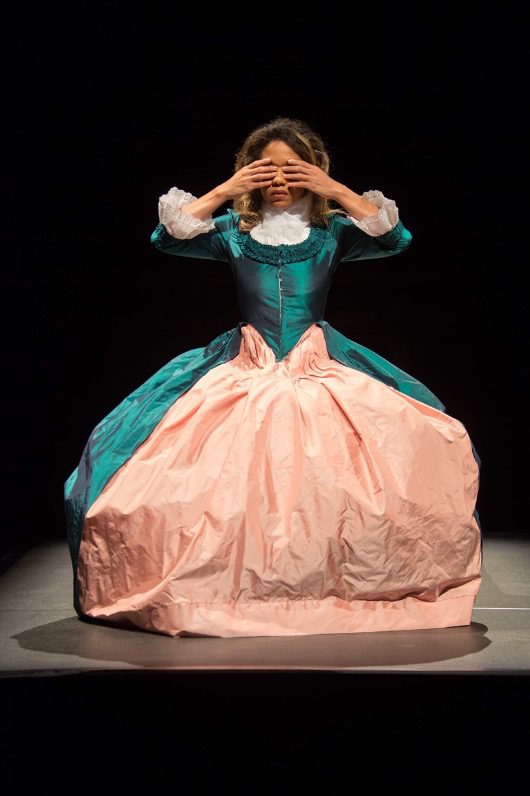 'Acta non Verba' is a performance developed by artist Marielle Plaisir in 2016, recently performed as part of 'Sacred Fire,' a concert that showcased African classical composers with dance, poetry, and performance art presented by the Fantasy Theater Factory in Miami, Florida in honor of Black History Month.
'Acta Non-Verba' stimulates memory activation, sentiments, self-history, instinctual feelings, and the most profound beliefs in those who participate.
In 'Acta non Verba', dressed in a handmade historical costume, Plaisir uses her hands to denounce those who can't see, those who don't hear, those who don't say. But she also encourages to See, to Hear, to Speak about the sounds of the world, and to denounce.
The pantomime evokes reflection and introspection. It's an act of remembrance but also a political act to denounce prejudices, stereotypes, anti-Blackness, acts of domination, and white supremacy.
NEWS
Marielle Plaisir has been selected by the Orlando Museum of Art to receive The Florida Prize in Contemporary Art, which brings new recognition to the state's most progressive artists. Take a virtual visit to Marielle Plaisir's studio as the artist speaks with Orlando Museum of Art's Senior Curator, Hansen Mulford and Associate Curator, Coralie Claeysen-Gleyzon in an intimate discussion of her practice and its connection to the conflicted history and culture of the Caribbean and her homeland, Guadeloupe.
AVAILABLE WORKS