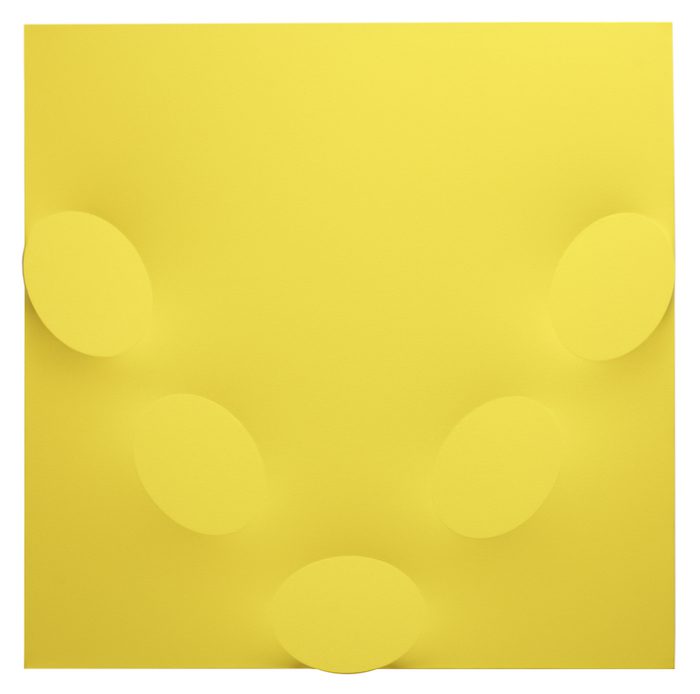 De Buck Gallery is pleased to present, Turi Simeti: 2008-2020, a solo exhibition of the works of Turi Simeti. This exhibition is available in De Buck's Online Viewing Room from January 7th, 2021 to February 27th, 2021 as part of De Buck Gallery's Private Exhibition Series. To gain access to the private online viewing room, please inquire with the gallery.
Turi Simeti: 2008-2020 is an exclusive look at the Italian artist's luminous recent works, presented in honor of the closure of Simeti's Milan studio and the artist's recent retirement. The works in this exhibition highlight Simeti's rhythmic use of oval intrusions, with quiet masterpieces such as '9 ovali bianchi' (2015) that stand in conversation with the pounding red ellipses of one of Simeti's most vibrant recent works, "18 ovali rossi" (2016). Simeti is a master of space, color, and surface.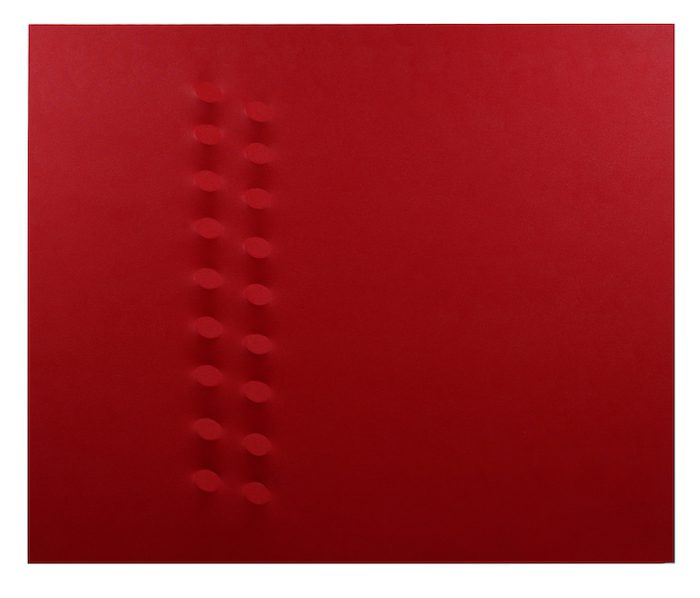 Each canvas pulsates with a monochromatic palette of red, white, blue, or yellow. Simeti's works strike themselves from within, stretching and bending the surfaces themselves into sculptural forms. The works are both poetic and playful in the way that they challenge the medium of painting, wondrous examples of Simeti's belief that "la tela è la scultura," the canvas is a sculpture. The works also examine concepts of space, echoing Simeti's own words, "space is what I have, what I have created and what I have surrounded within the limits of the canvas. There are relationships of life in the work and in the place where it has to live."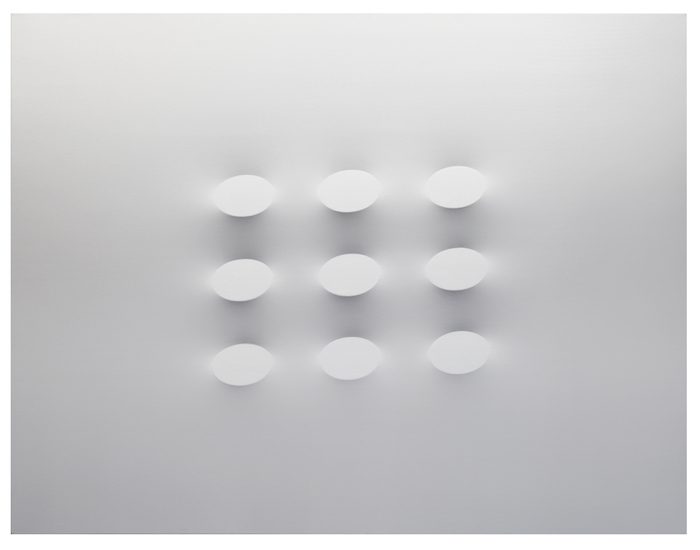 A valuable member of the Italian branch of Zero, a movement that spread across the globe in the 1950s and 1960s, Simeti's work embodies the desire of these artists to capture a peaceful quality through monochromatic abstraction during the aftermath of World War II. In Italy alone, Simeti's peers in the movement include artists like Lucio Fontana, Piero Manzoni and Enrico Castellani; abroad they include such figures as Yves Klein, Heinz Mack and Gunther Uecker.
After working with Alberto Burri in Rome, Simeti embarked upon a successful career as an artist in 1962, developing the ovale motif that would be a keystone of his work for decades to come. Simeti was still actively creating until the recent closure of his studio and is considered a true pioneer, a "maestro" of 20th and 21st Century Italian art. Minimalist in conception, for the last 50 years, Simeti's work has consisted of dynamic patterns of ovals that dance across the monochromatic surfaces of shaped canvases. The works explore an outstanding dynamism and graceful movement through the use of protruding forms.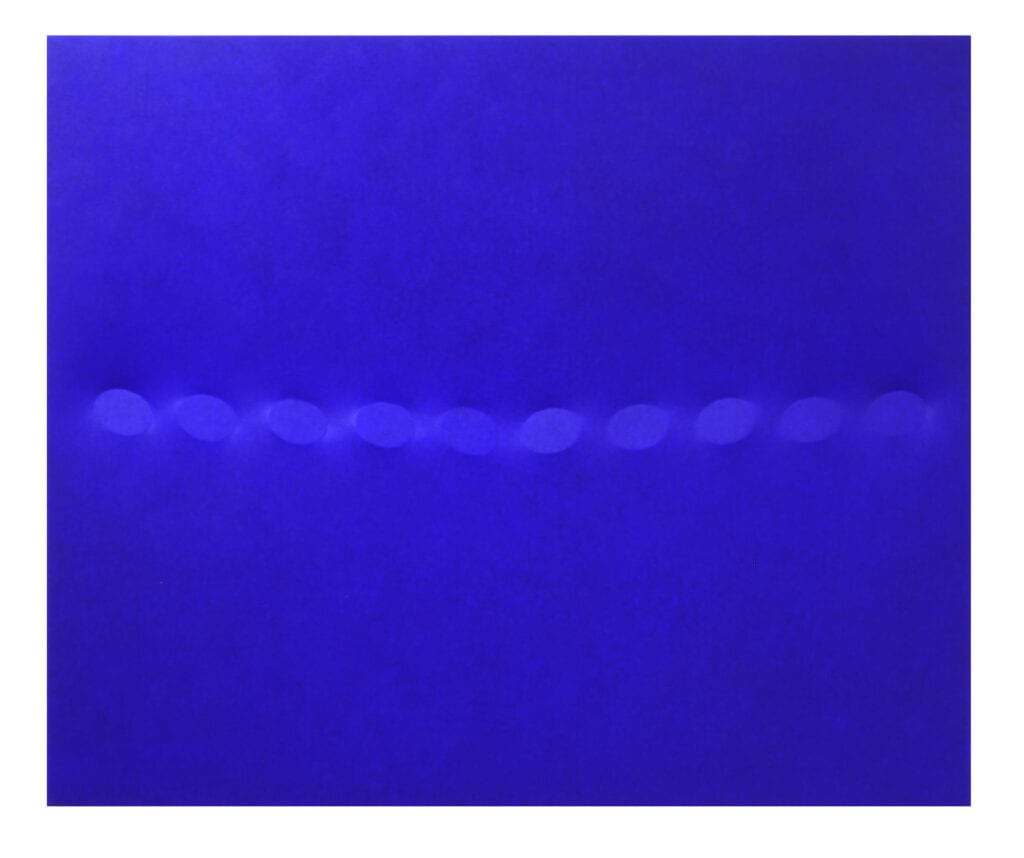 This focused combination of color and shape speaks to Simeti's concern with emphasizing the physical presence of the artwork itself, rather than an expression of the artist's voice. Just as Fontana helped to found Spazialismo with his punctured canvases, for decades Simeti has broken through key tenets of minimalism to explore the play of light on shapes created on monochromatic and tactile canvas surfaces. Simeti's works exist not as single entities but as an active experience of color and shape, and ultimately capture the dynamism that exists between these two aesthetic elements.
Turi Simeti was born in Alcamo, Sicily in 1929. After moving to Rome, Simeti became active as an artist in 1962 after becoming acquainted with Alberto Burri. In 1965, Simeti's work was included in an exhibition of Zero artists held in Fontana's studio, solidifying him as a valuable member of the group. Since then, his work has been exhibited in galleries and museums worldwide, and is included in prominent collections such as the MAM (Rio de Janeiro, Brazil), the Museo d'Arte Moderna di Bolzano (Bolzano, Italy), and the Wilhelm-Hack-Museum (Ludwigshafen, Germany). His 2014 exhibition at De Buck Gallery, The Primary Form of Painting, re-introduced Simeti's work to a New York audience for the first time since the 1960s. Turi Simeti currently lives in Milan.
To gain access to the private online viewing room, please inquire here.
Date
January 7, 2021 - February 27, 2021
Artist(s)