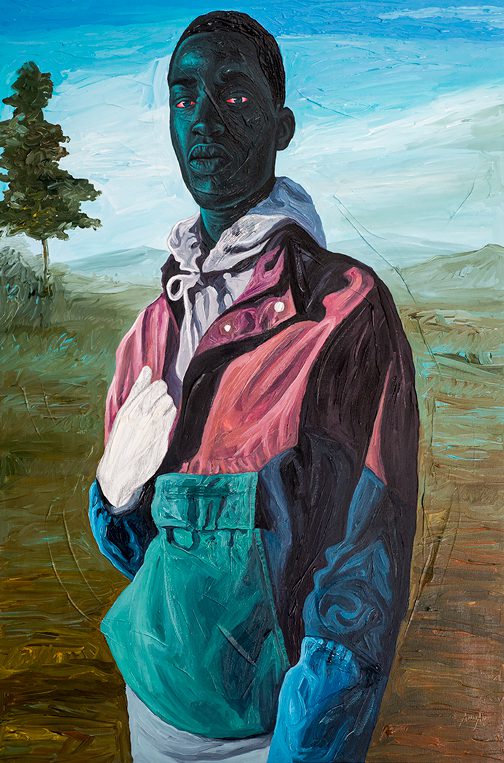 De Buck Gallery is thrilled to announce "Nature's Complexions," artist Annan Affotey's first in-person exhibition with the gallery. The exhibition, which runs from April 30 to May 28, 2022, features eight new paintings created during Affotey's recent residency with De Buck Gallery's space in Saint-Paul de Vence.
This new series takes its inspiration from the South of France, where the light, the vast sky, and the trees and flowers are as much the subjects of these paintings as the human figures. The man in Tall As Tree is a powerful portrait of a youth in a sporty jewel-toned windbreaker, observing the viewer with attitude while also evoking a sense of self-reflection and contemplation in nature. It is set in a spectacular natural environment that seems to pay homage to the very natural beauty that has drawn so many artists to this place historically including Pablo Picasso, Henri Matisse, and Marc Chagall.
In his painting Under the Flowers, he depicts a woman in a floral blouse under a branch of white and purple blossoms. The flowers in this painting, and in all the works in this series, were taken from local blossoms that he photographed. Other paintings like Blending In (St. Paul de Vence) incorporate elements of the architecture.
While the new group of works references his earlier Complexions series, which related to skin tones, this new one relates to the beauty of the natural environment of Saint Paul de Vence and depicts it in a variety of ways whether it's a portrait against a gray wall or a romantic landscape setting. "Being here in France, I wanted to get inspiration from the environment," Affotey said. "Beautiful weather, and mountains…We're humans and we love nature."
Paintings such as Tall As Tree and Backyard captivate with Affotey's signature stylistic elements. His dark figures are accentuated by deep red, beckoning eyes and juxtaposed by swaths of stark white unfinished canvas. Often Affotey will leave one of his subject's hands unpainted, rendering it seemingly gloved.
Following up on his previous series, Complexions, comprising portraiture of subjects with dark complexions against bold backgrounds, Affotey gathers imagery from loved ones and individuals that inspire him aesthetically. "The picture has to speak to me," Affotey said of his selection process. "Friends send me pictures and I choose the one that speaks to me." Affotey has even sourced imagery from Instagram, but always reaches out to his subjects for permission. Some subjects have become his favorites.
Annan Affotey (b. 1985, Ghana) is an Oxford-based artist who navigates Black identity through portraiture. He graduated from Ghanatta College of Art and Design in 2007 with a degree in Drawing & Painting. In 2013, Affotey helped found the African Young Artist Organization (AYAO), a group dedicated to supporting African youth in the arts through education and exhibitions. His paintings are influenced by two main factors: growing up in the presence of strong women and the cultural diversity he's experienced through living in Ghana, Europe, and the United States. The combination of these experiences brings a diverse narrative to his work, exploring the nuanced stories and meanings behind his subjects' faces and bodies.
Location
De Buck Gallery
Saint-Paul de Vence
Date
April 30, 2022 - May 28, 2022
Artist(s)