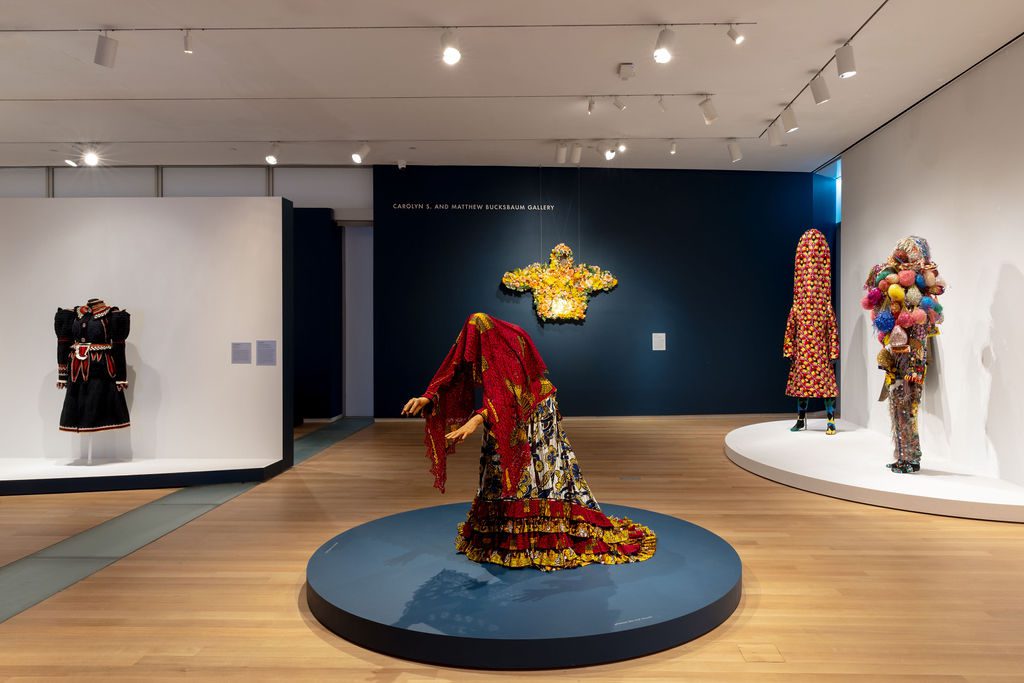 Museum of Arts and Design
2 Columbus Circle
New York, NY 10019
March 12 – August 14, 2022
"Garmenting: Costume As Contemporary Art" is a group exhibition featuring over 30 artists at the Museum of Arts and Design in New York City. Curated by Alexandra Schwartz, the show is an inviting spectacle of fashion-related works. And according to its site, it is the first global survey exhibition dedicated to the use of clothing as a medium of visual art.
Artist Devan Shimoyama (American, b. 1989) exhibits his work, February II (2019), a sculptural hoodie adorned with a mosaic of flowers and embellished with rhinestones. The work, which serves as a tribute to Trayvon Martin, is installed high on a wall. It appears to float above the other works, as if guarding them.
"Devan Shimoyama is a multiracial artist and he, as many people were, was very distraught about the Trayvon Martin murder," Schwartz said of the work. "Shimoyama has taken a found hoodie and the flowers, sequins and other embellishment refer to how there are these impromptu memorials that spring up all over the world, where people bring bouquets, candles, etc. He is using them and putting them together in this very moving and poignant work."
Comprising of various garments, sculpture, installation, video, and live performances, Garmenting explores the concept of 'dress' using the "language of fashion to address fundamental aspects of subjectivity, including gender, class, race, and ethnicity," Schwartz remarks.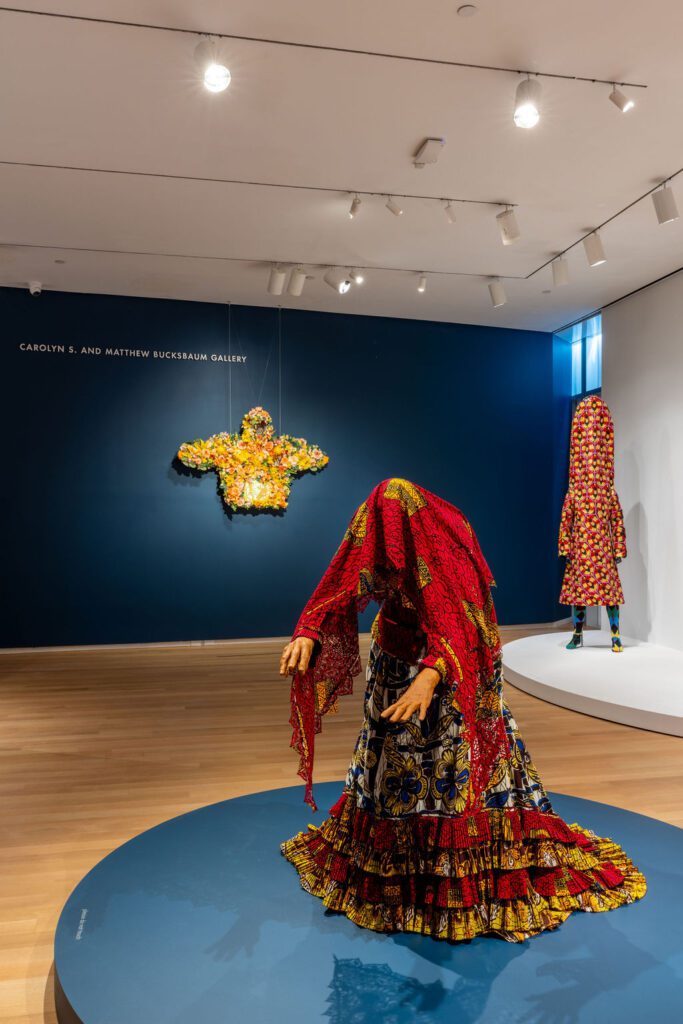 Citing the traditional hierarchical divide between the fine and applied arts, Ms. Schwartz writes that "Garmenting offers a critique of this division by questioning what makes a garment 'functional' (i.e., wearable in everyday life) versus 'art' (i.e., for exhibition or performance)." There's a lot of wiggle room in that sentence, but all is simplified by the first piece in this section, "Untitled" (2000), a miniskirt made by the Brazilian artist Nazareth Pacheco. This latticework of glass pearls is beautiful and seemingly wearable— it recalls the diamanté headdress on Diana Vreeland's Vogue cover of December 1965— until you notice that the hem is fringed with the blades of scalpels. Contemplating the zone between knees and waist, Ms. Pacheco creates a glittering cage that holds both pleasure and pain, the complexity of sex.
The aim is to use apparel as a means to examine issues of subjectivity, identity and difference. The work will be showcased in five themes: functionality, gender, activism, cultural difference and performance. Sibande's life-sized "Domba Dance" piece is a favorite of Schwartz's. Another standout is a hoodie covered in silk flowers, rhinestones, sequins and jewelry by Devan Shimoyama that is a tribute to Trayvon Martin, the 17-year-old Black teenager who was wearing a hoodie when he was fatally shot by George Zimmerman in 2012.
Location
Museum of Arts and Design
New York
Date
March 12, 2022 - August 14, 2022
Artist(s)